In the depths of Saint-Nicaise, in the French town of Reims, sleeping beauties lie. A bunker-like steel door opens to deep, stone steps which reveal a maze of tunnels, stretching 17kms underground, carved from chalk by the Romans.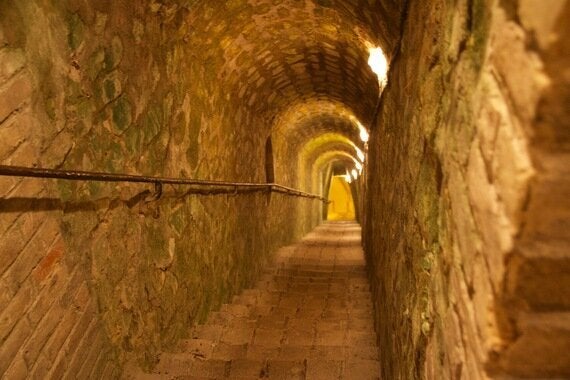 This Cathedral-silent nave holds not a congregation but hundreds of thousands of bottles. Crayeres keep the Champagne for Charles Heidseick, Ruinart, Pommery, Veuve Cliquot, Taittinger and G H Martel. So important are these underground tunnels, that UNESCO has identified them as a World Heritage Site.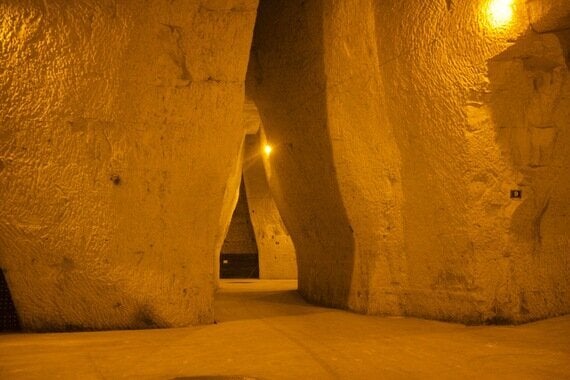 A beam torch manages to pick out hollowed out spaces where candles once burned bright. There's an obvious lack of light here with low sodium lighting glowing to protect the Champagne, which in this particular Maison, is left to age longer than any other.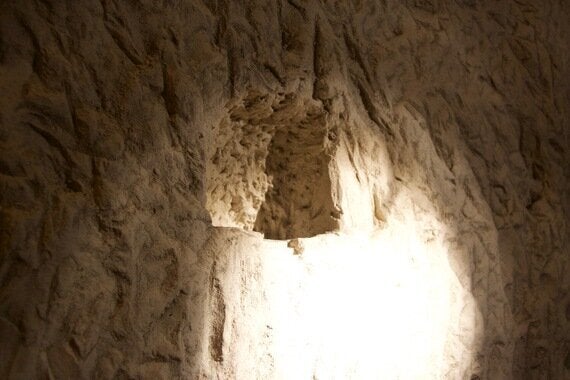 The law requires this category to age for just 15 months and as a result this is one of the favourites often drunk by the champagne makers from all houses. The non-vintage bottles age for thirty-six months and time creates a beautiful thing. Just one cage has almost fifty four thousand bottles laid on their side, fermenting.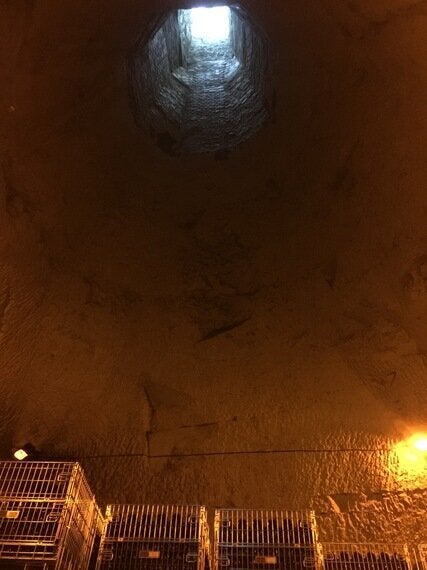 To get to this stage, the wines will have been blended, yeast and sugar added and the bottle crowned by a metal cap. Over a period of up to two months, the yeast consumes the sugar to release alcohol and carbon dioxide. Residual yeast lies within the bottle which helps the final flavour.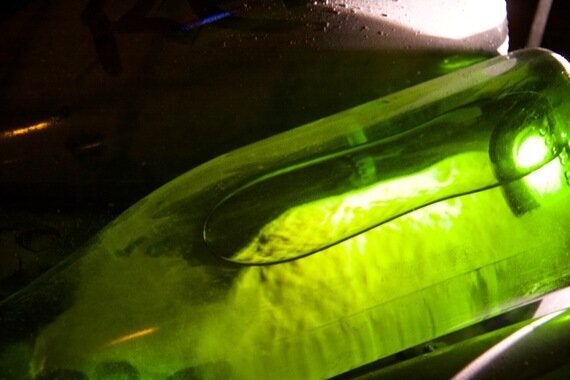 Once aged, a Riddler (no joke, this is what they're called) will hand-turn the bottles about a quarter of an inch a day to encourage the yeast to work it's way to the cap of the bottle, marking each with chalk.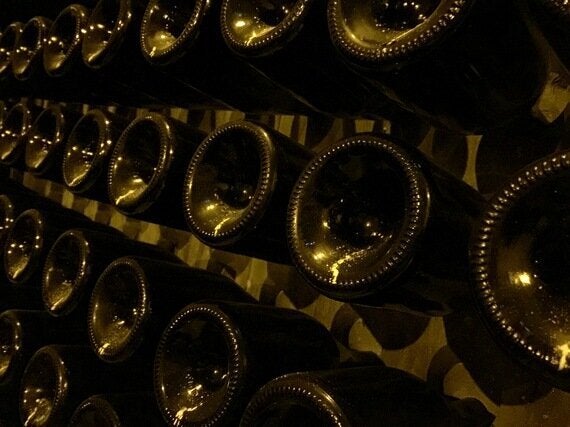 It's then a matter of time before the call is made to remove the yeast and this is the clever part, the bottle necks are frozen, uncapped and the iced yeast disgorged. The champagne is topped up and more sugar added. Corked and left to age, bottles aren't labelled until the Master decides it's ready.
Above ground, I find out more about the man who began this particular house. Charles Camille Heidsieck founded the brand in 1867 and is the original Champagne Charlie. He was given the title when he brought his champagne to America. To cut a very long story short, this entrepreneur sold more champagne there then the company does now but after quite a bit of partying, a civil war and a sinking ship of cargo, he was left penniless. His luck didn't get any better after he was charged with espionage in Mississippi and released by Napoleon III. After a hefty loan, he focused his business on Europe, with a clutch of Royal Warrants given by the English kings. When Charles died in 1893, he was succeeded by his son Charles-Marcel who didn't have an easy time of it either. Reims was razed to the ground in the First World War although the chalk cellars came in very handy. These were used as a refuge, makeshift schools, as well as a hiding place for Jewish refugees.
Today, it buys Pinot Noir, Chardonnay and Meunier grapes from growers who hand pick the grapes between August and October. As soon as the harvest is over, specially trained pruners tend to the vines. The grapes are gathered, pressed and the liquid fed into thin-skinned steel vats to begin the first stage of fermentation.
Their range includes Brut Réserve (more three years maturation), Rosé Réserve, Brut Millésime 2000, Rose Millésime 1999 and Blanc des Millénaires 1995, named after the chalk cellars.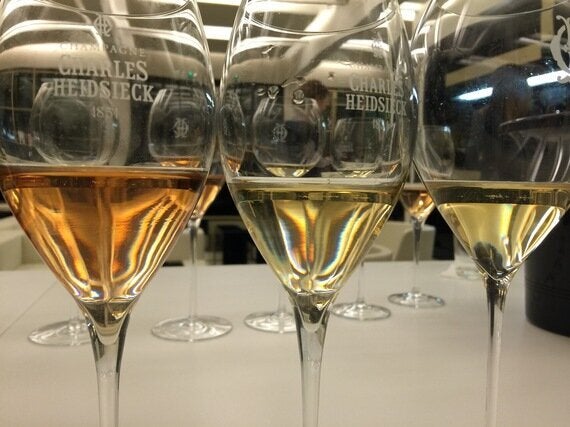 Sixty percent of wines from the year are blended with 40% of reserve wines - the job of the current Chef de Caves, Cyril Brun. The wines from the year are made up from equal parts of Chardonnay, for its freshness and elegance, Pinot Noir gives it the structure and Pinot Meunier for the fruitiness. The skill comes when the winemaker has to blend the aged reserve wines with the year wines, ensuring the balance and quality isn't compromised.
If you want to visit the cellars of the big names, Reims is just a 45 minute train journey away from Paris, and a return ticket from the Paris Est is about £20, and not much more for a first class ticket. All the larger houses are accessible on foot but if you want to visit the vineyards it's a taxi or hire car ride away.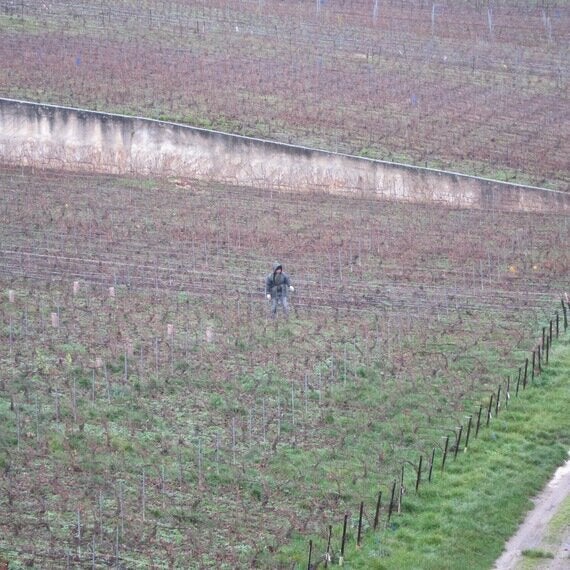 I learned quite a bit about the wine process from grape to bottle. There are 319 grape-growing villages in Champagne 17 are rated as growing the perfect grapes and are known as the Grand Cru. On the next level, 42 villages are rated between 90-99% and are classified as Premier Cru. The next run are quality graded between 80-89%. If you fancy producing your own bubbles, you need the minimum of 3 hectares of vines before you can begin to consider making your own champagne or joining a co-operative.
Timed visits mean it's essential you book your visit in advance. You'll get an opportunity to go behind-the-scenes of the well known champagne names, famous the world over. It's an opportunity to find out everything there is to know about champagne from how it's made to how it's stored.
Here are two tips to get you started. For maximum impact serve your champagne, not in tall, thin flutes but larger, rounded glasses and don't keep Champagne in the fridge until you're ready to serve it.
All photographs by Rebecca Williams.