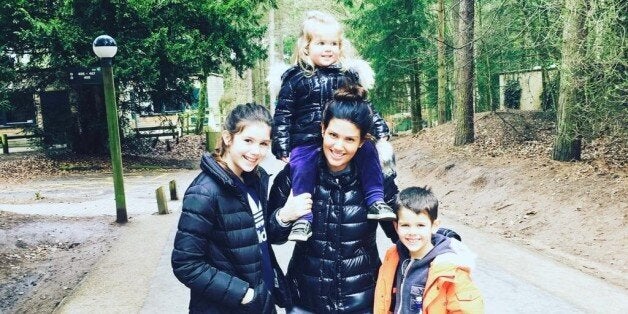 After the birth of my fourth child, Finley, in January of this year, I was at home nursing him and flicking through Instagram as I did so. I saw an image of a celeb who had given birth only a few weeks earlier, posing in a skin tight dress with a dead flat stomach and teeny tiny waist, then another of a celeb on the beach looking svelte and perfect in a bikini just weeks after giving birth and then a 'pap' shot of a celeb who was promoting a tummy fat freezing product just a few weeks after having given birth.
As I sat there (with my jelly belly hanging over my grey jogging bottoms, my enormous boobs were busting out of my grey nursing bra, I had new stretch marks and my thighs and bum were bigger than ever) I could have felt really bad about myself, but instead I thought 'f**k this.'
Some of these images I was looking at were so obviously very photoshopped and if I was a first time mum with no idea how the media industry works, I would have felt like absolute rubbish after seeing these images of faked perfection or pressurised to be perfect by the new mum selling fat freezing treatments. I didn't want other women to feel like that, I had felt like crap after previous pregnancies, so this time I thought, 'sod it, I'm going to show everyone my mum tum', purely in the hope that it showed a few women what the reality of a post pregnancy body or Mumbod is like for most women.
I know that some women are genetically blessed and they snap back into shape in an instant and I'm absolutely not criticising them, but it isn't like that for every woman. It's the 'fake reality' that I have an issue with - social media and retouching apps have killed our perception of reality and I just wanted to be real so that other real women knew they weren't alone.
To understand why I feel so strongly about this I'm going to tell you about all of my pregnancies and how I felt at the time.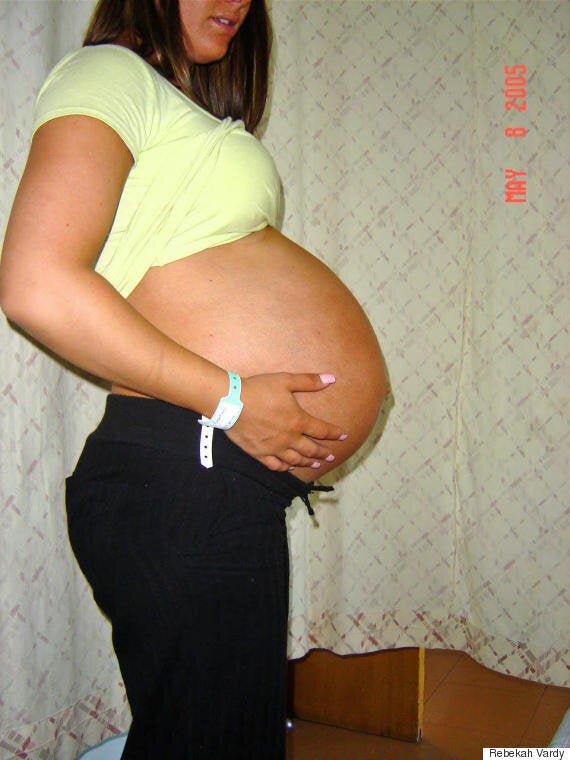 When I fell pregnant with Megs I was 23 and a size 6, albeit a curvy size 6 thanks to my Mediterranean heritage. I imagined that I would have this neat little bump, but by the time I was 7 months pregnant I was enormous, towards the last few weeks I looked as if I was having twins and I was so swollen with water retention. My fingers and feet were so puffy that they didn't even look like they belonged to me. It turned out I had pre eclampsia and Megs was induced at 38 weeks.
So there I was, a new mum. I took to motherhood straight away and loved everything about having a baby. I breastfed her for the first 6 months but I did find it really difficult. I was lucky because my body did virtually snap back into shape and I was left with a few little stretch marks. I wasn't instantly back to my pre baby body but it was pretty fast, in those days there wasn't Instagram or retouching apps so I didn't have anyone to compare myself to. Looking back I wonder if I had been bombarded with images of 'perfection' if I would have been quite so content with my own body in those first few weeks after giving birth?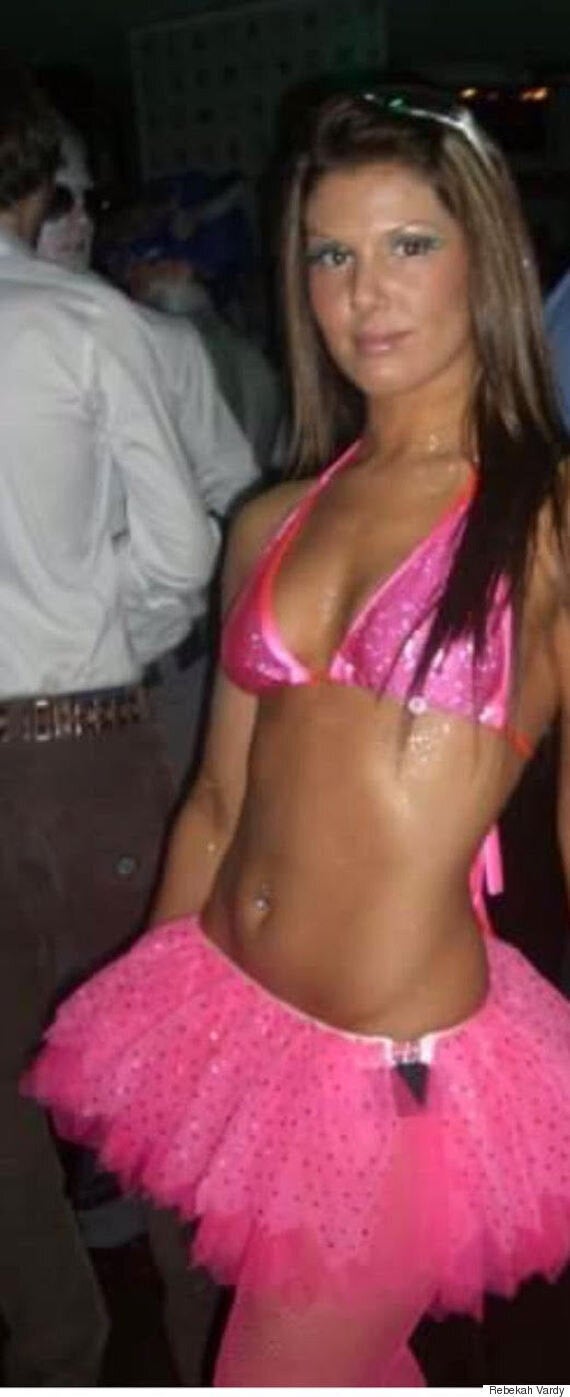 A few months after having Megan
My second pregnancy at the age of 26 was a very different experience. I was in a dreadful relationship, I was downtrodden, cheated on and generally made to fell like I wasn't worthy. I was a size 8 when I fell pregnant and I didn't eat much during the pregnancy, I was so low that I just didn't have an appetite. I was smaller in this second pregnancy than I have been in any of my four pregnancies. My partner loved partying whilst I stayed at home and I spent the entire pregnancy hoping that having a baby would improve the relationship.
I had Taylor and my body went south - my boobs were saggy, my skin was loose - I felt like an out of shape mess and my relationship was in an even worse state than my body. I had no energy, felt awful about myself and had a constant paranoia that someone would hurt my new baby. It was a struggle to get out of bed everyday and then I found messages that my boyfriend had been sending to other women who all had perfect bodies and massive fake boobs. The little bit of self-esteem that I had left was crushed and I also had postnatal depression. I tried to pull myself together by going to the doctor for help and confronting my partner over the messages to other women. The doctor helped but my boyfriend told me I was "paranoid" and "f*cked up". He continued to message women on dating sites and leave copies of lads mags lying around our home. I sunk lower and lower, I even went as far as having a boob job to try and make him prefer me to them.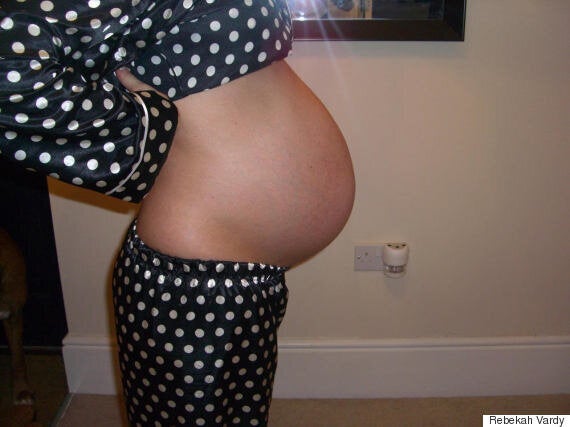 It wasn't the fault of the models in the magazines or websites that I had PND or low self-esteem, it was my toxic relationship and his obsession with these retouched images of women. I wish I had known then that these images weren't even what half of these girls looked like in real life. Looking back I wish I had half the strength then that I have now and that I had just left sooner, but I stayed way too long because I desperately wanted a settled and happy home for myself and the children.
Eventually I did break free from that relationship, I had a job planning events in a nightclub and I was single mum who was dead set on looking after my kids and myself - I had no interest in meeting another man who was going to make me feel bad about myself. I focused on my job and my kids and then, when I wasn't looking for a relationship at all, Jamie came into my life!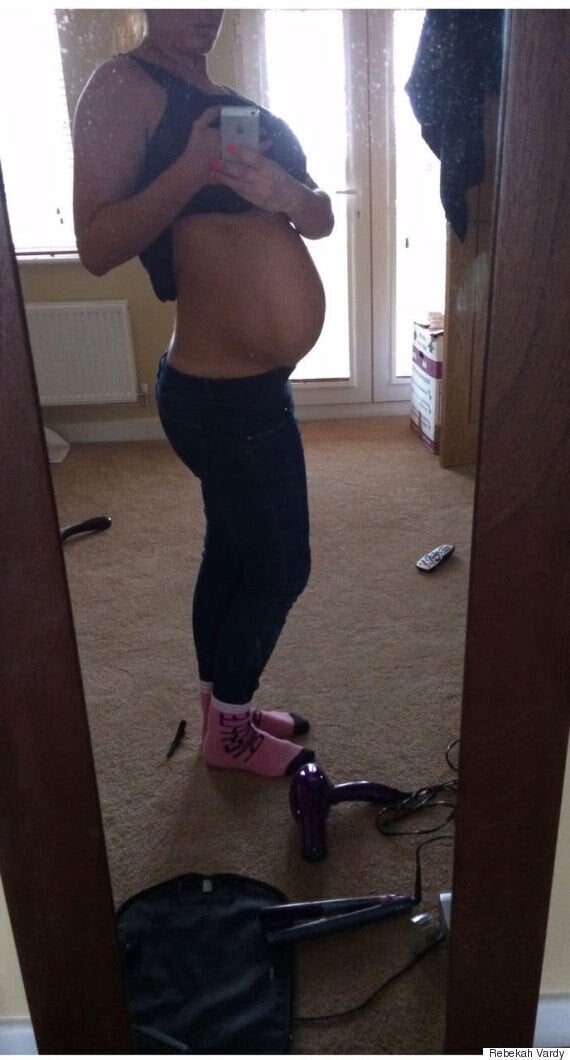 My experience of pregnancy with Jamie by my side was a breath of fresh air. From the second he knew I was pregnant he was supportive, loving - everything that you would expect an expectant father to be. Whilst I was pregnant with Sofia I just ate everything. I was 32 and we were happy and felt like a team. I could see my body changing and getting bigger but I just didn't care. I worked at the nightclub right up until I was 6 months pregnant doing night shifts and planning events. After that I was way too big to be on my feet in a busy night club. I was induced at 38 weeks with Sofia because her movements had lessened and her heart rate dropped, I was scared but Jamie kept me calm.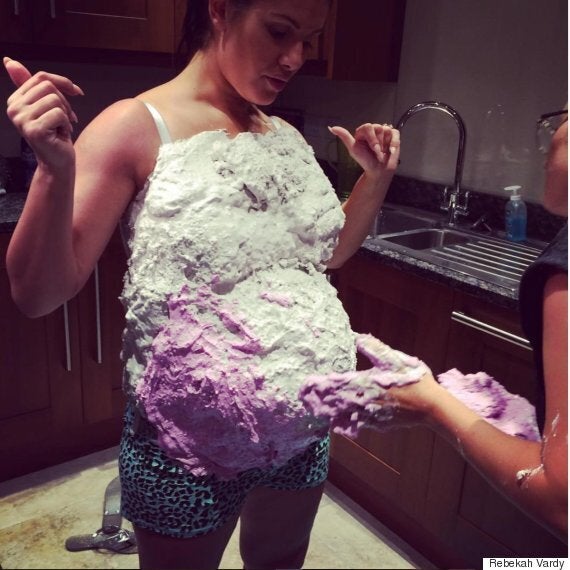 Doing a bump cast at home
After the birth I was big and I hated my whole body. I knew it was all bigger, wobbly and saggy but Jamie kept telling me I looked great and he put zero pressure on me to get my pre baby body back. It was such a different experience to what I had been through before. I didn't set foot in a gym until Sofia turned one and that was only to work out for our wedding. I wanted to look good in my dress but I didn't compare myself to anyone else or look at other bodies for inspiration. I worked bloody hard and I loved feeling my fitness improving and my body getting stronger. By the time we married I was a toned up size 6/8 with a tiny 26 inch waist. I felt proud of myself but I only did it for the wedding, once that was over I knew I would continue to exercise as I loved the energised feeling I got after a workout, but I wouldn't be regimented about it.
A few months after our wedding I kept waiting for my period to come along and was convinced that I was bloated but I was pregnant with Finley! My little waist very quickly grew into a big bump and my bum seemed to be growing at the same rate as my belly! I carried on going to the gym to try and keep my butt under control and because I had already been working out before I fell pregnant. My bump was big and so were my thighs and bum. When I left the hospital after having Finley there were pictures of me in the press and I was trolled over the size of my thighs, less than a week after having given birth. The comments didn't hurt me as I was happy, but the fact that some people felt like I should look perfect and straight back to normal immediately after having my baby made me wonder where they got their views from? The answer to this question takes me back to my point at the start of this blog... people just don't know what 'real' looks like anymore.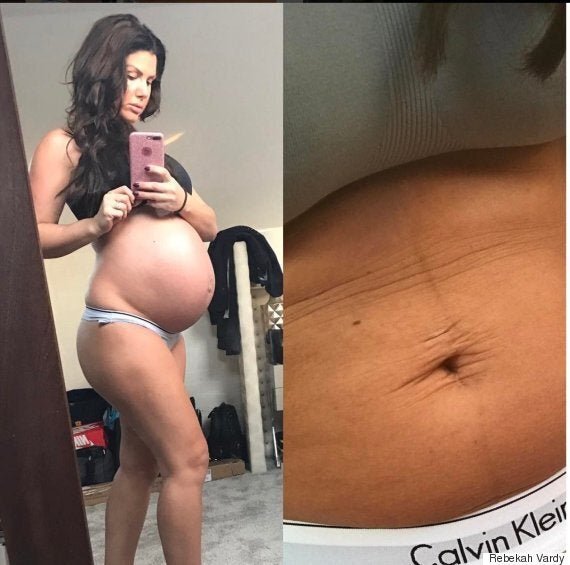 Pregnant with Finley and tummy a few days after giving birth
I hope that more women, whether in the public eye or not, will show off how they really look on social media. Whether you've had a baby or not, there's no shame in cellulite, a few jiggly bits, stretch marks or having some junk in your trunk. Striving for a fake perfection makes you miserable. Learn to love who you are, there is no 'normal', every body is different but your body is your body, you should never wish to be or compare yourself to someone else.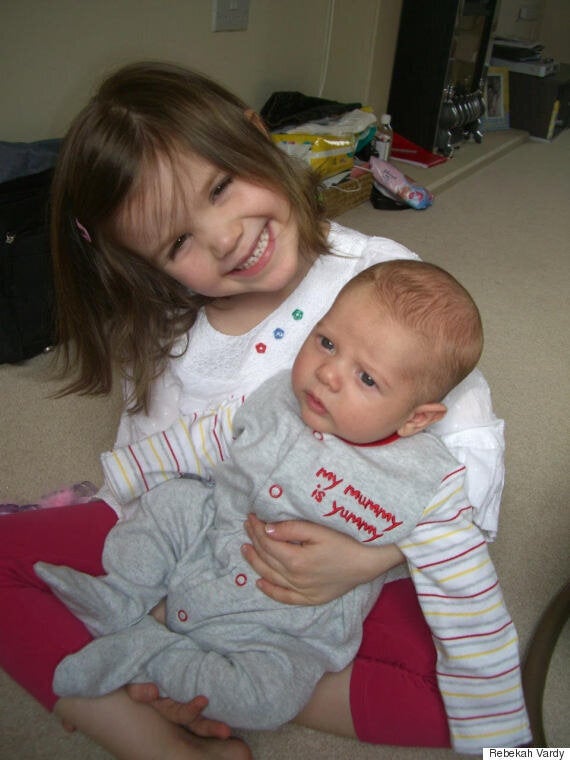 Rebekah Vardy is an Ambassador to;
You can follow Rebekah on Social Media:
HuffPost UK Parents is running a week-long focus on 'Mumbod' to empower mums and mums-to-be to feel confident about their bodies pre- and post-baby. We are launching a section on the site that focuses on all aspects of mums' bodies and highlights the amazing things they are capable of. We'd also love to hear your stories. To blog for Mumbod, email ukblogteam@huffingtonpost.com. To keep up to date with features, blogs and videos on the topic, follow the hashtag #MyMumbod.