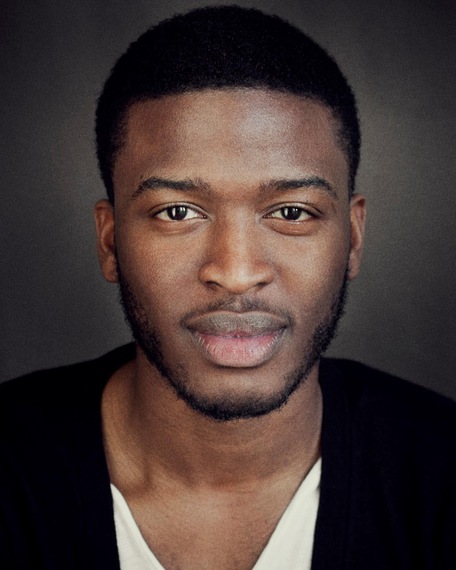 Photo by Daniel Sutka
Emerging from the stage door of the National Theatre in a pair of jeans and simple t-shirt, Zack Momoh looks a world away from his role as the soldier/cyclist in the performance of From Morning to Midnight. He has only a few hours before he's back on stage for the evening show, yet he greets me with an easy smile and relaxes into an armchair in a room looking out over London's Southbank.
Having understudied for Adrian Lester in the National Theatre's production of Othello in 2013 at the age of 24, Zack is officially the youngest person to have performed the role in West End history. His most recent role in the National's sold-out From Morning to Midnight, which ended on January 26th, marked Zack's break from the stage after working in three shows back-to-back in the last year. "I was technically on holiday from Othello when I was called in and asked to read for From Morning" he says, "I'd never turn down an opportunity to work for the National again and once I'd seen the director's vision, I couldn't say no".
The play was certainly alive with Director Melly Still's artistic flair. Being extremely physical and dynamic, Zack was on stage for most of the performance, at one point hanging seemingly precariously from the ceiling in a set piece. "It was a typical National production" he tells me, "there was so little room for error in terms of staging and set pieces, although I did have a costume malfunction one night. There's a scene where I have to wear a petticoat and I could feel the poppers coming undone on the one side so I ended up trying to dance and do them up at the same time. I looked up at the orchestra and they were all crossing their fingers for me because they knew that in about ten seconds time I needed both of my hands to lift up another character. The ten seconds came and passed and I had to just let the petticoat drop. The entire audience could see pretty much all of my bare arse. We all had to carry on with the scene with serious faces, but it was hard not to laugh".
From casting to stage, From Morning to Midnight took about six weeks, "which is actually a relatively long time" Zack tells me, "sometimes you only have three weeks, so six sounds quite relaxing, but there was so much tech to sort out with this play that the time flew by anyway". I asked him if there were any special changes he made to his lifestyle when he was performing. "As soon as I was cast as the soldier/cyclist for From Morning I bought a bike and started cycling to work, I did the same for Othello to build my physique. In terms of preparing your mind, you work that through with the cast. I get really into my job, when I'm doing a show I don't see anyone and the outside world doesn't really exist. I found out about the disaster in the Philippines about three weeks late because I'd been working so much".
Zack explains how playing Othello alongside Adrian Lester was a huge leap from his role as the protagonist at The Bussey Building just months before, "the Othello I had played was a young version, so when I got the part at the National, it wasn't just a case of learning new lines and cuts, I had to develop the whole character into a much older, more mature Othello, an Adrian-Lester-Othello! That was a challenge."
Working alongside the award-winning actor provided inspiration for Zack, "I never had idols before I came to the National, I can be inspired by anything creative. But I have to say working alongside Adrian and Rory Kinnear and being able to learn from them and hearing the pearls of wisdom they gave me was amazing. It made me think, "I want to be like you, to have the same effect, to be an inspiration to someone else".
Zack spoke about the importance of emotion in his work, "One of the best memories in my career so far has been looking out into the audience and seeing people cry during my Othello speech. I want to evoke emotion in people, which is why it's so nice to work in a variety of performances. In Othello, the emotion was deep and intense, whereas in From Morning to Midnight, we got the chance to be humorous and thought-provoking, I think it's great to keep yourself on your toes"
Now that From Morning to Midnight has finished, Zack is planning on taking a break from theatre: "I've spent the last year on the stageand I've loved every minute. I definitely want to come back, but right now I want to try something different, so I'm going to be focusing more on film for the foreseeable future".
One recent film that has caused particular controversy is Djanjo Unchained, which some argue portrays a particularly violent and upsetting part of history as entertainment, which is wrong. Zack disagrees, "part of entertaining and being entertained is evoking emotion, like I said. We don't always see a film to be made to laugh or feel happy. Just because the history is uncomfortable, that doesn't mean we can't talk about it. You can't ignore what happened, if we had that attitude we wouldn't have any plays, films, or even reality TV. Entertainment gives you the chance to project your own emotion onto the screen, that's what entertainment is about. 12 Year's A Slave, is another great example, I think it was a really good film. Steve McQueen is such a fantastic director, I would love the chance to work with him one day".
Much as the life of an actor can seem full of exciting roles, upward success (and the occasional wardrobe malfunction...) it is also a stressful profession, especially in the current economic climate. It was announced just a few weeks into the new year that the Arts Council will receive more cuts to funding in 2014. We often hear how such cuts affect theatres, but not the individual actors. "It's definitely something that's been on my mind this past year more than usual" says Zack, "London is meant to be one of the biggest tourist capitals in the world, and part of that is the art of the buildings: the theatres. If the arts aren't important then why do we have Literature degrees studying Shakespeare? If we're going to cut the arts like theatre then we may as well get rid of literary degrees and books too. Theatre is not a luxury, we need to stop putting it and the rest of the arts on the back burner: they are important."