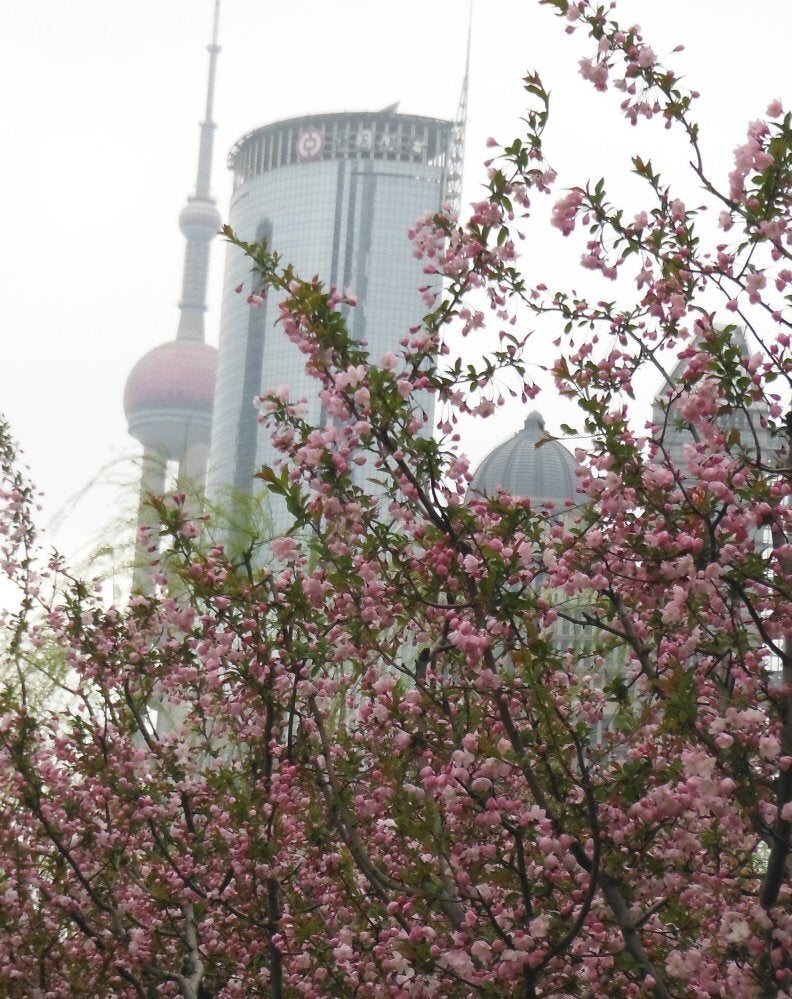 In a city where authenticity and taste reign supreme, it's not unusual to see a Porsche or a new Maserati parked up outside an anonymous hole-in-the-wall diner known for serving the best Mao Shi Hong Shao Rou (Chairman Mao's favourite braised pork dish) in town. As a foodie, I wholeheartedly agree with this attitude. Price definitely doesn't need to equate to quality and this sprawling city is rife with great restaurants where it's difficult to spend to spend much more than a tenner a head.
To sum it up in a street or two, my abiding memories of Shanghai will be of the variety of contrasting tastes around Jinxian Road and Yongkang Road, two similarly charming, quiet little streets in the French Concession. Most importantly, both were not only interspersed with a number of chi-chi boutiques but bars, coffee shops and several of those Porsche-attracting holes-in-the-wall.
Jinxian Lu and Gourmet Zone
Queen of the strip is Mama LanXin. A garrulous broad, she seems almost amused by her popularity, treating her fiefdom of six tiny plastic-covered tables as a fragrant and bustling extension to her living quarters, the patrons as much her guests as her evening's entertainment. There's no picture menu, but for the occasional visitor that doesn't matter: unless you order immediately as you enter, you'll end up with what she thinks you'll like. she licks her lips at the prospect of an encounter with tourists, the exchange with the laowei played for amusement to the rest of the room. Suck it up. A range of Shanghainese specialities including fresh honey-coated shrimp and deep burnished hong shao rou, pillowy soft chunks of pork belly slow braised in soy and spice, are worth a mild ribbing.
If you can't cope with the wait (and there will be a wait), her daughter has Maolong, a similar joint next door, or you can wander down to the end of the short road for slightly smaller queues outside Haijinzi, or deep, umami filled boiled broths at the bullishly named Number One Hot Pot. Abutting Jinxian Road is the odd but rather wonderful food emporium Gourmet Zone. If you can tear yourself away from quirky soft darts and excellent cocktails at the Side Bar, you'll find three floors of restaurants huddled together for the warmth, with a wide range of options available.
While the Burmese / Vietnamese / Laotian border region of Yunnan is (very well) represented by both Southern Barbarian and atmospheric Monsoon, Di Shui Dong has cornered the market in homestyle Xiang cuisine. Queues are often down the tiny wood-clad staircase, so it's definitely worth going early week and early in the evening (that's before 7 in early-dining Shanghai). Food from Mao's home province Hunan is (often literally) gutsy, almost always spicy and deep braised, slow cooked deliciousness. Treats to try include the inevitable Mao's pork; spicy bullfrog with its tiny toothpick bones, fresh white flesh and chilli falling apart in your mouth; 'twice cooked' cured Hunan ham with dry fried green beans, and a number of river fish dishes, most famously 'split head' style, with finely chopped peppers covering the soft steamed flesh. If you've got a sweet tooth then finish on toffee-covered sweet potato 'chips'.
Yongkang Lu and the Embassy district
For an expat-friendly twist on the French Concession, you can do a lot worse than an evening stroll along Yongkang Road. A range of tiny, trendy bars, mainly of with a Gallic bent, ideal for a pastis and equally good for a (European or American) craft beer. Particularly worth a punt are The Rooster and The Handle Bar, tiny little loft spaces ideal for a swift half, the fairly self explanatory Sailor's Fish and Chips and a good value branch of Sushi'O. French bakery and casual eatery Les Stagiers felt less Shanghai expat, more Verbiers gap yah and the Oirish bar at the end of the short road just looked smokey and nasty, one for those who really can't tear themselves away from the black stuff.
Further to the West by a few blocks, you hit expat central with the large and bustling Shanghai Brewery, nearby Camel Sports Bar and the slightly more upmarket (and pretentious) Boxing Cat Brewery. Sure they're fratty, a home from home for the financial workers and Embassy drones, but the food and beers fast-track you right back to the States. Not what everyone's looking for but they and the range of European restaurants around them are a refreshing change if you find yourself Shanghai'ed out.
Around there too you find Anfu Lu bisecting Wulumuqi Middle Road. Both streets also have a range of reasonable restaurants, the first more Western in feel with casual European dining courtesy of Mr. Willis and a couple of excellent, rare wine bars in Just Grapes and Enoteca. The second is more Chinese in general, with several Muslim West Chinese noodle restaurants and the very earthy Hunan Country Kitchen, home of some very stinky tofu!
Other areas and restaurants of note
You could reference any number of restaurants on any number of roads offering similar fair-priced dining experiences. A food blogger would have their work cut out just trying to cover a small area and I certainly couldn't in the limited time I had (though reader, I tried...)
The two mid price heavyweights most often recommended on Western forums are Din Tai Fung and Jesse. There are branches of both around the city. The latter is a traditional Shanghainese dining experience, the former a Taiwanese interloper and (whisper it) home to possibly the best xiao long bao in the city that invented them. Also well worth a look is the reservation-free Hunan institution Guyi, home to some excellent ribs, more divine bullfrog and deep fried, chilli spiced eggs, a side dish so addictive they should be illegal. If you're living on the mild side, then the two branches of Lost Heaven will be a bone-free oasis with their expat-friendly Yunan cuisine. Their Bund location is also home to an excellent roof terrace - welcome in the spring, it's got to be a haven in the heavy summer.