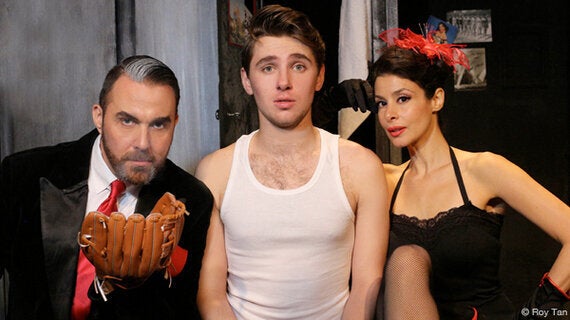 If you go down to Clapham North today, you're sure of a big surprise: in the form of multi Tony award winning musical, Damn Yankees. A show packed full of certifiable Broadway classics including "Whatever Lola Wants", "Heart" and "Six Months Out of Every Year".
The story begins with middle-aged baseball fanatic, Joe Boyd, watching another painful season where the 'Damn Yankees' once again beat his favourite team, the Washington Senators. In an attempt to rectify the situation, he strikes a deal with a devilish character to transform him into Joe Hardy, so he can join the team and give them a win. As you can imagine, making a deal with the Devil is never plain sailing, so will Joe reach the end of the show with is soul intact? I guess you'll have to see it to find out.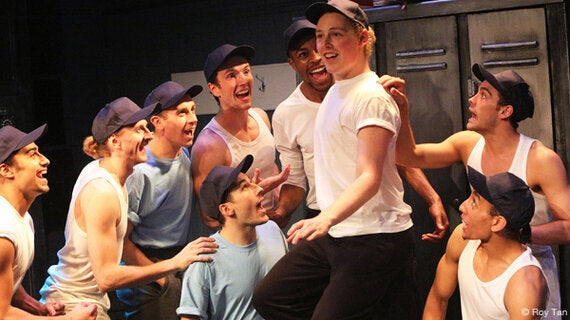 The Landor is a perfect fringe venue, with a well-stocked pub below and fully equipped theatre above. Damn Yankees was a big hit on Broadway, West End and in it's 1958 movie incarnation - so I'm guessing the Landor is certainly one of it's more intimate stadiums. Having produced musicals in the Edinburgh Fringe myself, I know this comes with its fair share of issues, however this production certainly never loses its game. The set merges into the room perfectly, giving you a taste of 1950s America in the housing of a Traditional London pub.
The show is fast paced, going between songs in rapid fire, however with such a songbook - why not. The opening number of "Six Months Out of Every Year", sees the entire company take to the stage and is one of my favourite numbers. It's a rather dance-heavy show and choreographer, Robbie O'Reilly, certainly utilises every skill of the cast and every inch of the stage. The winning moments of this production are to be found in the big group numbers, particularly those involving the whole Washington Senators team. "Heart", lead expertly by Tony Stansfield, is a real highlight that showcases the boys' impressive singing and personalities. Equally fun were the Sister and Doris characters, played by Sophie May Whitfeild and Leah Pinney. They are captivating in every scene they featured in, serving up some hilarious moments with their larger than life personalities.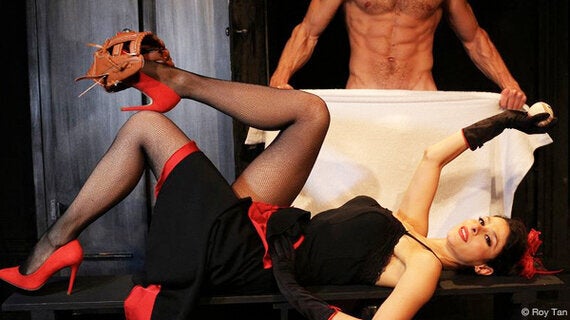 Jonathan D Ellis and Poppy Tierney made a wonderfully devilish duo of Mr Applegate and Lola. Ellis finds his spotlight, along with many laughs, in the crowd-pleasing "Those Were The Good Old Days". And Tierney expertly tempts Joe Hardy down the wrong path in "Whatever Lola Wants" and shows her dancing skills in the Fosse classic, "Who's Got the Pain?"
This is a great musical that draws many similarities between, The Pajama Game, another hit-musical from writing duo Richard Adler and Jerry Ross. The 60-seat theatre gives an exciting opportunity to see the show up-close and feel the enthusiasm from the cast with every note and high kick. If you're looking for a feel-good musical, these guys hit it out of the park.