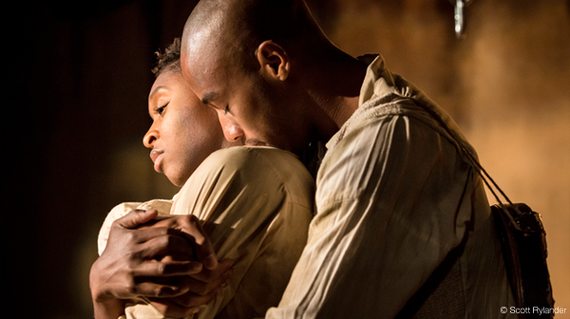 Dessa Rose is set in America's Deep South through the 1840s, telling the story of two young women who are on very different paths, that ultimately cross. Dessa Rose (Cynthia Erivo) is a resilient 16-year-old slave and Ruth (Cassidy Janson) is the wife of a plantation owner let to fend for herself. The musical covers a wide spectrum of emotions from deep sadness to moments of light relief - but ultimately it is a story about strength. With a faultless cast, a spiritual score and expert staging - Dessa Rose deserves to be seen.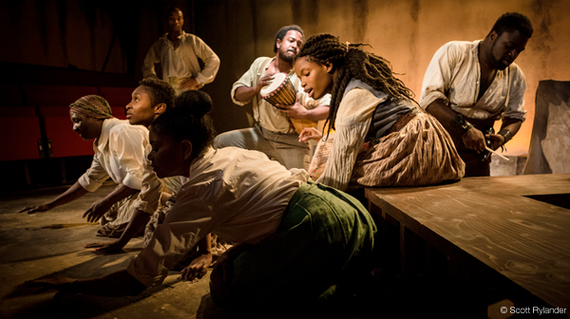 Dessa Rose takes place in Trafalgar Studio 2, which is a very intimate space and the musical feels as though it was written for those four walls. On entering you are greeted by chains hanging from the ceiling and a stark backdrop of stained walls. The opening number "We Are Descended" has gloriously rich harmonies that fill the room with a spiritual sound, showcasing the great vocals of the entire company. Being at such close proximity, you see every nuance of their characters that it's impossible not to be brought into their world.
The story begins with two women recounting their youth, when Dessa Rose was working on a plantation and Ruth living on her family's plantation, both in love and with their whole lives ahead of them. The cast work really well together to live each moment and tell the story through song in a very natural delivery. Cynthia Erivo delivers an ovation-worthy performance throughout, leaving the audience hanging onto her every word. Her fragility and power in "Twelve Children" is a truly heart-stopping moment and shows her huge versatility as not only a vocalist, but a tremendous actress also. Cassidy Janson as Ruth, finds her moment in the song "At the Glen", showcasing her beautiful tone and story-telling ability. I could list the whole cast, as each one plays their part in the story and come together as a strong unit to deliver extraordinary moments of theatre. Dorcas (Sharon Benson) and Nathan (Edward Baruwa) bring a comforting balance of warmth with their characters and command their moments at a very close level.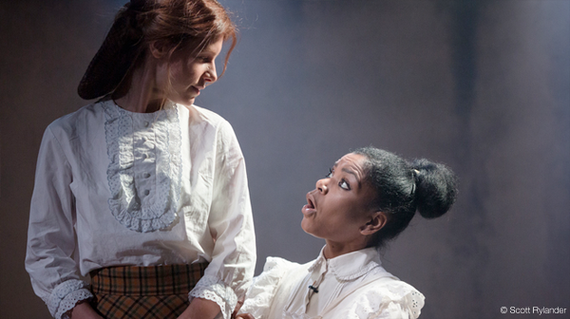 The score, written by Lynn Ahrens and Stephen Flaherty, produces each character with an opportunity to portray their emotions, as well as weaving the story together as a whole. Numbers from "In the Bend of My Arm", "Just Over the Line" and "We Are Descended" show their range and their lyrics show great intelligence in dealing with such thorny issues.
Director, Andrew Keates, makes the production seem as though it was made for the Trafalgar Studio and has worked with designer Garance Marneur to create a multi-faceted space. This is a powerful show that hits the mark in every scene and a wonderful opportunity to see the hugely talented cast at such a close level. The show never forgets that this is a very human story and conveys the feeling of strength, even in the most desperate of times. With a lush score, beautiful story-telling and outstanding performances, Dessa Rose delivers on every level.