For the past months, newspapers across the globe have well and truly caught Olympics fever, but it isn't only the athletes who have been under the microscope. Danny Boyle's Opening extravaganza has been in for a full examination; with speculation on the song list, leaked photos and last minute cuts - you've probably read it all. I did exactly the same, but while reading, I was also in rehearsals gearing up to perform in the actual show itself. With a budget of £27 million, cast of 10,000 and an audience of billions, what was the road to the Olympics really like from the inside?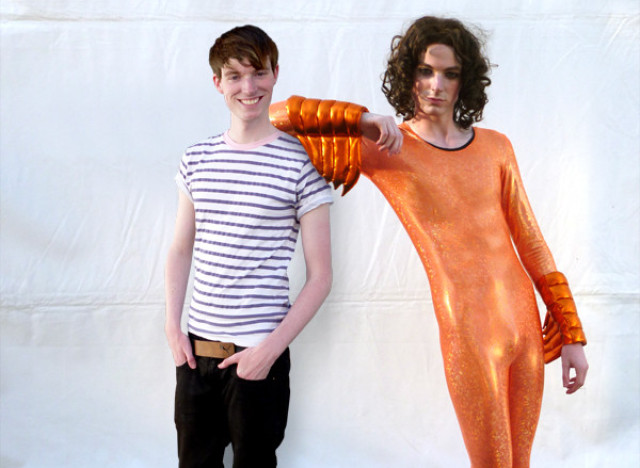 Having never watched an opening ceremony to any Olympics, when a friend told me about open auditions I was excited but certainly didn't understand the enormity that was to follow. On a rainy day in Bromely-by-Bow, thousands queued for the chance to be part of one of the biggest shows in the world. Inside they would take us through various tests from walking around the room with confidence, to acting out your morning routine - swiping your Oyster card and all. This was the beginning of the selection process to find out where each volunteer could fit into the ceremony, if anywhere. People had travelled from across the UK to get involved. If you walked well, you might be chosen to lead the athletes around the stadium or if you inspired involvement, you could be crowd leader. After making it through this first stage of auditions, I was notified that I had been called back for a dance position. I would be working with noted choreographer Kenrick Sandy who was the UK Street Dancing Champion from 2000 - 2002 and worked with everyone from Cheryl Cole to George Michael. What was impressive was that Kenrick turned up for our first dance call back, showing his deep interest early on. Throughout the process I found out that this attitude resonated with the whole creative team - they showed a real personal interest in the project, which filtered down to everyone involved.
In my group there was a broad range of people; from dance students, to those who were unemployed and designers like myself. This was a dream opportunity for all of us - for a dance student to be booked as a dancer to open the Olympics is a pretty amazing CV starter and for myself, it couldn't be more different than my day job.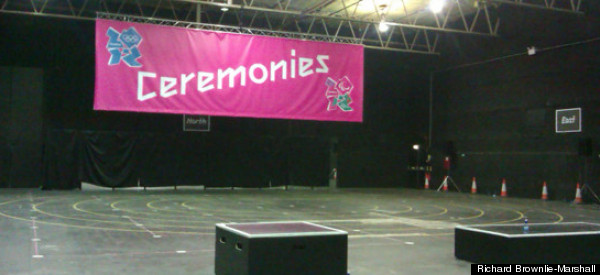 A few weeks later I received word that I had been cast for the opening, and after attending merely two auditions, my Olympic journey had got off to a flying start. In attending the first rehearsal, we immediately met Danny Boyle, who took us aside in groups to describe his vision of the London 2012 Opening Ceremony. Showing us the scale mock-up, as was seen in almost every newspaper, and the full storyboard video of how the section came together. I remember him saying playfully at the time that people above him didn't want us knowing this, and now you can see why. It must have been worrying that with revealing song list, costumes and storyline to 1,400 dancers, something would leak out. Quite frankly it's a real testament to all the volunteers involved that the secret remained that until the night. Danny and Kenrick were present at almost every rehearsal, popping in to speak to cast and seeing how the show was developing. It came across that this was a labour of love for both of them, with the amount of pressure that was bestowed upon them, they approached this is the best possible way. As a volunteer you felt appreciated and ready to follow them wherever they led you next, which turned out to be Dagenham.
Our next move was to the old Ford factory in Dagenham, where they had created two full-scale pitches and a huge marquee in between them. Looking like something out of the circus, the greatest show on earth had moved further east. Here was where we were first brought together as a full cast. We learnt about coordinates, which are used by any large-scale show to base all their dance formations and positioning on. These would be hidden on the staging, which really came into play when we all took to the floor. Here was where we were let into elements of what other sections would be doing, seeing rows of hospital beds, stunt bikers and an odd tree or fence lying about. We also learnt about the elements, as in weather, being an outside location we became accustomed to our ponchos and dodging puddles while making star formations.
After rehearsals dried up in Dagenham, we moved to the Olympic Stadium, but there wasn't anything dry about it. On the first rehearsal there, our spirits were slightly dampened by the rain. Being through this before, we donned our ponchos as usual, but with one difference, the stage was completely lined by vinyl. Although it did look amazing from the audience, making up the London map, it was extremely slippery to dance on. Dancers were slipping everywhere, and this was before we even put on our platform shoes. After a slow walk through it was clear the rehearsal couldn't go on, so we were sent home early. Reassuringly a few weeks later non-slip paint was added to the surface, otherwise it could have been a very different show if the rain decided to set in.
With the rain aside, being in the stadium came at the perfect time to rejuvenate the cast and remind us of what we were there to do. The moment the lights went on and the music boomed out to the 80,000 seater arena, the atmosphere was amazing. A few weeks later when news of the big cuts to the show were announced to the cast, it of course was met with a grumble.
With only two weeks to go, we had our moves down to the second, so 30 minutes of cuts seemed like a very long time. However, the reality for our 'Thanks Tim' section turned out to be merely loosing a few dance moves from each section, so our cast didn't fare too badly. It was odd that with such a highly publicised event, the press would sometimes leak a story before it had been reported to the cast, which I think happened in this case. For the show to have it's full effect. it was best to be shrouded in some mystery. I found myself feeling very protective over any information I had, not liking it when too much was given away. On the other hand when the press leaked the track-list from the present day section and linked it farm yards, it was fun to see them get it wrong and confuse everyone further.
As the week of the show approached, the whole cast was moved to Eton Manor on the Olympic grounds, which was a 30 minute walk from the stadium. It meant we got a nice walk (or twenty) through the entire site, but for the older cast members and children this was quite an obstacle. The whole 10,000 cast members were all held here for the final dress rehearsals of the show. Having only attending one fitting previously; the wigs, platforms & skin tight lycra suits came out and it started getting serious. Backstage was the most bazaar mix of 40s nurses, Dickens' characters & punk rockers - this was one huge operation.
Throughout our whole journey, each section was still kept in secrecy as to how the show as a whole would work, with #savethesurprise emblazoned around the arena. Finding the opportunity to sit in the dress rehearsal, I saw the whole thing come together for the first time, and experienced what those sitting there on 27 July were yet to see. It was amazing. I was surprised, moved and thoroughly entertained throughout. I had been in rehearsals for months and not even I could have expected something as great as this. We also got our first chance of performing in front of a packed arena, which was the most surreal and unforgettable feeling. Although it was over in a flash each time, I could see the audience got involved straight away and came along on the journey with us each night.
Leading up to the ceremony there was a lot of hype as to whether it would live up to Beijing, and maybe I'm bias, but I believe it is truly incomparable. With the Olympics banner being the only similarity, the actual show and approach differs so greatly it's like comparing Star Wars to Gone with the Wind. Both are great, but for very different reasons. I feel that the attitude behind it showed all of the things that are great about Britain, and represented us how we should be. It was wonderful to see how many people gave up their time to come together and represent their country - having a great time whilst doing so.
The team behind the London 2012 Opening is so vast, with many working on a voluntary basis, and it all came down to one night. This is a great moment for Britain and it was without a doubt the best Olympics opening ceremony I've ever seen.