Every summer, New Designers lands at the Business Design Centre in London's Angel. And within it's walls are over 3000 graduate talents from leading design courses across the country. As a past exhibitor at New Designers myself, it's a show I return to each year to witness the new and the next. Split across two weeks and a multitude of disciplines, there is an overpowering amount of budding creatives who are fresh from their studies and ready to showcase their work. So one sunny evening, I went down to see some of the work on offer and here are a few of my Rich Pickings.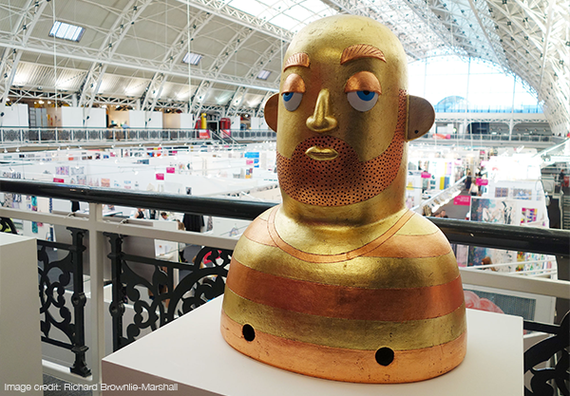 Vilas Silverton - Zen Rogues
It was hard not to fall for these Zen Rogues by Vilas Silverton, which held their position overlooking the second floor balcony of the New Designers exhibit. The pieces come from imaginary portraits the artist created and then moved onto large clay figures. They stand out due to their large scale and untypical demeanor. When you think of busts, you imagine some chiseled figure staring intently into the distance, where as these sit nonplussed with their eyelids at half-mast. I find them to be very warm and characterful portraits and each encapsulates a real charm and humor.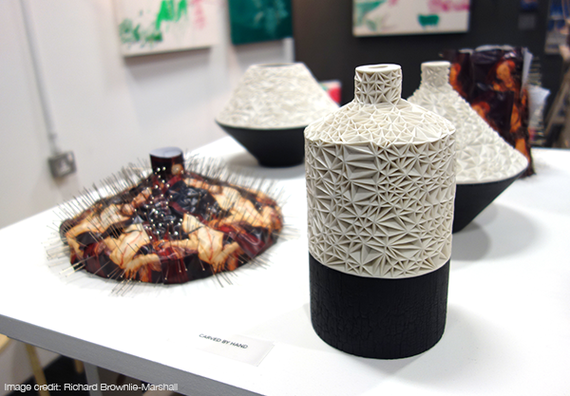 Leah Jensen - The Death of Lucretia
Each year they have an area of the exhibition named 'One Year On', which showcases a curated range of designers who have been one year in the industry since studying. One of those designers was Leah Jensen, who caught my eye with her painstakingly intricate hand-carved porcelain vessels, joint together with burnt wood. When I first saw the display, I inquired whether they were 3D printed, as their was a great uniformity and precision to the work, so it is unbelievable how much work must go into these. It was interesting to learn that the structure pattern comes 14th-16th century European paintings being applied to the unfired clay, and then pins are used to map out a hidden geometric structure within the work. She describes the hand carving technique as "anti-digital", as it is pushing her own stills to be as complex and clean as if it was made by machine.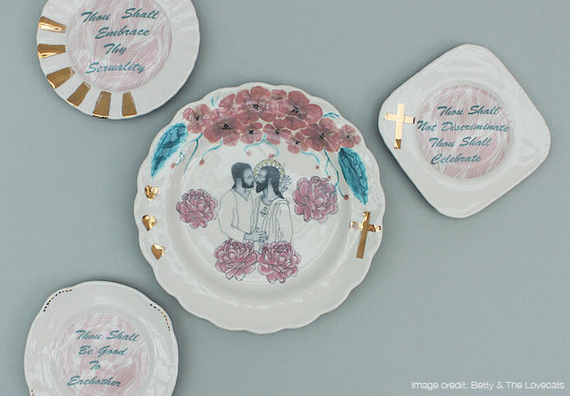 Bethany Dixon - Betty & the Lovecats
Inspired by religion, pop culture and drag queens - Bethany Dixon has created a range of risqué ceramics and sculptures, sure to start a conversation over the dinner table. She has a great illustrative talent that is complimented with considered touches of colour and metalic gold. Although some of the work may make your Gran blush, Bethany likes the fact that it provokes an opinion, and it doesn't matter what it is as long as you feel something.
New Designers Week Two runs from the 1 - 4 July and includes design disciplines of furniture, product and illustration - to name a few. Now celebrating it's 30th birthday, the talent on show is as strong as ever and I was more than impressed by all the graduates efforts. When I exhibited at New Designers, I remember enjoying the chance to talk about my projects outside of university for the first time, and it's great to see the next generation doing the same now. I'm sure many of them will return a few years down the line and look back with fondness in the same way I do now.
Popular in the Community