I've sometimes toyed with the idea of getting a tattoo, but there's something about the permanency and probably the pain that stops me entering through those parlour doors. However, I recently came across Oliver Sweeney offering the option of getting a tattoo on their shoes, and this instantly seemed like a much more painless option.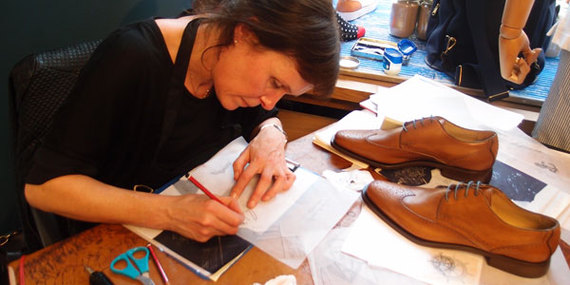 I went to meet with their Tattooist-in-Chief, Sarah, at the Oliver Sweeney store on King Street. As I approached the location I could hear the buzzing of the needle, as though it was the real deal, and was glad it wasn't my body about to get an inking. She explained that the ink and needle is the exact same kind they use on skin, with the only difference being that on a person the ink has to go through three layers of skin and on a shoe it's only one.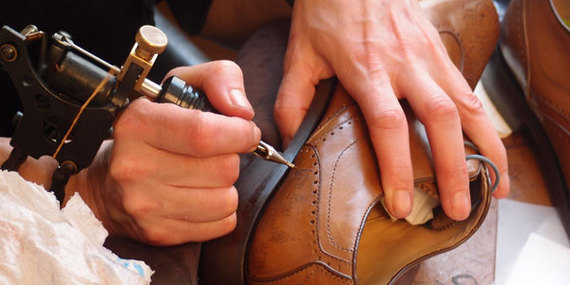 Sarah has traveled the world with Oliver Sweeney, so has dealt with a great number of varied requests from city skylines to donkeys. For my pair of shoes I wanted something that represented me, and that's completely possible thanks to this great tattooing feature. I absolutely love architecture and since being in London, the Houses of Parliament has always been the epitome of icons in the city. Having Edinburgh as my hometown, I also wanted that to be represented, and nothing defines the city better than the majestic Edinburgh Castle.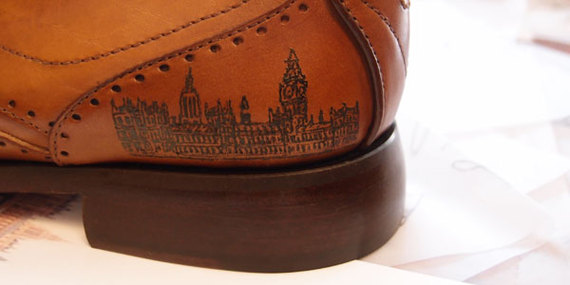 I thought to incorporate my signature, as it has always been something that has followed me and my career. Equally if I was to go under the needle myself, I always thought that the signature would be what I would opt for. Similar to how Andy in Toy Story wanted to write his name on Woody's boot, I wanted to tag these one-of-a-kind shoes. Sarah came up with the idea of simply signing the front left shoe, so it's like a final sign-off on the work.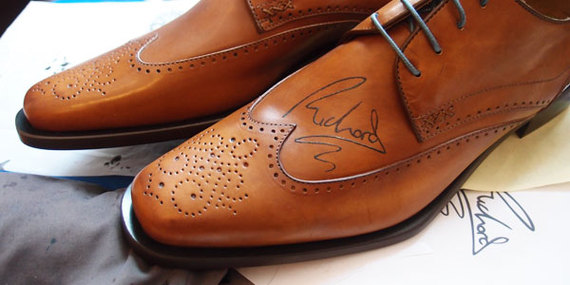 The final result looks excellent, and a great collaboration in styles from the beautifully crafted Oliver Sweeney shoes, through to Sarah's tattoo interpretation of my vision. Best of all, it was the completely pain-free tattoo I had always dreamt of. I now wear them with pride, safe in the knowledge that I wont see another pair of my 'Signature Richard' shoes on the streets.
To find out more about Oliver Sweeney tattoos, see their website here.