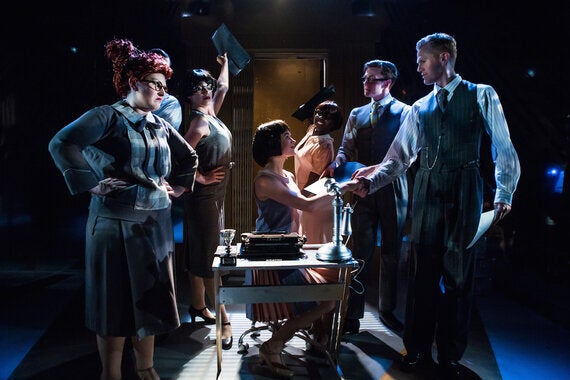 I didn't realise at the time, but Thoroughly Modern Millie seems to be a somewhat of a divisive show amongst critics. Some can't see past it's over-the-top exterior, and some love it for that very same reason. I can safely say that I'm from the latter way of thinking. It's a show that crams in almost every element of musical theatre that you could dream of, and although it may not be considered ground-breakingly different, sometimes you just want a night of great entertainment. Luckily, its latest outing at The Landor Theatre delivers that and more.
I originally saw the show on the West End twelve years ago, and fell in love with it's twenties style, rousing melodies and tap-heavy dance routines. On it's return to London, I fell for it all over again - only with around 2,330 less audience members around me this time. In this beautifully intimate off-West End venue, all the magic of the Broadway smash-hit is created again, only this time everyone has the best seat in the house.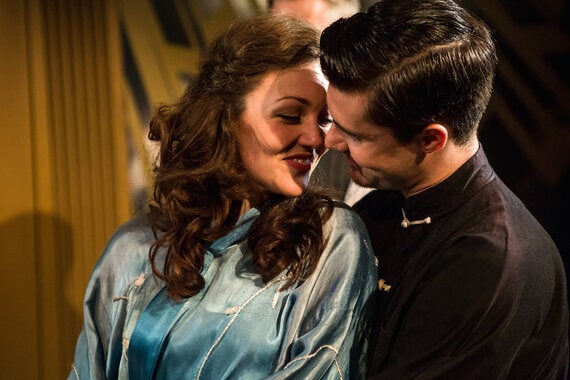 Thoroughly Modern Millie begins with small town girl, Millie Dillmount, arriving in New York with very little money but a whole lot of ambition. Millie, played by Francesca Lara Gordon, opens with the defiant song "Not For The Life of Me" which soon blends into the dangerously catchy "Thoroughly Modern Millie". I always think of this as being one of the best opening sequences in musical theatre, where it instantly draws you into the pace of the show with a wonderfully up-beat group number. Sam Spencer Lane produces engaging choreography that pushes the boundaries of the small stage and captures the magic and excitement of live performance. The entire cast is very clearly well versed in dance and carryout the routines with character and style.
There is constant kinetic movement in this production, that showcase the very stylistic vision the fills the theatre. Some of my favourite moments in the show revolve around the workplace where Millie gets her first job as a stenographer. Other typists and office workers move around the stage and tap their way through numbers, giving triple-threat talent that is a joy to watch. In Act Two opening number, "Forget About the Boy", we get hit with a great song and dance combination that shows great ambition on The Landor stage.
Sarah-Marie Maxwell is very well suited to the role of Miss Dorothy Brown, showcasing her great vocal ability and a real presence that holds your attention. She sparkles with innocence and blends well with the other characters, with high-points including her duets of "How the Other Half Lives" and "Falling in Love with Someone". Christina Meehan is certainly the break-out star of the show, finding humour within her various guises, and hits the mother load as grumpy Miss Flannery. Thomas Inge and George Hinson, breathe life into the stage with their dancing, which their skill-set being fully utilized in the number, "Long as I'm Here with You".
Thoroughly Modern Millie is fun, light-hearted and packed full of great music, dance routines and performed by a talented young cast. I enjoy the fact that it squeezes in every element of musical theatre and demands a lot from it's cast, who manage to deliver for the most part. The show has been very smartly adapted for the small stage and a great example of how a blockbuster musical can work in a more intimate setting. The show is fun, the cast is lively and it's a night of good fun at the theatre.
Thoroughly Modern Millie runs until 13th September, The Landor Theatre.
Images courtesy: Richard Davenport