Richard Byerley, 84, has broken the world record as the oldest person to summit Mount Kilimanjaro on foot. His climb was fully documented and is expected to be entered successfully into Guinness World Records™. British retired professor George Solt earned the title in 2010 at age 82.
Byerley and his two grandchildren all reached the summit of the 19,340-foot mountain in Tanzania before sunrise on Oct. 6, 2011.
Richard Byerley as told to Karen Goodwin, a freelance writer based in Boulder, Colorado.
At age 84, I'm glad I made it to the top of Kilimanjaro and back down again, but truth is I missed my wife, Beth. We've been married for 63 years, and we're pretty much inseparable.
Beth summited Kilimanjaro 30 years ago, but I chose not to go back then. I asked her to come with me this time, but she said no, once was enough. Now I know what she means.
We took the six-day Machame route up Kilimanjaro. I didn't get altitude sickness, thank goodness. My only problem was that my hand warmers gave out on the summit, so my hands were cold. We were probably at the top for about 30 minutes taking pictures and looking around. My granddaughter Annie, who is 29, and my grandson Bren, who is 25, went with me on this trip. They are cousins, so they thoroughly enjoyed themselves talking about family and what they're up to these days.
We got to the summit before sunrise on Oct. 6. We left base camp at 11:45 p.m. and arrived at the top at 6:15 a.m., so it took about six hours to go four miles. It was dark, so all the different hiking groups had lights. I remember looking down and seeing the lights and feeling relieved that I was already up ahead. I remember one other group passed us, but we passed a couple of groups ourselves.
As we climbed, there were about two inches of snow on the ground and more on the summit. Our guide said it was unusual to encounter snow on the way up. Of course, it never rains on top of Mount Kilimanjaro, only snows, because it's so high at 19,340 feet.
I'd say it was about 15 degrees Fahrenheit at the top that day with no wind. It was clear as a bell. There were layers of clouds underneath us.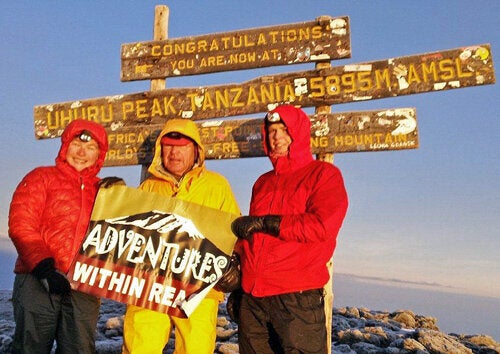 Richard Byerley at the summit of Kilimanjaro, flanked by granddaughter Annie (left) and grandson Bren (right).
Going back down was no problem. We did those four miles back to base camp in three hours. Our guide strongly suggested that we rent hiking sticks for the way down, and they helped in some places but were a hindrance in others. The last day I didn't use them at all.
I'd say maybe the second day was the hardest. There was no defined trail, so we had to make our way up large boulders and ridges. That was tiring.
So now it looks like I'm the oldest person to summit Mount Kilimanjaro. When I bought this trip at a charity auction in Sun Valley, Idaho, I didn't know anything about climbing records for Kilimanjaro, it just sounded like a nice trip. But Robin Paschall, the owner of Adventures Within Reach, told me that if I made it I'd be the oldest person to do so. She has summited twice herself. I had no idea if I'd make it or not. No one knows until they try.
My four kids, who are 53 to 60 years old, were all busy working, and of course Beth didn't want to do it again, so that's when my two grandkids volunteered. Annie and Bren both had headaches from the high altitude, but they were okay otherwise. They're both First Responders.
I was very impressed with the guides and the porters. They were carrying a lot of weight, like portable toilets, tents, cooking gear and the like, and they were mostly wearing ordinary street shoes. One even had dress shoes on, and he kept them clean looking the whole time.
Hikers often leave their boots or shoes for the porters. Beth did that some 30 years ago, too. She said her feet were so sore she never wanted to see those boots again. I brought with me some down coats as gifts for the porters. These folks basically rely on tips and gifts as a way to make a living, and they work extremely hard.
People have asked me how I feel now that I'm suddenly a world record holder, or will be once Guinness World Records officially verifies all the videos, photographs, signatures and sworn statements from this trip. I say I'm still the same person I was before I left. It's like when you buy a new house or car--you're still the same person.
And then I get asked how I stay in shape and whatever. We've always exercised a lot and worked hard on our alfalfa farm in Walla Walla, Washington. Beth cooks a lot of veggies and serves salads, and we eat small portions. We may split a sandwich for lunch and share a hot chocolate when we go skiing, which we do nearly every day in the winter. We each have a small glass of wine while we watch the evening news. I don't have much caffeine because it doesn't agree with me.
We were in transit for more than 18 hours on the way back from Africa, and when I got home Beth had a party for me. People ask what's my secret to living a long and healthy life, and I say it's having a great wife. I owe everything to her.