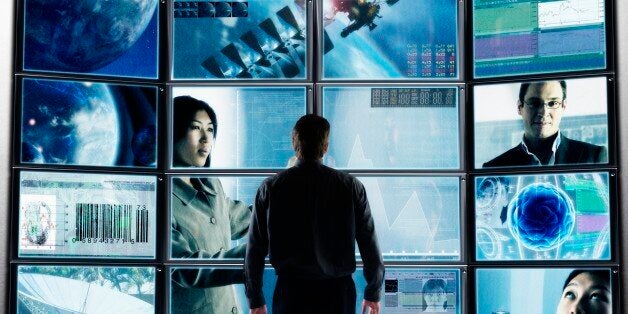 Technology is too good nowadays. I may be getting on, but my complaints have basis and isn't simply just inane whinging... okay well some of it is. But I honestly believe there has to be an end to this constant need for perfecting technology. Stop it already. I mean it.
I didn't grow up with a black and white television set, I had a standard size colour box - at the time when they only really made one-size-fits-all-homes set-up. It was a magnificent beast and in order to just move the thing a little bit you needed two people, or have it on a stand with wheels - as they did in fact come. It was low quality, but the best quality you could get in your home at the time, which actually wouldn't matter all too much due to the little variety on offer.
But now we have flat screens, curved screens, LED screens, OLED screens, plasma screens, HD ready, Full HD, 4k and the list goes on. The point isn't that we have so much choice, or that technology is reaching further and further each day. It's more about when will it ever be enough? I sometimes find myself watching a screen and the movement of the camera is so fast that either my eyes or my brain fails to keep up with the changing pixels - and I don't even need glasses. But I can tell you a fair percentage of the people in the world don't have perfect eyesight - my dad needs glasses whilst using his magnifying glass - so how will they cope with these ever-growing high definition products?
I wonder at what stage will we realise that our eyes can't even keep up with the technology itself. Going to the cinema for 3D or watching a 3D TV makes me feel oddly dizzy - isn't that a sign I really shouldn't be watching in 3D? I oft wonder if the colloquial adage "if it ain't broke don't fix it" is applicable in this instance. I remember when the Nintendo 3DS came out and there were warnings about letting young children look at 3D images for too long. All my life I was told not to get too close to the TV, and now we have phone screens presenting virtual images inches from our eyes.
It's a worry that technology is moving this fast, the manufacturers are so gung-ho in a rush to get out the newest product, just so it can be replaced shortly after with another item of similar shelf-life. My VHS cassettes were devastated when DVDs sat cosily alongside them, and then I found my DVDs outclassed and being sold off in groups as Blu-rays invaded my shelves. I'm not too fond of the idea that I just have to keep purchasing a new product to connect to a new device that can only connect to the upgraded system just so I can watch the weekly quiz show.
Am I now having to be forced to sit in front of a TV eight times the size of my first, notice the three layer coating of orange make-up on the presenter look ultra impressive on my new TV, simply because the standard scart socket is now defunct? Are we already at the point in which our eyes are already working at their peak? Will they have to employ prettier people when 4k quality becomes the norm?
I'll never get on TV at this rate.