This Sunday chances are your local mosque will be hoping for a visit from you. It will be "Visit my Mosque" day, a nation-wide event organized by the Muslim Council of Britain on Sunday 7 February in England, Scotland, Wales and Northern Ireland.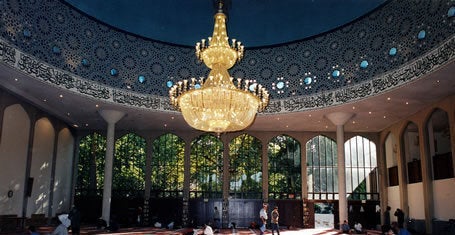 Visitors of all faiths and total secularists are welcome to visit one of the participating mosques, like this one in central London, where we are all urged to ask questions, have guided tours, and meet the leaders and volunteers at their places of worship.
It is important to ask the most difficult questions you have about Islam and about the curse of terrorism being carried out in the name of Islam. You will not be regarded as impolite. Rather, this kind of heart-to-heart dialogue is vitally important, both for our Muslim communities, and for everyone who sees Islam as a threat to local culture and a breeding ground for appalling acts of cruelty.
"The day will allow for people to meet face-to-face, get to know each other and tackle misconceptions," says one of the organizers who knows that the pervasive mistrust of Islam is affecting the 2.7 million Muslims in Britain. Hate-speech and Islamophobic violence are on the rise.
'No bombs, no blood, no news'
"No bombs, no blood, no news," an international professor teaching at a Moroccan university told me last week. We were discussing the global tendency to report acts of terror carried out in the name of Islam, but not the efforts by Islamic leaders and their followers to speak out against the killing and cruelty - and, even more important perhaps, to make clear that terrorism violates some of the most fundamental principles of Islam (the word itself means "peace").
It is therefore not surprising that there has been scant international publicity for a ground-breaking event held in Morocco last week to raise the Islamic banner of peace.
Nearly 300 of the highest ranking Islamic religious leaders from over 120 countries gathered in Marrakesh from 25 to 27 January. Over the two and a half days they discussed the urgent need to protect religious minorities living in their countries, many of whom are facing suppression and the risk of extinction. They invited government ministers from 10 countries, as well as representatives of other faiths and major international organizations like the United Nations, to be part of the deliberations.
Victims from the threatened minorities also spoke, including a Syrian Christian priest who testified in no uncertain terms: "We are up to our necks in blood."
Seen by many as historic, the gathering was essentially a global Islamic peace and human rights conference, with scholars, clerics and leaders from a wide range of traditions including both Sunni and Shia.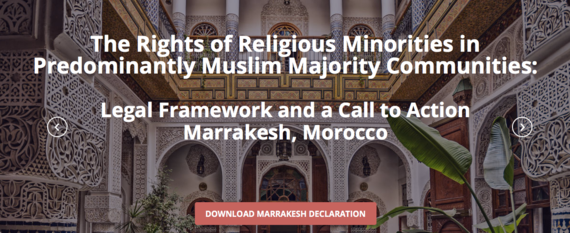 The declaration states that "it is unconscionable to employ religion for the purpose of aggressing upon the rights of religious minorities in Muslim countries."
It calls on representatives of the various religions, sects and denominations "to confront all forms of religious bigotry, villification, and denegration of what people hold sacred, as well as all speech that promote hatred and bigotry."
In a particularly moving passage, it calls on all religions to "address their mutual state of selective amnesia that blocks memories of centuries of joint and shared living on the same land."
"We call upon them to rebuild the past by reviving this tradition of conviviality, and restoring our shared trust that has been eroded by extremists using acts of terror and aggression."
Among those attending from the UK was the Senior Imam at Makkah Mosque in Leeds, Qari Asim. He is also the senior editor of ImamsOnline.com. Writing in The Huffington Post (which has an honourable tradition of highlighting such voices) he said:
The Prophet Muhammad himself and the early Muslim community was religiously persecuted at the time of advent of Islam. Islam has therefore enshrined the rights of religious minorities, and promoted religious tolerance and cultural diversity. The Quran states "To you your religion and to me mine" (109:6), and recognises religious freedom. It means respect, acceptance,

and appreciation of the rich mosaic of global cultures.

Muslim scholars gathered at the summit made it clear that religious minorities living in Muslim countries must enjoy safety and security, granted by Islam, unconditionally. Conflicts, tensions and divisions amongst faiths feeding animosity must be resolved through mediation, diplomacy, and dialogue.
It is against this background that I urge you to consider visiting your Mosque this Sunday. Don't hold back from putting your toughest questions or your worst fears to the people you meet. They want all this out in the open; that is why they are opening their doors. If ever there was time for open-hearted speaking, it is now.
If you wish to read the statement I presented at the Marrakesh Conference, being one of the Buddhists present, it is now online in Arabic, French and English.