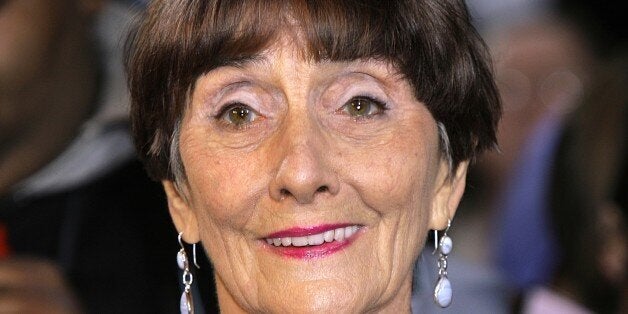 Last week there were reports that one of the nation's best-loved actresses, June Brown, was experiencing sight and hearing loss. The news highlighted an important issue that is sadly incredibly common in older people. There are currently 250,000 people aged over 70 with dual sensory loss in the UK, a figure that is set to rise to over half a million by 2030.
Playing one of soaps' most iconic characters, Dot Branning (formally Cotton), June (88) has been a regular in our households for the last three decades. It's natural, therefore, that her news would resonate with the general public. The organisation I represent, Sense, who support and campaign for people with sensory loss, received over 150 calls on Tuesday from members of the public seeking more information on the subject.
So, what do we know? Well, very simply, as we get older our hearing and sight deteriorates and it becomes more likely that we will experience sight and hearing loss. This can make life more challenging, impacting on an individual's ability to access information, communication and mobility. Individuals are likely to feel isolated, and may experience feelings of loneliness and depression, even when living in residential care.
Hearing and sight loss in older age is usually dismissed as a normal part of ageing process - and therefore ignored or the impact is overlooked. This is true not only of individuals and their families and friends, but also healthcare professionals. The good news is that very basic interventions and support, not only from specialist organisations like Sense, but also from families, friends and local high street services can make a big difference in enabling someone to live an active and independent life.
The problem is that the condition isn't always correctly identified. Sight and hearing loss in older people can be overlooked by professionals, who will often focus on the physical needs of that individual, without recognising the way in which sensory loss can impact on all aspects of life.
This is something that has to be addressed at the very top, by our policy makers and commissioners. We can no longer underestimate the impact that dual sensory loss can have on a person's life (both in general and in comparison with single sensory loss). We have to begin prioritising identification. From a health and social care perspective, having appropriate identification and services in place makes clinical, but also economic, sense, as we know that someone with sensory loss is less confident in managing their own health, they're more likely to have additional health conditions, and more a risk of having an accident.
Once the condition is correctly identified, the correct support framework can be put in place. There are some simple (and free!) actions friends and family can make to support someone with sensory loss. This includes looking at someone when you're talking, letting someone know you're there, providing basic guiding support to get someone from A to B, or letting someone know what you are doing before and while you're doing it.
The lack of a tailored service response can be very damaging. 'The Silver Line' telephone help service is simply unable to address the needs of people with little or no hearing who are unable to communicate by phone unless these are equipped with special technology. Alternative approaches are needed. Sense's specialism means that we are uniquely placed to offer a befriending service that responds to the complex needs of older people with sight and hearing loss. In addition, our social prescribing services offer group activities focused on improved wellbeing, with arts, sports and culture, and also helps to tackle issues around mental well-being and isolation.
Sense is also calling for an investment in early intervention services to meet the needs of a growing number of people with sensory loss. We want to see more investment in specialist communicator guides services that act as the eyes and ears of the person with dual sensory loss and provides practical support so individuals can maintain their independence and participate in their local community. This service helps to meet a range of health and social care needs for a vulnerable service user group who can be difficult to engage with through more traditional services. They also make economic sense as they reduce the need for expensive unplanned emergency services or a move to residential care.
I like many thousands was sad to hear the news last week, but if June's high profile case is able to bring attention to the growing number of people living with dual sensory loss then positives can be drawn from it. Sight and hearing loss amongst older people is a ticking time bomb that we need to urgently address and one that is all too often neglected. Yet, we will all be affected one way or another. Commissioners and providers need to work together to craft solutions. We must not accept sensory loss as a simple part of getting older. With access to information and the right support, older people can still live active and independent lives.
'Enjoy life' - A guide that provides information for friends and family of older people who no longer see or hear too well, is available here: www.sense.org.uk/content/enjoy-life
'It all adds up' - A guide, created for frontline healthcare staff, on identifying and supporting patients that have dual sensory loss, is available here: www.sense.org.uk/Italladdsup