Here in India, the money crisis has passed and the daily allowance from ATMs is back to normal. It was humbling to witness how very patiently the locals coped throughout the crisis, with a calm and unruffled attitude, whilst I struggled to constrain my inherent urban angst.
We have had a hugely successful launch of the House of Khadi shop - in a section of Jade Jagger's boutique on Ashwem beach, North Goa, on the Arabian Sea. We are extending until mid-March !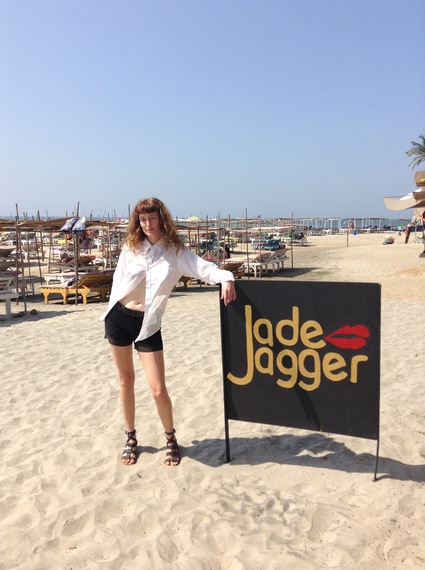 author's own
On this beach strip of unique clothing outlets and fine Euro influenced restaurants such as La Plage and Elivar, there's also outstanding Indian food 'Fresh From The Tandoor' -kingfish or paneer at Gopal's and Café Morjim and delicious Goan cuisine at Om Ganesh and Here & Now.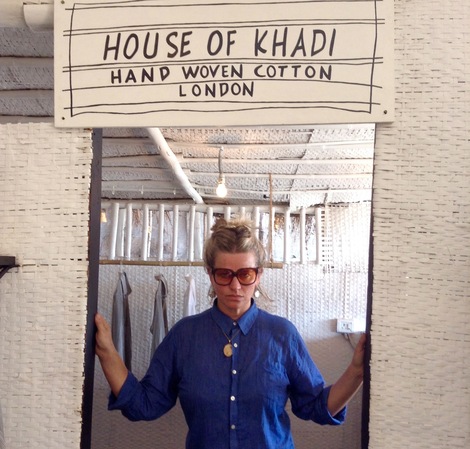 photo: beatrice banks
Twenty years ago while discovering the joy of designing and making clothes in India, I met a dashing young man of French and Celtic origin. Born on a cow shit floor in South Anjuna in 1972, his parents had met on the infamous 'Hippie Trail' from Europe through Turkey, Afghanistan, Iraq, Pakistan, India and eventually settled in Goa. On our first date he arrived at my house on his Enfield with a red rose clenched between his teeth. Thus ensued a grande passion. But a month later he had to leave Goa to chef at his café on the west coast of Canada. I was crushed.
An old friend picked me up, as old friends do, and suggested a trip to the North of India. Highlights of our trip included: waking up on a bus between Delhi and Kulu - with my mouth open and dribbling on to the dirty rubber flooring of the aisle - my seat having been stolen from me whilst I slept! Then there was altitude enhanced chillum smoking of charas in Pavarti Valley in the Himalayas. This caused me to become a paranoid wreck. Finally, there was checking myself into a yoga ashram in Richekesh and contracting severe amoebic dysentery. Memorable - and for all the wrong reasons.
I returned to my family in London for a spell of 'fixing up'. My father dosed me up with vast quantities of comfrey and aloe vera and strapped me up to a crystal healing machine. I recovered fully, much to the amazement of the Tropical Disease Hospital in Marylebone, who had insisted my only hope was to take a course of very strong 'gut flora destroying' (to quote my father) antibiotics.
But of course it was an amazing trip - I actually loved every minute of it. And that's why I keep coming back - year after year...
Back then, my brother and I owned a herbal drinks company called Gusto. We made a mutually beneficial deal whereby we both took eight months off to travel whilst the other held the fort. With several months remaining of my time off and recovered from the dysentery, I went to see my love in Canada. He took a break from chef-ing and we clambered into his '67 Chevy pick up truck and road-tripped from Vancouver all the way down the West Coast, through Canada, the U.S and Mexico selling various wares that I had made in India to pay our expenses.
By San Francisco, I was surprised to discover that due to one night of amorous carelessness, I had become pregnant. We carried on road-tripping regardless through Mexico to Belize where we landed in San Pedro Columbia in Southern Belize to stay several months with some American friends on their permaculture farm deep in the rainforest.
Somewhere in my third trimester I flew back to London to take back the realms of Gusto. As luck would have it we got offered a decent sum of money to sell our 'Gusto' brand. My brother and I were happy to accept the generous offer, move on and explore other ventures. Gusto has since been relaunched.
After my son's first birthday I decided to move to Ibiza. I'd been going to Ibiza and Formentera since I was a young child and had many friends already living there. Six years passed, living in an old finca in the north of the island, growing organic vegetables by day, running clubs and hosting parties by night. It was a lifestyle partially financed by making collections in India which I would then sell online, in private house sales, and in a small boutique in Bambuddha. From luxury mosquito nets to kids' clothes, men's shirts, traditional style cotton pyjamas and women's wear, I have always had new ideas for new things to design and make.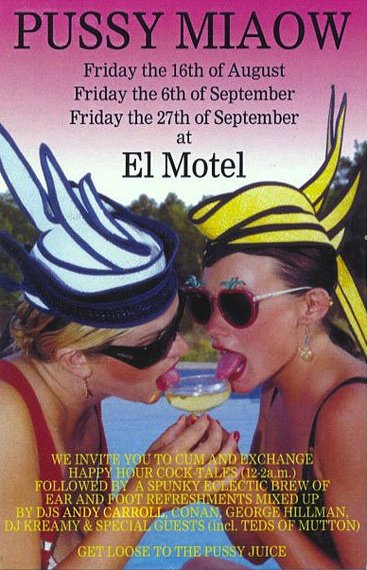 photo: leelu morris
By this time my dad and stepmother had moved to the Old Town in Hastings, East Sussex. So passing through on our twice annual migration to India we would drop in for a few days. It was during one of these visits that I met, my now business partner, Lily; then, a quirky, lanky, infectiously giggly, adorable teenager. Now, a fully fledged adult and mother of my beautiful god-daughter Mele. Lily has lived and worked in London and New York. She has extensive experience in styling and fashion blogging. She is a dreamy friend and a fantastic business partner.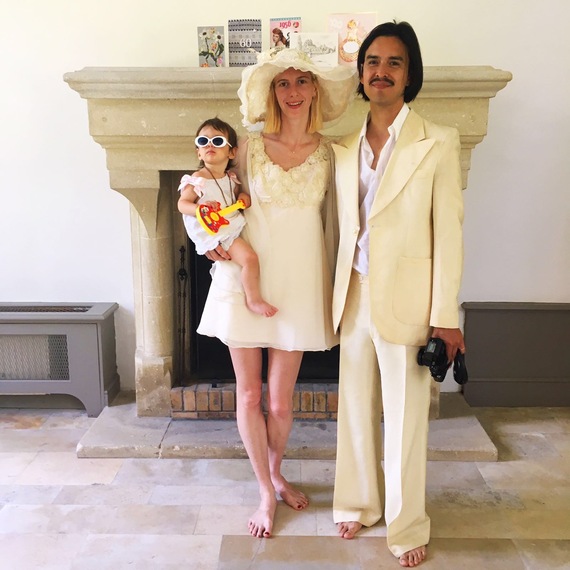 photo: author's own
The overall feedback for our House of Khadi shirts has been incredible, with both men and women remarking on the soft and lightweight comfort of the texture of our hand spun and hand woven Khadi shirt fabric. Cool in the heat of the day and comfortable in the evening.
The next instalment will explain how Lily and I created the House of Khadi brand.
Love xx