In a career more mysterious than Creutzfeldt-Jakob Disease average boxer Amir Khan appears to have secured a $10'000'000 dollar payday with a fight against boxing great Floyd Mayweather Jr. How can he possibly deserve this chance having lost two of his last four fights?
Well, Khan began life as a decent fighter securing a silver medal in the 2004 Olympics. From then on the media spot-light, ably assisted by first manager Frank Warren, has followed his every move. The new Golden boy of British Boxing talked a great fighting career and future legendary status. Soon however the hype was exploded as in his first and retrospectively premature pay-per-view televised match Khan was blasted out cold in one round by unknown fighter Breidis Prescott. Manager Warren helped cover over this shock defeat by bringing over to the UK from Mexico ageing superstar Marco Barrera-a boxer well past his prime for Khan to look good against.
Furthermore, Warren helped Khan see the depth of talent in the lightweight division at that time that included Manny Pacquiao conqueror, Juan Manuel Marquez as well as other danger men including Juan 'Baby Bull' Diaz, Michael Katsidis, Joel Casamoyor-all of whom would have probably beaten Khan and so he took Warren's advice and moved up to light welter-weight and within two fights against easy opposition (Old Barrera and Oisin Fagin?!?!?) just two fights after being knocked spark out Khan got a World Title fight against a champion who could have been handpicked for him. Andriy Kotelnik went the distance but could not handle Khan's hand speed and lost a unanimous decision. Khan by now had convinced many but mainly himself that he was the second coming. With a confidence that transcended merely grandiose delusions into a full blown Messiah complex we heard how he would skip through the weight divisions, wiping out all in his path (while still avoiding offers of a rematch with conqueror Prescott like the plague) To cut a long delusory story short, the truth was more defeats followed. Smaller, so called none-puncher and hardly a household name Lamont Peterson defeated Khan, bullying him around the ring. Khan employed illegal pushing tactics just to keep the marauding Peterson at bay and stay in the fight which saw him warned by the referee who went on to deduct penalty points for fouling from Khan. Next, crude, throwback fighter Danny Garcia who practically telegraphs every punch he throws still managed to find Khans chandelier-like jaw more than once. Then, finally in his last fight against tiny blown up lightweight fighter Julio Diaz Khan again visited the canvas in the fourth round and looked very shaky in going the distance. This summer past saw Khan embarrassingly duck out of a fight with dangerous Devon Alexander on the judgement of his advisors who know yet another knockout could only further embarrass them when Khan's name was finally mentioned in the same sentence as Mayweather's with a look to a fight. Khan still has the nerve to carry the moniker 'King' in his ring name-go figure.
How can Manny Pacquiao not be a credible oppo-nent for Floyd while this glass chinned wannabe gets a shot? What about unbeaten Danny Garcia who himself knocked out Khan and a man who has avoided no one, recently defeating Argentinean tough guy Lucas Matthysse who himself had just destroyed previous Khan conqueror Lamont Peterson inside three rounds!! The answer of course we are told somewhat pathetically is that this is boxing. You don't get the fights you deserve but the one's you can negotiate.
So what now for Khan? Sadly win or lose (and its likely he'll lose) he will never be remembered fondly by the true boxing fans. A continual list of graceless excuses fall from his lips every time he has been beaten (all by none-name fighters) We live in a culture of 'entitlement' Where many hun-dreds of people with the talent of a boiled potato enter The X Factor and similar talent shows and sincerely think they should have a career regard-less of ability. Khan is at least the King of that cul-ture as we will all no doubt witness when journal-ists ask him if he deserves this chance.
So what about legacy? How will Khan be remem-bered comparatively to other fighters of his weight division and era? Let's compare him with say the American Champion Shane Mosley, a true great if ever there was one. Shane fought everyone who was a challenge. Like a real champion of pedigree Shane was unbeaten in his first 38 Professional fights. Fighting all legitimate challengers and beating them in his 39th fight he took on Vernon Forrest a fighter who had previously beaten him in the amateurs and Mosley was surprisingly beaten again but still showed character and took the rematch. A couple of years on and the King of the 'Who Needs Him' club was a talented fighter called Ronald 'Winky' Wright-a boxer highly skilled who was avoided like the plague by all of his contemporaries! Shane took him on lost and then immediately took him on again putting in a better but ultimately unsuccessful performance. Still, Mosley retained the public's respect even in dignified defeat, after all he had already fought and beaten the great De La Hoya in his prime as well as Britain's unbeaten Adrian Stone and would go on after these initial defeats to beat the formidable likes of Fernando Vargas, Luis Collazo, and Ricardo Mayorga.
Then in 2009, when monstrous World Class Wel-ter weight fighter Antonio Margerito battered the then previously unbeaten new superstar Miguel Cotto and looked pretty indestructible while doing so everyone looked the other way. No one wanted to fight new Champion Margarito. Not De LaHoya, not Joshua Clottey, nor Andre Berto nor Zab Judah nor Luis Collazo-not even renowned tough guy Carlos Baldomir would rise to the challenge. What happened? Mosley, then in his late thirtyes stepped in and against all odds wiped the floor with the Mexican. That's a real champion with nothing phony about him. That's what it takes to win World honours in 3 different weight divisions and that's why he's so loved and respected as his illustrious career comes to an end. Khan on the other hand will always be remembered for his lack of dignity and sportsmanship in defeat. Crying like some spoilt schoolgirl every time things didn't go his way, coming up with endless excuses as to why he lost fights, his weight, the referee, his trainer, the officials, etc, etc, etc. He never could just admit that he met the better man and show just a little humility.
So once again, Win or lose this fight (and Lord help us all if by some fluke he should win!) he will forever be remembered for being a pretender with the luck of having gifted promoters and trainers who made him look much better than he ever could be. Shame on the boxing community if this fight happens when far better men deserve a shot at Floyd's crown.
http://www.robblakeman.com/baddestmanonplanet.html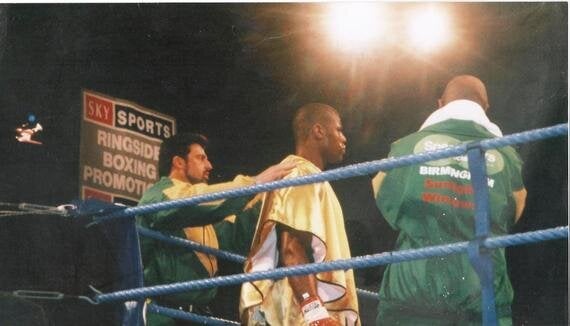 Related