Fitness has always been a part of my life. It began with boxing while at school through bodybuilding and strength training as a teenager through to the present day. I have always prioritized health and wellness in order to stay competitive in everything I do because I passionately believe being healthy and physically fit has a direct correlation to happiness and success, whatever your personal idea of that may be.
I have been in tough training recently in order to pull a fire engine for charity in November this year here in the Arabian Gulf where I live. As a dog lover myself I am inspired by a charity here who does sterling work for homeless animals. Like most in their position they are poorly lacking in funds so I was happy to offer my help.
Running my own business is also a part of my inspiration. I strongly believe that a fit leader is a better leader, it gives you more energy and makes you more productive. Maintaining a regular exercise routine will give you more energy throughout the day. Leading a growing company is tough enough and you are more likely to face the challenges of the day aggressively and confidently if you are strong and vigorous. It also makes you confident and being confident you can solve problems as they come along is vital. Studies prove our cognitive ability to be creative increases with even moderate levels of exercise. Whenever I have a speaking engagement or important presentation, I always try to exercise that day prior to the event. Pushing your pain threshold out of your "comfort zone" is great for coping with stress too, it makes the pain of regular life take on a whole new definition. Bench press a hundred kilo's and most everything else that day seems kind of easy. Working out increases your stamina and mental ability to endure physical and mental suffering. My mental and physical condition was tested on Friday last week as you can see from the photograph below when my Hummer was driven into by some idiot at 140 kilometers an hour as I was coming off an island on the Emirates road here in the Gulf. I don't know if he was texting or half asleep but he certainly didn't see me as he drove onto the island. The Police don't think he saw the island let alone my car because he hadn't even attempted to brake as there were no skid marks! Despite my seatbelt I was hurled from one end of the car to the other, into the sides and finally onto the sun roof upside down as the car came spinning to a halt.
In any case, rather incredibly I was pretty okay once I kicked the door open to get out I discovered I only had a headache and a blood shot eye. The moron was fine too as his car remained upright and he had a seatbelt on. He was also probably no worse for wear because he was already brain damaged!
Anyway, I am reliably informed that my physical condition was the main reason for my survival as my body is used to impact and stress. Maybe God wanted to keep me here to pull the fire engine for my good cause. Maybe I'm just lucky but either way, God, I'm glad I brought those first barbells when I was 14 years old! I had been inspired by my first sight of what I would later find out was an American a muscle magazine and an instant life long love affair with bodybuilding began! can remember working out for the first time ever in the garden at home so hard that the next day I couldn't raise my arm to comb my hair! I really didn't know what I was doing but I was determined to find out. I found out so much I went on to help thousands of others do the same and I still love doing it now!
In any case I wanted to share this with you in the hope it inspires someone to get in shape-you never know when you will need to be. Trust me on that one.
Ps. I know it was Friday the 13th last week but don't get me started on superstitious nonsense!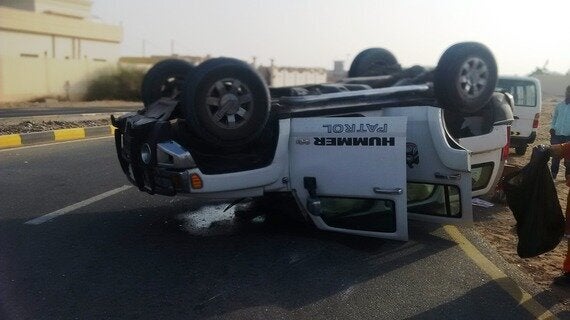 Photograph courtesy of Rob Blakeman