Yewtree will go down as being coined the craze of the 10's. Just as hosting a referendum is the new fad to replace 2013's
"inquiry for this and an inquiry for that! Darling we've ran out of milk, we need to open an inquiry!"
It comes then with no great surprise that crime writer Peter Robinson should bestow his beloved detective Banks with such a folly deal of the historic sex crime.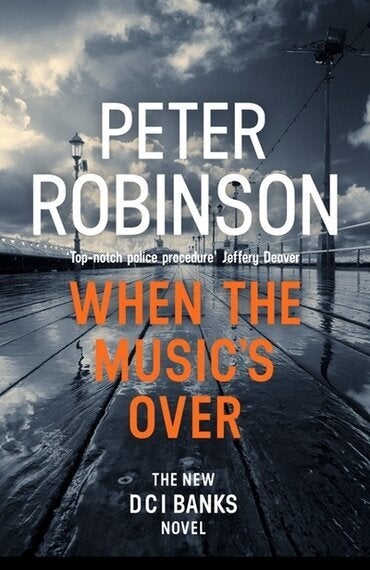 In When the Music's Over, Banks is given the precarious task of investigating his way through the media minefield of an accused long -retired but hugely popular entertainer and his extracurricular perverted activities. The celebrity is untouchable, surrounded in his well-publicised charity work (ring any bells?). Banks is at his best and fans of his working and calculated mind will not be disappointed as he weaves carefully in a highly diplomatic fashion, dealing with an antagonist's ego that is unlike any other.
Robinson like many of the great crime writers still publishing today, has managed to create a character in Alan Banks that is both exhausted with the shallows of humanity and clever in that his respect for his colleagues and seriousness in his work. The depth presented in the sub-text really gives this book the edge and is made accessible in the simplicity of the plot. Those new to DCI Banks cases or even the genre, can enjoy an original twist on a modern theme. The book does draw many parallels with the Cosby and Savile case, certainly those intrigued will find plenty of weight and will no doubt carry amble respect for Robinson's use of research.
Where this latest book takes the mantle, is the use of two intertwining cases. Annie Cabot a junior detective and colleague of Banks' is assigned the case of a murdered young woman found beaten to a pulp in a country lane. The case takes Annie deep into the sex trade of a local Asian community. Here the dark side of immigration is tackled in yet another area that has been keenly researched by Robinson.
The only negative comment and perhaps this is due to my own ignorance, is that the sex trade in the Yorkshire dales at first repelled me as I didn't find the plot believable. Nevertheless, as I continued to read, I realised that it was indeed my own ideas and innocence association with that part of the world that had got the better of me. What you actually have is a gripping tale, Robinson has done all in his power to take you out of your comfort zone and put you in a face to face match up to the ugly truths of the world, no matter how pink and fluffy you might happen to have it all down to be.
This is the 23rd DCI Banks novel, but please don't feel like you can't pick this one up unless you've read all the other 22, you don't. The only continuation is that of the two detective's career paths, and thanks to Robinsons carefully constructed characterisation, it's all there for you.
When the Music's Over is published by Hodder & Stoughton and is available to buy in hardback now at all good book shops.