At this year's Mobile World Congress in Barcelona, we at McCann Truth Central launched our latest global study, The Truth About the Connected You.* The study assesses the state of human connections in an increasingly mobile, connected world and comprises a quantitative survey (9,000 respondents) and qualitative research (20,000 online discussion board posts) conducted in fourteen countries from Asia to the Americas.
We first wanted to know just how connected our respondents were. On average, our Brazilian respondents were the most connected, with 1 out every 50 people claiming more than 750 connections of any kind. The least connected were the Japanese, with nearly 70% of our respondents claiming fewer than twenty such connections. Globally, we discovered the median number to be 38, with our British respondents squaring up with this global average.
Of course, we know that not all connections are equal, whether they are 'frenemies,' or 'stranger friends' as in India, or 'recyclable friends' as in Chile. So we inquired into how many of these connections were of an intimate, personal nature, with interactions every couple of weeks at the minimum. The number of connections claimed dropped dramatically, with a global average of 8, and 4 out of 10 people claiming no more than five such personal connections; that is, it seems that most of us tend to stick to the global average household size as a metric for our inner circle.
The difference between the average size of our intimate circle of connections and that of our total range of connectivity is suggestive of the fact that although we may move in an increasingly connected world, deeper structural dynamics channel our ability to connect authentically. What's more is that these structural dynamics might prove insurmountable to the ambitions of social media to engender what I refer to as the "open-self."
A glimpse of the "open-self" is evident in an argument made by Mark Zuckerberg when he claimed that there is an end to privacy in view: "People have really gotten comfortable not only sharing more information and different kinds, but more openly and with more people. That social norm is just something that has evolved over time."
The increased transparency of the "open-self" is good news for some of the vital concerns of our global respondents. Nearly 40% of people think that mobile technology will make us more likely to develop global solutions for crime, 26% think mobile technology can help us fight terrorism, and 16% think mobile could help alleviate pandemic flu outbreaks.
Yet, what is good for crime and disease may not be so promising for the everyday mobile user. When it comes to questions of personal reputation and privacy, the promises of the connected world and the "open-self" fade quickly. Nearly half of our respondents, from Chile to the Philippines, believe that the single greatest global problem to be ushered in by mobile technology is the erosion of personal privacy, while nearly 70% of our respondents wish their networks offered more privacy.
Dreams of A Mobile Future
To resolve this tension, we asked respondents in our online discussion boards and across our global network to pitch dream mobile projects that could attend to any wish that they might have for our mobile and connected future. In our larger report, we have classified these devices in terms of their emotional, practical, reflective, or forward-looking dimensions. These dream projects range from teleportation devices to memory archiving equipment to mobile water creation technology.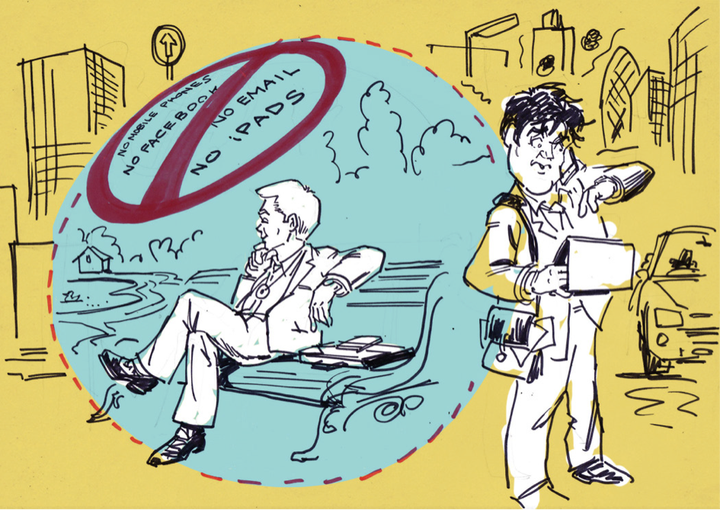 Yet, it is perhaps the iHIDE that underscores best the value that 90% of our global respondents agree is a deciding factor when choosing a mobile network: privacy. The iHIDE "creates a force field around the user that eliminates distractions and interruptions from any networks or Wi-Fi connections. It would disable all connected devices including smartphones, regular phones, and tablets."
According to the designer, "Sometimes we just need to disconnect and bask in a peaceful world much like the one that existed before the advent of smartphones, Facebook, and Twitter." And, 63% of our global respondents agree that the next great thing might not be a tool for connectivity, but equipment that better enables us to disconnect. Mobile network providers, designers, and pioneering brands might do well to put these concerns at the center of their initiatives going forward.
*McCann Truth Central, the global intelligence unit of McCann WorldGroup, presented the findings of the global research study, "The Truth About Connected You," at the Mobile World Congress in Barcelona, Spain on 27 February 2013. The study represents survey responses from 9,000 participants in nine countries (U.S., Brazil, U.K., Germany, Spain, South Africa, India, China and Japan) and nearly 20,000 qualitative discussion board posts in the same nine countries plus the Philippines, Chile, Egypt, Norway, and Sweden.
Related