It's one of the hottest days of the year, and anyone with any sense is out in the sunshine enjoying it. Personally, I've always preferred the air conditioning of a movie theatre on roasting hot days, but this particular Saturday I've gone one better.
I'm sat on a cosy sofa in East Yorkshire with Mark Murphy, the director of upcoming film Awaiting, watching a couple of monitors as his latest film is enacted on the nearby set.
Tony Curran, a veteran of Gladiator, The League of Extraordinary Gentlemen, and 24, has just finished shooting for the day, and on set are Coronation Street veteran Rupert Hill, and The X Factor runner-up Diana Vickers.
Without giving too much away, Rupert's character is a little worse for wear, and Diana's is perplexed as why he is so upset.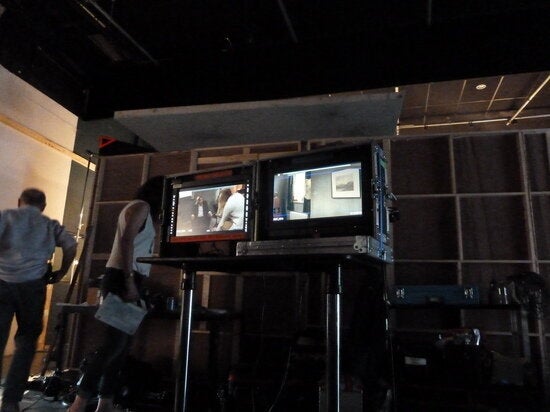 Rupert Hill and Diana Vickers filming Awaiting in East Yorkshire; photo: Roger Crow
Hill delivers a terrific performance, and Vickers could give any Michael Bay heroine a run for her money.
(I didn't see The X Factor season that made her a household name, so I had no preconceptions about her.)
As the same scene is shot over and over, there is one unintentional wince-inducing moment -Diana throwing her car keys at Rupert, and it hits in a delicate area. But that aside, there is no mistaking the sinister undertone of this thriller.
Forget the big budget excesses of Hollywood epics like The Haunting or The Omen remakes. You can't beat a modest budget, a handful of actors and an enclosed set for generating lashings of tension.
Over the past couple of years, films such as Kill List and In Fear have proved the British horror and thriller film industry is alive and well and taking on Hollywood at its own game. I have a feeling Awaiting will soon be joining their ranks.
Over lunch, I asked the director how hard it was to get funding for the movie, the inspiration behind the film, and what he thought of his rising stars.
How important is it to have a relaxed set on a psychological thriller?
It would be easy to say because it's a psychological thriller we need to keep it light in between takes. To be honest I don't think it really matters if it's a psychological thriller or a comedy. Filmmaking is really tough work. It's long hours. We are doing eight till eight. I'm up an hour and a half early in the office and then in the edit suite for another hour or so afterwards. You need to find a way of not going stir crazy or you'll end up killing each other.
Yeah, we have fun. That's one of the reasons I love film. I love storytelling. I love the enlarged family feeling of being on set.
You wrote the piece as well. Where did the idea for Awaiting come from?
It was a combination of a lots of things. In the original script it's very different from this one. You've got a whole range of factors that influence it. What's happening in the news; the films you've seen. Films like Seven and The Silence of the Lambs I am a huge fan of.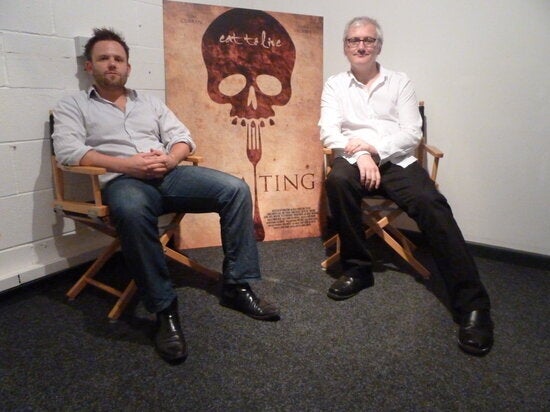 Awaiting Director Mark Murphy (left), and a gatecrashing blogger; Photo: Mara Lubieniecki
I've always had an ambition to do a psychological thriller. Something that would scare and move audiences without focusing on the gore factor, but more on the performances and the idea that people could do something so disturbing to each other. And with recent events it would seem, with Josef Fritzl and other things, all these far-fetched stories have suddenly become part of our daily lives. They are in our newspapers. It's things we can't pretend don't happen any more, and it makes it a more exciting prospect to tell a story about: imagine if you find yourself in a circumstance that you didn't realise the extreme danger you are in. What would you do? How far would you go to get out of it?
How easy or difficult was it to get the funding?
It's never easy, but it happened quicker than it would normally happen. I think with filmmaking, once you get that first bit of money, is the hardest bit. The second bit usually finds itself.
I'd written Awaiting a long time ago, back in 2008, which was the earlier drafts, there had been interest in it back then. Once I made my last film, it was easy to go forward and say, 'Here's a script that you liked then. I'm a bit more established now, so it's less of a risk for you to say, 'If we give this guy money, is he gonna deliver something that's out of focus with no sound?' I've proven myself. I can make a film. I can construct a story with a beginning, middle and an end and make it look pretty. They are like, "Okay we feel a little bit more comfortable now that we can trust you with a larger sum of money. We like the story, so go ahead." Once we had a promise of that, getting a decent cast together sort of sealed the deal really.
You're aiming for a release next year?
Yeah, we're going to have the film ready for screening on 5 November for the American film market, which is going to be tight, but we are very confident that we will, so that will mean that early next year it will be primed for distribution to the public. I would envisage maybe Easter onwards it would be ready.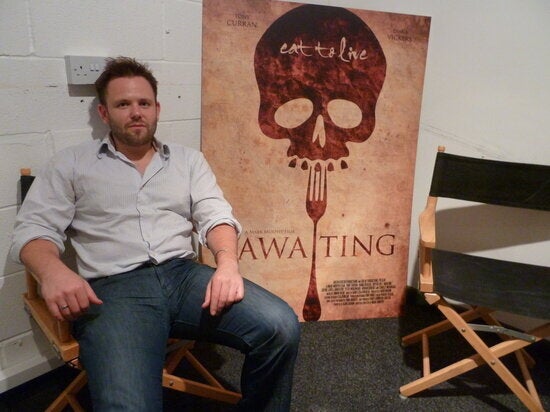 Awaiting Director Mark Murphy; Photo: Mara Lubieniecki
Tony Curran and Rupert Hill are great, but this is the film that will make audiences realise there is more to Diana Vickers than The X Factor.
I didn't even know who she was when I auditioned her. It was only after I gave her the part, I said, "Wow, you've got a lots of fans on Facebook". It was a bit of a surprise, but she is a natural born performer. A very, very talented lady and she's like Rupert, but a very subtle performance. And that's quite impressive when you consider her natural environment is on a big stage performing to a big crowd, be it music or in the West End. So, to be able to hone down her performance to the subtle level she has is a testament to her skills as a performer really. I think she will end up being someone quite big. Not just as a British actress but as a global actress.
The same as Rupert. I've got great faith in this film finding an audience, and when the audience does discover this film, they'll discover this guy Rupert Hill. He's an established name in Britain, but I think a global audience will warm to him. He's a fascinating actor with a great range. Very watchable."
With thanks to Mark Murphy, Mara Lubieniecki, and the cast and crew of Awaiting for help with this blog post.