I'm a bit bored with generic bands these days. Everything seems to have been done, so thank heavens York-based musical troupe Blackbeard's Tea Party restored my faith in foot-tapping, fun, energy-packed music recently.
In short: they make shanties chic.
With the band making their Glastonbury debut at the end of June, singer Stuart Giddens took time out of prepping a Borneo gig for a spot of mild grilling from me.
I'm guessing this is your first time at Glastonbury. When and where can we see you?
We're on at 2.20pm on the Avalon Main Stage. Our set is just under an hour. We haven't got anything special planned. We're just going to go out there and do what we do best - 55 minutes of dramatic, high energy and musically accomplished performance.
Are the band a little nervous about playing the UK's best loved summer gigs?
We've got so much gig experience under our belts, and we've spent a lot of time in the practice room. We've come up with a very slick, tight set. So we're feeling really confident about our performance. But at a big festival like Glastonbury, there's so much competition, so the big fear is that no one will be there to watch us. With the world watching - online, on TV and in the media - it's such a big opportunity.
Despite being an unsigned band with no label backing, and no major PR team behind us, we hope that Glastonbury-goers take a chance on us and that this gig can launch us to a whole new fan base.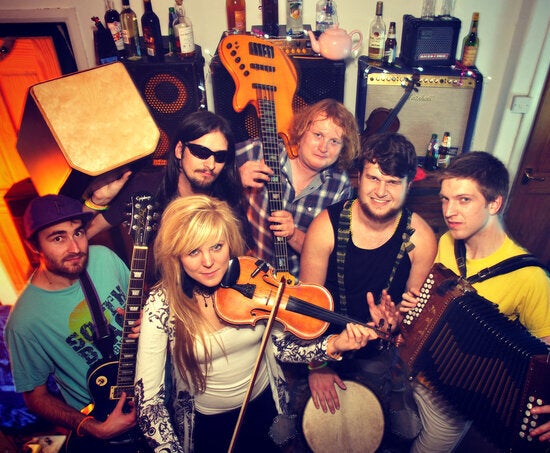 Who are you looking forward to seeing this year?
The six of us have hugely differing music tastes. I think the only two acts we can agree on are Metallica and Dolly Parton.
Me personally? I've been trying and failing to see the funk/soul duo Jungle for months. They play the John Peel stage about an hour before our set, so hopefully I'll catch them.
I'm loving the Kate Tempest album too - aggressive electric beats meet spoken word poetry with a very raw delivery - so I'd like to see her set at the Left Field on Sunday evening.
And I'm a massive fan of the jazz-rock-funk experience that is Melt Yourself Down. I've seen them live twice in the last few months and they've absolutely blown me away both times. I think their set at the West Holts stage on Sunday lunchtime is going to be out of this world.
Tell us about any upcoming gigs
2014 is going to be such an amazing year for us. Our Glastonbury appearance immediately follows a headline slot at the Rainforest World Music Festival in Borneo, which is our first gig outside of Europe. This summer we play 20 festivals, including our first appearance at Fairport Convention's Cropredy Festival, one of the biggest folk festivals in the country, and Larmer Tree festival in Salisbury with the likes of Tom Jones and Frank Turner. And we'll soon be announcing an autumn tour of the UK.
I saw the group play East Yorkshire just after band members Laura and Dave tied the knot. Are the newly weds any different on stage these days?
Laura (fiddle) and Dave (djembe) tied the knot at the beginning of May. A couple of weeks later they bought their first house together too, so 2014 is special for a lot of reasons. The rest of us gave a joint best man's speech at their wedding. The wedding was in a brewery with loads of music and lots of dancing - like a mini festival - and it was great to have an opportunity to step back without the stress of organising bookings or practicing or traveling to gigs.
We got to spend some time just enjoying each other's company and being a gang, so the band feels more like a unit than ever before.
Do they act any different on stage? Dave has become accustomed to proudly shouting 'That's my wife playing fiddle!!' during Laura's solos, but that's about it.
Thanks to Martin Coumbe and Stuart Giddens for help with this article.
:: Blackbeard's Tea Party can be seen at Glastonbury's Avalon Stage at 2.20pm, Friday, June 27.