Music journalist John Tobler has spent decades chatting to iconic musicians. I spoke to him about his interviews with reggae legend Bob Marley.
For those who don't know your work, you've chatted to some of the biggest names in the music business...
"Having been a writer about popular music since 1969, the only two people on my list of heroes who have eluded me are Phil Spector (unlikely now he's in prison) and Eric Clapton. My most famous interviews were with Jim Morrison (at the 1970 Isle of Wight festival). The Eagles for Radio One at the time of Hotel California, J.Rotten & S.Vicious for Radio One at the time Never Mind The Bollocks was released. In 1977, the only people at Radio One who weren't nervous about involvement with punk/New Wave were John Peel and myself.
Working as an interviewer (not a disc jockey at Radio One between 1976 and about 1980) were the highlights of my broadcasting career, but in the early 1980s was heavily involved in two acclaimed Radio One series (The Record Producers and The Guitar Greats), both with 13 subjects, and both of which were also books written by me and published by BBC Publications. In 1980, I worked as a researcher on the Radio One series 25 Years Of Rock.
Bob Marley: music icon, and what sounded like a tricky trio of chats. How difficult was he to interview?
Because of my involvement with the Radio One magazine programme 'Rock On', Island Records were anxious to get Bob Marley on Radio One, so they moved heaven and earth (including a trip to Paris to see a big gig there, followed by an interview) - the gig was timed so that Bob could watch the World Cup. All in an attempt to get Bob talking on the radio. However, when the Radio One people heard the interviews, it was decided that the audience would have difficulty understanding what he was saying, so on all three occasions, the interviews were rejected for broadcast, although there was and is no technical problem.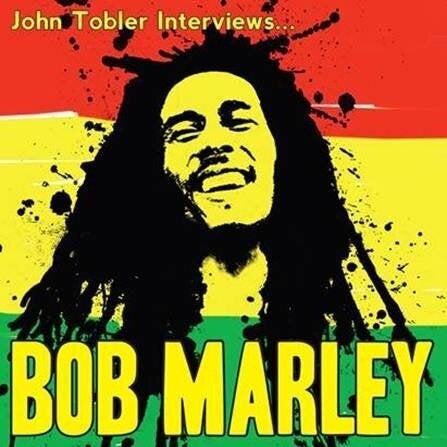 John Tobler interviews... Bob Marley. RGF Records CD. Priced £9.99
At the time of the chats, did you have any idea how big his legacy would become?
Probably not, but his premature demise was probably (as has been said about other dead entertainers) a very good career move. He's been dead for over 30 years, and no other reggae act has even come close to 1% of the fame he achieved.
There's a sense from the interviews he wasn't that bothered about fame or money. Do you think he would have broken through in 2014?
He probably did the interviews with me because Island Records wanted him to, and perhaps also to a lesser extent because of my book titled Bob Marley & The Roots Of Reggae (written a couple of years before the earliest of these interviews). It was probably the first book written about him with his name and picture on the cover, but it is far from being my greatest achievement as an author. Bob's music manages to touch a chord with everyone.
Why do you think he succeeded where some reggae artists failed to hit the mainstream?
Probably because he had spent time in the US and had been signed at one time by Johnny Nash, who recorded several of his songs. Nash's manager, Danny Sims, and he had probably gained knowledge about the music biz outside Jamaica, which his peers hadn't (except maybe Jimmy Cliff, who was also signed to Island), whose founder and owner Chris Blackwell grew up in Jamaica before going to Harrow. Blackwell understood the Jamaican mentality, and unlike several others, did not try to rip off the artists he worked with.
Do you think reggae would be as popular today without Bob?
Definitely not. Marley is to reggae what Presley was to rock'n'roll.
:: John Tobler interviews... Bob Marley RGF Records CD. Priced £9.99
Related