Brian Clemens is one of the most influential British writer/producer/directors in history having created The Avengers, The New Avengers and a string of international hit series and films. With the release of his classic TV series The Professionals on Blu-ray, DVD and download, I spoke to Brian about his life and work.
What was the seed of the show - was it a need for a British Starsky and Hutch?
Oh well it began like that. Brian Tesler of London Weekend Television having liked the way we did The Avengers said he'd like a buddy show in the Starsky and Hutch mould, or at least as a rival to them. And I came up with two ideas. One was about two undercover cops. The other one was The Professionals. He liked The Professionals and said "I'll commission the script, If I like it, we'll make 13". A bit unheard of these days, but that's exactly what happened of course.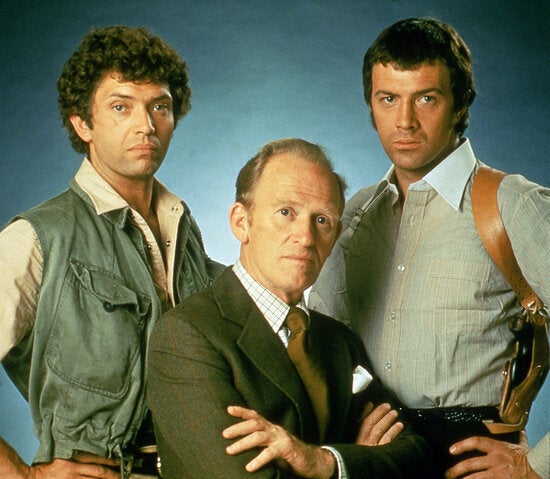 Did you relate to CI5 boss George Cowley as the show runner overseeing a couple of slightly cocky stars?
No, not really, because Cowley was my business partner's idea to bring in Gordon (Jackson). Originally we had Clive Revill, a New Zealand actor. He's in The New Avengers; the one who Steed's killed and he carries the bullet in his heart. We wanted him to do the Cowley part, but he'd just done a pilot in America and if it was taken up he'd be very rich, so he couldn't do it, so we looked around. Albert (Fennell) who'd worked with Gordon on a number of occasions, brought his name up, and I thought that was brilliant, because Gordon had just finished doing Upstairs Downstairs, and I'm sure that he was looking for a change of pace to cast aside the butler image.
Anthony Andrews was the original choice for Bodie. Was he not chosen because the dynamic between him and Martin Shaw wasn't quite right?
It was nothing to do with Anthony, who is a fine actor. It was just that when you got him and Martin on screen together, it was like seeing the same person. They both had the same sort of throwaway style and I was looking for Black and Decker, not black and black, so we recast (and chose) Lewis (Collins).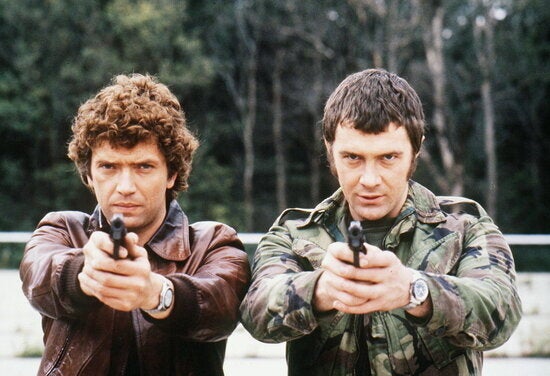 The Professionals Mk1 Available on Blu-ray & DVD from 31st March. Now available on iTunes in SD & HD. Network Distributing
There was a real spark between Martin Shaw and Lewis Collins but judging by a making of documentary on the new discs, they didn't see eye-to-eye initially.
I don't think they got on too well.
Which may have added to the dynamic
Would long-form series like 24 work well for a Professionals reboot?
Well I think it would work pretty well. I mean actually the stories have caught up with us and it's very castable.
I never understand why the BBC put (Benedict) 'Cumberbunch' or whatever his name is in everything, (probably) because they can't get Stephen Fry. And actually when you put someone on television for two nights, you've got an instant star, even if they are terrible.
Is it true that Lionsgate are prepping a Professionals film prequel?
That's right, though you didn't hear it here first, I understand that there is going to be an announcement it Cannes, and that's in May isn't it?
I've been told all this before because it's been going on some years now.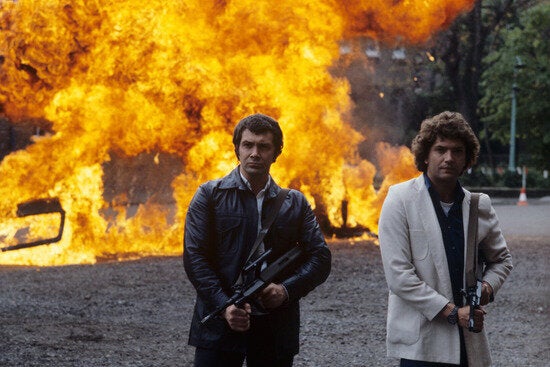 The HD remastered version of The Professionals makes it look fresher than ever.
Yeah, that they haven't sent me one yet, but everyone who's seen it says it looks smashing.
It looks like it was shot yesterday
Yeah, that's good, it can't do any harm. Maybe they can sell it in America now.
Did you have any idea how influential The Avengers would be when you made that first episode?
Not really, no. You never really know you're going through a golden age. Golden age is always back then, it's never now. But we were going through a golden age.
It must have been great working with Patrick Macnee, Honor Blackman, Diana Rigg and Linda Thorson.
Oh yeah, many good friends.
What were your thoughts on The Avengers film version, because I didn't think it worked?
No, well I could have made that work. They didn't involve anybody who knew about The Avengers.
It was ridiculous; they got it so wrong. The Americans never understood The Avengers; never understood what made it work. Which was why they never interfered with the series. They were afraid it was a house of cards and if they removed the wrong card, the whole thing would collapse.
I'm a big fan of Captain Kronos: Vampire Hunter. What were your memories of making that?
Oh that was great fun. Great fun. They keep threatening to bring that out again, you know, remastered. They keep threatening to remake it too. That's the trouble with this country, nobody actually does anything.
It was a great format as well
It was intended to be a format, yeah. He's called Kronos because that's Greek for 'time'. I thought I could take him through all sorts of time warps. He could turn up anywhere. He says it in the film, "where ever there is evil to be fought..." So the world was my oyster, or my lobster. (laughs).
You've been involved in so many influential series over the years. I imagine The Avengers was a personal favourite
Oh yeah, well it was the most fun to work on.
And it must've been great that lightning did strike twice for The New Avengers?
Yep, but it wasn't an accident though. I like people to think it was an accident. It's an accident after a great deal of work.
And it turned Joanna Lumley into an overnight star
Yes, I had to interview several hundred young actresses. We tested about 20 on camera. And I always knew it was going to be Jo Lumley, but I had to go through the motions to convince the people around me.
Were there any lesser known projects that were personal favourites?
Well I liked (sitcom) My Wife Next-Door. They've never really done (repeated) that. I think it must be something to do with the artist holding that back or re-shown.
How was it working on Highlander II?
Oh, that was fun. I was in Hollywood for that, and that was Hollywood big time. That's always good fun.
Did the producers want something different from the first film?
They didn't know what they wanted. I got it because I came up with the idea who the Immortals were. They came from another planet with a different time warp, so when they lived for a minute, it was 400 years.
What's been the secret of your success?
I love everything I write at the time of writing, and I don't go for bullsh*t. I don't send 'messages'. There are messages to be found that are not upfront, and I think that's what's wrong with a lot of British products at the moment. It's too social. It should be entertainment first and social under the cover as it were.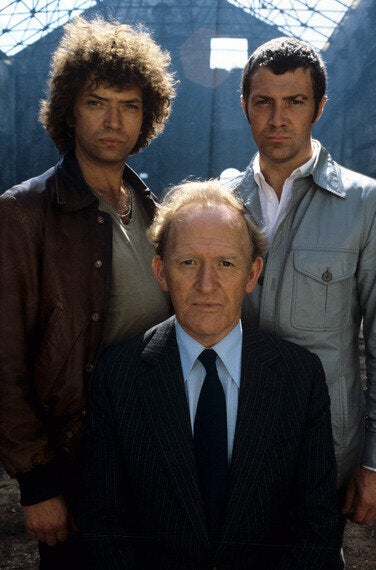 The Professionals Mk1 Available on Blu-ray & DVD from 31st March. Now available on iTunes in SD & HD. Network Distributing
You've lived in Bedfordshire for 50 years. Were there no plans to retire to Hollywood?
Oh no. I've enjoyed working in Hollywood and living there, but I wouldn't want to be there for ever and a day. I'm European. I like the food. I love France and Spain for eating. The American way of life is too like ours. I go foreign, I want it to be foreign.
Tell us about your new play
Yeah, Murder Weapon, it's threatening to be put on at Windsor and Nottingham sometime late spring or early summer. That'll be fun. My thriller of the year. My pension (laughs).
What was the most memorable day of your career?
When I was given the OBE by the Queen. That was quite something. I felt kind of proud of myself... a bit. They don't give you any money though (laughs).
Maybe it should have been a knighthood?
I'm working on it (laughs).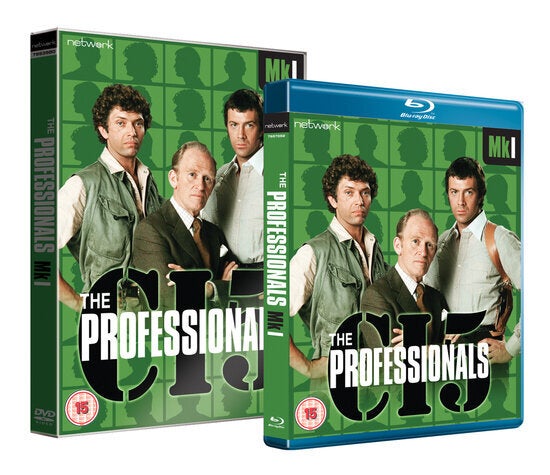 :: The Professionals Mk1 Available on Blu-ray & DVD from 31st March. Now available on iTunes in SD & HD. Network Distributing