I'm really bored of serial killer thrillers. If you'll excuse the pun, I think they've been done to death.
When I found out ITV were releasing a DVD of their new drama series Chasing Shadows, I rolled my eyes (having seen 60 whole seconds of the show the week before).
However, I was curious to give it a look from the start, not least because it stars three of my favourite actors, Alex Kingston, Reece Shearsmith and Noel Clarke.
The saga of Ruth Hattersley (Alex), DS Sean Stone (Reece) and DI Carl Prior (Noel) searching for a missing girl soon hooked me, and 45 minutes later I wanted to catch the second episode.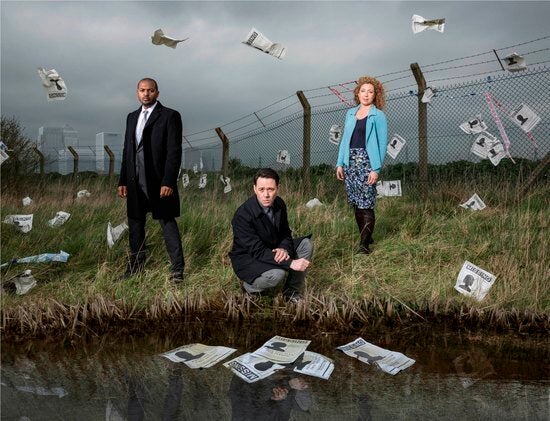 Chasing Shadows DVD out now. ITV Studios Global Entertainment
I asked Alex her thoughts on finding freshness in a well-worn genre.
"Well I don't watch that much television, so I haven't seen too many shows where you've got serial killers being chased after by detectives," she explains one lunchtime in LA.
(I do a good job of disguising the fact I am in awe having spent years loving her work in ER and Dr Who.)
She adds: "It's a genre that's been around forever, and it will continue to be around forever because it's something that the public have an insatiable curiosity for, in the same way that you have endless detective shows or cop shows, lawyer shows, or whatever.
"It just seems to me to be part of our television culture in a way. So what drew me to play the role and do the show was the relationships really."
The dynamic between the three protagonists is fascinating: an alpha male cop, a single mum civil servant and a socially awkward detective. Little wonder Ms Kingston signed up.
"I was intrigued by the relationship between the character of Ruth and the character of Sean," she explains. "And then also having within that the triangle as well... I just felt it was something that I hadn't done before in terms of playing a role."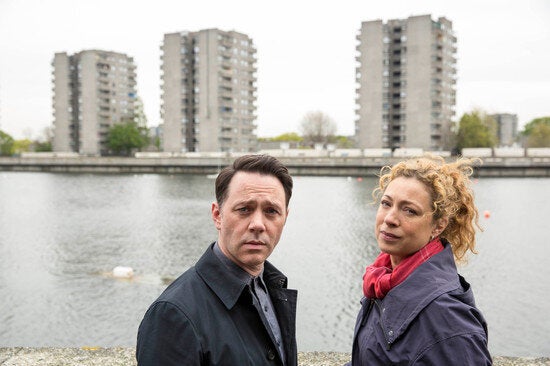 Chasing Shadows DVD out now. ITV Studios Global Entertainment
Ruth Hattersley is not your typical TV crime buster as Alex explains: "She's not a detective, she's a civil servant. She's an analyst with the Missing Persons Bureau; she does a desk job, so she's not somebody who's used to chasing after villains, or anything like that.
"I just thought the idea of creating a department where these two characters are forced to work together - and he (Sean) being somebody who isn't easy working with other people; he has very, very poor social skills - I just thought it would make for something quite interesting, occasionally comic, you know?"
One of Chasing Shadows' greatest selling points is Reece Shearsmith's performance as said socially awkward hero Sean.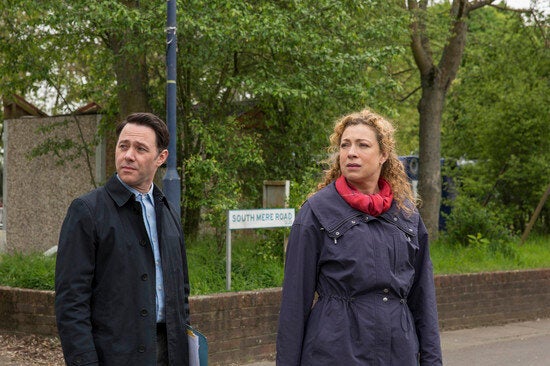 Chasing Shadows DVD out now. ITV Studios Global Entertainment
"I like Reece's work immensely," enthuses Alex. "I was obsessed when he worked with Mark Gatiss and they did The League of Gentlemen; I was completely obsessed with that show.
"I love what they do and create as writers. And so I just thought this might be really interesting because Reece is going to want to create a character that's sort of quite an oddball. As an actor and a writer himself, he will always try and push as far as he can do within the confines of ITV - the network - and I just thought I'd enjoy working with him in particular."
Of course it doesn't hurt having charismatic writer, director and recent Star Trek veteran Noel Clarke on board either.
"I didn't know Noel before, and that was sort of an added pleasure, because the three of us are very different in personality and obviously in character and also in how we act, and actually I think it was a combination that worked out. It hasn't been disastrous," she laughs. "We actually all got on, despite our differences in personality."
As an actress in LA, Alex could have opted for a project with sun-kissed locations. But she preferred to suffer for her art in Blighty.
"It was gruelling to do. The hours long, and obviously for the sake of the show, the locations chosen weren't necessarily the most comfortable," she laughs. "But I have to say that certainly the work ethic amongst the actors and everything was really good. And despite the difficulties in day-to-day filming, we managed and we got on, so I hope that all of our hard work does pay off."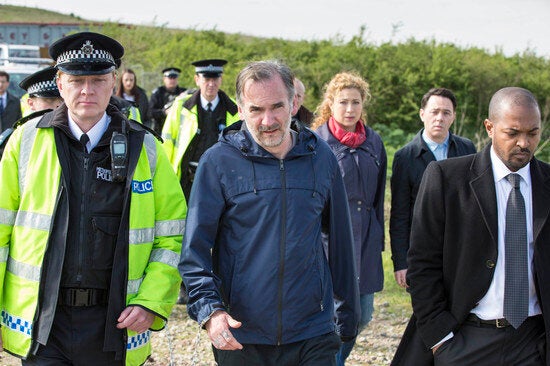 Chasing Shadows DVD out now. ITV Studios Global Entertainment
As Alex has been busy in New York working with Kenneth Branagh on Macbeth, ironically she's still a little in the dark about Chasing Shadows.
"I haven't seen any of it," she laughs. "I just saw the bits and pieces of it when I was having to do ADR, but that was before it had been graded or anything like that, so I don't really have a sense of how it turns out at all."
With thanks to Alex Kingston for help with this blog post.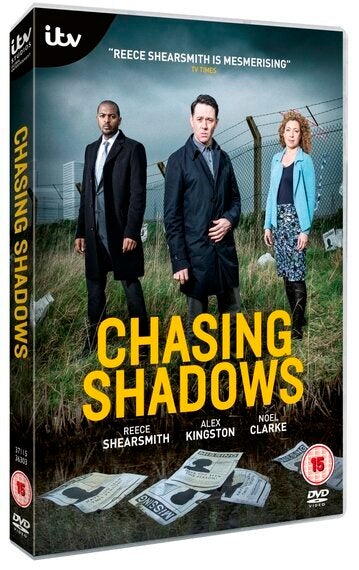 Chasing Shadows DVD out now. ITV Studios Global Entertainment