Ahead of the obligatory end-of-year round-up, here's my verdict on the best cinematic events of 2014*.
You will disagree with most. You will have seen many not on the list. You may wonder why many films are here. And if this annoys you, wait three more months for my definitive countdown of '14 to make you even more cross.
Locke - Tom Hardy, a car, a motorway, a series of phone calls. Seventy plus minutes of soul searching, family problems and an attempt to put things right like a troubled industrial engineer or cement specialist probably would. Hardy channels Richard Burton in a brave, bold slice of movie making. Experimental film at its best from Dirty Pretty Things' Steven Knight.
Dawn of the Planet of the Apes - An Oscar-worthy turn from Andy Serkis as smart ape Caesar, Matt Reeves's sequel to Rise of the Planet of the Apes was a breathtaking drama despite another clumsy title. Slow moving admittedly, but there was a lot to enjoy here. And if Weta don't receive an Oscar nomination for Best Special Effects, I'm a monkey's uncle.
How to Train Your Dragon 2 - Bigger, bolder and as moving as the original, with terrific animation and action. Stealing the show, as before, is Toothless, the most engaging creature to grace the big screen in eons.
The Knife That Killed Me - Kes meets Sin City in this bold slice of imaginative storytelling. It deserves to be screened in schools as well as multiplexes.
The Wolf of Wall Street - Martin Scorsese's best film since Goodfellas. A superb performance from Leonardo DiCaprio, and fine comic relief from Jonah Hill helped this three hour comedy-drama fly by.
Lucy. Luc Besson returns to form with this bonkers sci-fi thriller. ScarJo as mesmerising as ever.
Under the Skin - Dir Jonathan Glazer delivered the most haunting, memorable fantasy drama since The Man Who Fell To Earth in 1976. Once more, Scarlett Johansson proved she is the smartest cookie in Hollywood.
Godzilla - Director Gareth Edwards made the leap from low budget 'Monsters' movie to A-list epic with ease. Reminiscent of classic era Steven Spielberg, this was the second most rewarding blockbuster of 2014. Little wonder Edwards was snapped up for a Star Wars standalone movie.
The Grand Budapest Hotel - Wes Anderson's best film in a decade. Offbeat, funny, a great turn from Ralph Fiennes and a glorious cast. An arthouse/grey pound magnet. Worth checking out.
Her - An achingly sweet love story of our times. Joaquin Phoenix delivers his best turn since Johnny Cash as the letter writer who falls for his sexy operating system (voiced by Scarlett Johansson). Visually glorious. Word perfect. Take a bow Spike Jonze.
Though not films, NT Live's screenings of The Curious Incident of the Dog in the Night Time, Skylight and Medea were thankfully shown at cinemas and deserve a mention. As does the Albert Hall airing of 2009's Star Trek (with orchestra).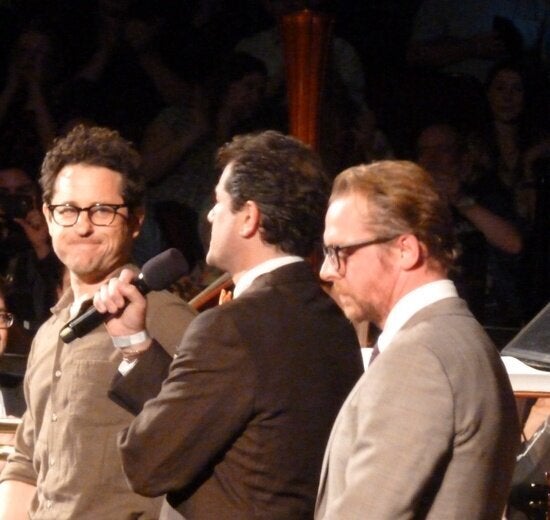 JJ Abrams, composer Michael Giacchino and Simon Pegg introduce Star Trek at the Albert Hall. Photo: Roger Crow
Guardians of the Galaxy - Director James Gunn created the most enjoyable space fantasy adventure since Star Wars in 1977. A glorious B-movie, with fantastic turns from Chris Pratt, Zoe Saldana, a killer retro soundtrack, and a superb team of special effects experts who breathed life into instant icons Rocket Raccoon and Groot.
Bizarre, surreal and hugely entertaining, even after three viewings.
Little wonder it became America's most lucrative film of the year.
The sequel cannot come soon enough.
*Based on films I saw in 2014, for those wondering why Wolf is here.