Director Rob Marshall's latest movie, Into The Woods, is a curious one.
I had no knowledge of the Stephen Sondheim musical, or its songs. Thankfully many were a joy. The excellent cast, including Meryl Streep, Emily Blunt, James Corden, Anna Kendrick and Chris Pine, were all on good form.
Streep chewed the scenery, as usual, as the obligatory witch who ties the film together, Blunt showed off her incredible singing voice, while Corden did his usual regular Joe routine as a baker drawn into the forest-centric fairytales. Pine was terrific as Prince Charming; the Agony song was an unexpected pleasure.
However, Johnny Depp's appearance as the lascivious wolf was easily one of the most disturbing scenes in any Disney movie of the recent years. I like edginess in films, but this was stomach-churningly creepy.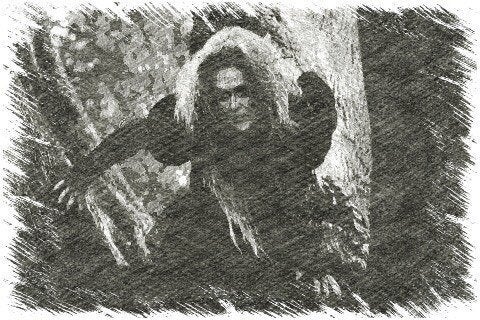 Image: Disney; sketch: Roger Crow
Cleverly overlapping a series of tales, we have Jack and the Beanstalk, Little Red Riding Hood, Rapunzel and Cinderella, all vying for the most time in a nicely woven series of stories.
Alas, like Wicked, ITW was so frontloaded, the second half didn't have a chance of living up to the first.
Problems develop around the two thirds mark when it feels like the movie is reaching a finale. However, we experience another half an hour as the regular fairytale format is deconstructed and the happy ever after we thought is longer in coming.
Sadly, the cleverness of creating a nuclear family out of the remnants of characters from assorted fairytales came too late in the story for me to care.
The third act was so dull I considered walking out. A shame as for the most part this was a lot of fun with a terrific score.
This Disney epic was shot on a relatively modest budget ($50m); a Sondheim adaptation clearly more risky than their pending version of Cinderella. Sometimes less really is more, and as we all know, you don't need to spend a fortune to make a great movie.
In 1984, director Neil Jordan gave us The Company of Wolves, which addressed similar issues and with arguably a much better forest set on a smaller budget.
Given the calibre of the songs here, I'd give Woods a second look and perhaps enjoy it more. After all, seeing after Foxcatcher there was a sense of fatigue setting in, so it deserves a look on its own.