Would you do more work for less money knowing the owners of your company were making a profit?
And if one of your colleagues had been injured in the line of duty because said bosses had cut corners on safety?
Well, no prizes for guessing the answer to that.
Director Robert Rae's new film The Happy Lands takes place in the Scottish village of Carhill, in the heart of the Fife coalfields during 1926.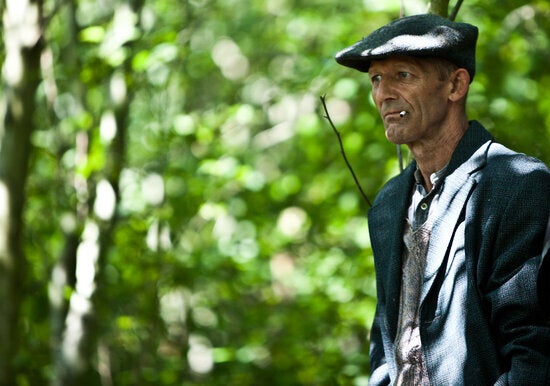 The Happy Lands out now on DVD. Soda Pictures & Theatre Workshop Scotland
It follows one mining community as they are pushed towards a labour conflict with the Kingdom Coal Company in a lock out lasting seven months.
As the coal company demand longer hours for less pay, the miners and their families chant "Not a penny off the pay, not a minute on the day".
Chances are you'll not recognise any of the actors here. There's no Ewan McGregor or James McAvoy added to sell it to an American audience.
There's no token Stateside thesps adopting Scots accents to ensure it'll put bums on seats in Alaska or Georgia.
However, there is a cast of talented newcomers all doing a fine job of telling an important story.
I spoke to Bradford-born Robert Rae about his new movie which opened at the Glasgow Film Festival, and has been attracting a buzz from Seattle to Beijing.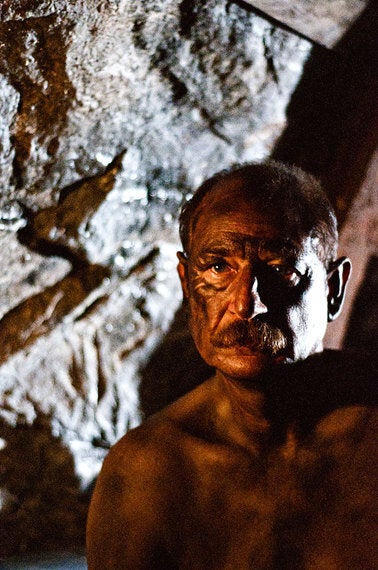 The Happy Lands out now on DVD. Soda Pictures & Theatre Workshop Scotland
WHERE DID THE IDEA FOR THE HAPPY LANDS COME FROM?
I'd done a large community play called "Go See Fanny Deakin" with the Staffordshire miners. In the pubs they had pictures on the wall of a film that Paul Robeson did called Proud Valley.
At that time I said to the miners I was working with that "It would be great to make a film with miners playing miners", so when it came along, Creative Scotland came up with a scheme which said, "If there's a project you would like to do but would never normally get the funding, now is the time to ask".
So I went to the Fife miners and everybody was really up for it.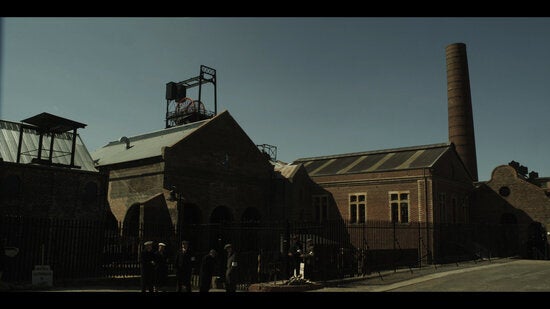 The Happy Lands out now on DVD. Soda Pictures & Theatre Workshop Scotland
IT'S INTERESTING THAT YOU ADDRESSED A LESSER KNOWN MINER'S STRIKE INSTEAD OF THE MORE FAMOUS EIGHTIES ONE
I had talked about doing a piece about the '84/'85 strike, but people felt it was still too close and too bitter in peoples' memory, and so looking at the '26 strike, it had a lot of parallels with today, and also people felt that that kind of oral history was disappearing really.
Literally the people who were of living memory, there were very few left, and even now the people who were told stories by their parents were getting old as well. People felt it was important to capture such an important moment in their history really.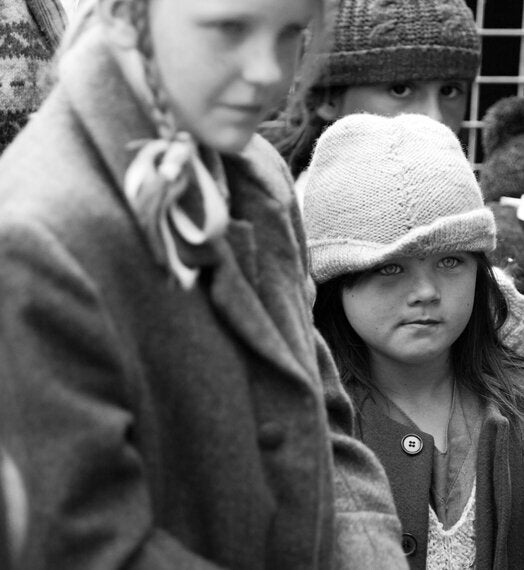 The Happy Lands out now on DVD. Soda Pictures & Theatre Workshop Scotland
WHAT WAS THE BIGGEST CHALLENGE? GETTING THE FINANCING, GETTING THE SCRIPT RIGHT OR WORKING WITH NEWCOMER ACTORS?
All three I suppose in their differing ways. Actually it was a pleasure working with the people. We did some very detailed research. There were some fantastic documents there in Fife about it, but also we wanted to capture peoples' stories because much of it was through oral history; we kind of invited people in to tell their stories, and then we said "Why don't you come and get involved and play your grandparents or your great grandparents or something?"
People came to it because of the nature of the subject matter. When I developed the script I was aware of the actors who were playing the parts, so we could build the parts around the people who we knew could play them, so hopefully it all felt quite natural by the end, which is why I think the performances feel very authentic.
On the finance front it was just good timing that Creative Scotland was just being formed from the Scottish Arts Council, and I think rather than make an investment into buildings, they wanted to make an investment into large projects that people could get involved in.
The previous film I'd done, Trouble Sleeping, had gone down very well and the BBC had screened that, so they bought the license. So between the two, that's how it was mainly covered from the finance point of view.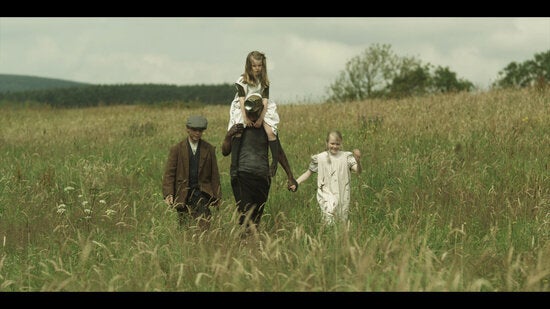 The Happy Lands out now on DVD. Soda Pictures & Theatre Workshop Scotland
I see the way I work as a partnership. I know how to make a film, but I don't know what it was like to be brought up and be part of a mining community, so "You tell me about that and I'll take you to the point where we can create one with all the skills and discipline that you need, but you need to tell me the story", so it was a kind of partnership.
"I find it a real privilege these kind of projects to get that kind of depth and insight into communities and how they lived."
THE CAST DID A GOOD JOB CONSIDERING THEY'RE NOT EXPERIENCED ACTORS
They did. What you lack in perhaps the minimalist sort of slick acting style that we've come to expect from Hollywood, you gain in an authenticity and a passion. And also when you look at the screen and it's full of real people and real faces.
"It's interesting to see the response that creates in audiences. I've done lots and lots of screenings up and down the country and people afterwards don't feel the need to be Barry Norman. They're more likely to come and say, 'Well, this is my family's story, this is what the film meant to me.' "
It's something about ordinary people talking to ordinary people it makes audiences relax with it, and they're very comfortable with it.
THE STORY OF STRUGGLING MINERS IS UNIVERSAL. HOW HAS THE HAPPY LANDS BEEN RECEIVED INTERNATIONALLY?
We've played it in Beijing twice; It's played in Seattle; It's going to play in New York, it's been in France, and Germany.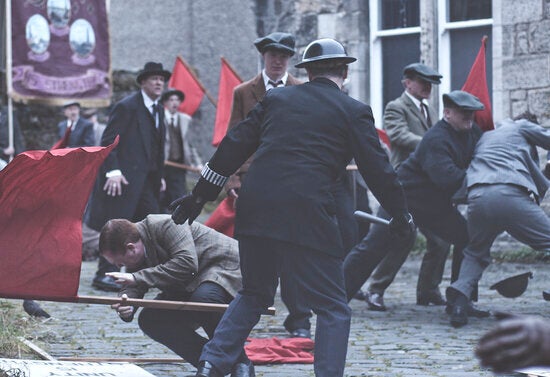 The Happy Lands out now on DVD. Soda Pictures & Theatre Workshop Scotland
Miners are a bit like travellers. They see themselves as miners before they see themselves as being Scottish miners, English miners or American miners, so there's been a lot of genuine interest from other mining communities.
We were hoping to play it in Chile, and we've been invited to play in Bolivia, and it's because it's about mining as well. Miners are always interested in stories of other miners."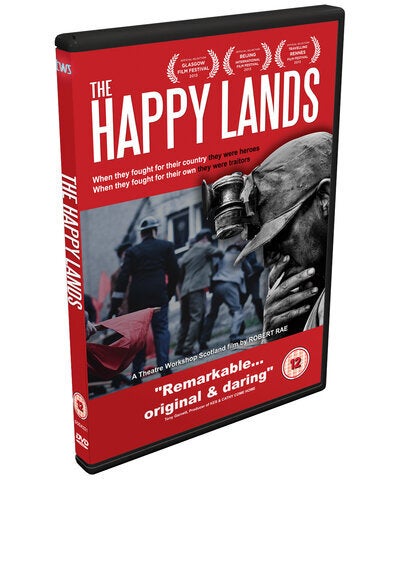 The Happy Lands out now on DVD. Soda Pictures & Theatre Workshop Scotland