My passion in life is driving fast...very fast, and as part of the Renault Sport Formula One™ Team's 40th anniversary celebrations, I was recently was able to get behind the wheel of one of their 800bhp race cars, which after a lifetime of motorsport, really was a dream come true.
I was never what you would call a conventional young girl and was definitely a bit of a wild child. That meant the traditional school system didn't exactly suit me, however, my parents saw my creative potential and enrolled me in the Grafton Academy of Fashion, which unexpectedly became my route into motorsport.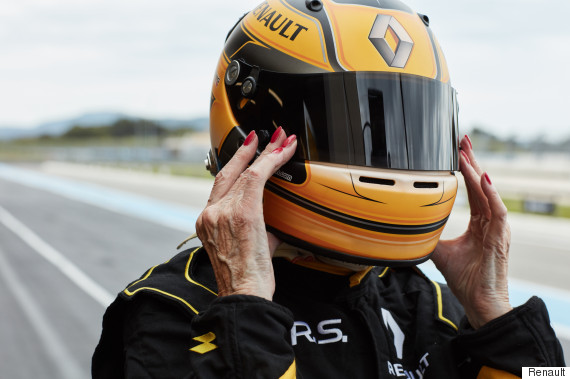 A few years later, after training as a seamstress, I opened my own dress shop. It was here that my rallying career started when one of my clients invited me to navigate for her. However, after just a few miles it turned out driving was definitely more my strong point and we switched places. From that moment on I was hooked!
This is a man's world
I competed in some of the toughest and most iconic rallies in the world, taking home many trophies despite disqualifications and people looking to hold myself and my female teammates back in the notoriously male-dominated sport. In the beginning in particular, we very much felt that we needed to prove ourselves, whenever we won we were surrounded by comments like 'did all the other cars fall off?' or 'you must have had by far the best car' (which we never did). I clearly remember when Le Mans did not allow women to enter, so I was entered under the name of R.Smith, unfortunately when I had to go in for the pre-race medical we couldn't exactly hide my gender and I was kicked out, which obviously drew quite a bit of attention!
I quickly realised, there was only one way to silence our critics...never give up and keep winning!
A particularly poignant victory was the famous Tulip Rally, which my co-driver Valerie Domleo and I won in a Hillman Imp in 1965. It took place in the Alps and the snowstorms were so bad that many competitors couldn't get their cars up the steep course. We however found a novel way around this. As we went up the, Val sat on the boot and bounced the car up and down. Amazingly, this unconventional approach worked and we finished the rally in first place. This achievement made not only the motorsport world take notice but also Hollywood, with Elizabeth Taylor and Richard Burton (who were staying the same hotel) sending us a huge bouquet and congratulatory letter.
Road safety
As a rally driver, I understand and have experienced first hand the dangers of driving, giving me great respect for the road, something which I don't believe we do enough to instil in the next generation of drivers.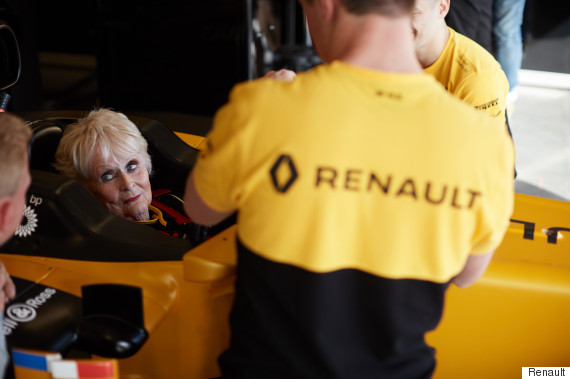 For over two decades, I've been campaigning for young driver education to be introduced in schools across Ireland and teaching learner drivers in my Renault Clio, which as it's small and easy to get to grips with, is ideal for learning or practising skills. It's also what my 'Think Awareness Transition Year' programme is modelled on, refined with input from other similar schemes across Europe but tailored for Irish teenagers.
My biggest piece of advice for my students is something that has come up time and again in my driving career. When I was first starting out the Irish rally driver, Cecil Vard, said to me "have the courage to go slowly'. It was only after a few races I realised just how wise that was; ultimately, to win you first have to finish. When I went to drive the Renault Sport Formula One™ team car, Jolyon Palmer gave me that very same advice.
I've had an amazing career as a rally driver and have had some incredible experiences, but the one thing that always alluded me was the chance to partake in arguably the greatest motorsport experience, driving an 800bhp single-seater.
As part of Renault Sport Formula One™ Team's 40th anniversary celebrations, the team at Renault UK approached me to see if I wanted to finally fulfil this dream and get behind the wheel of a Renault Sport Formula One™ Team car and I obviously jumped at the chance.
When I went along to the renowned Circuit Paul Ricard in Le Castellet, I suddenly realised exactly what I'd gotten myself into. What on earth was I doing and how was I going to avoid making a fool of myself?
I needn't have worried though, after a number of comprehensive briefings and some time spent comparing notes with Jolyon Palmer - one of the team's current drivers and a real wee dote - I took to the track. Despite my initial reservations, with encouragement from Jolyon and my long-term friend and navigator, Pauline Gullick, who was also present on the day, I soon got to grips with the car and felt my confidence growing with every lap. Being able to speak to Jolyon, driver to driver, also helped when the nerves did kick in.
Driving a Renault Sport Formula One™ Team car is something I, like many other racers, have always dreamt of but I didn't think I'd ever have the opportunity to do it. It was definitely very different to the rally cars I'm used to but was an amazing experience. After racing and facing the challenges of competing in a male-dominated sport together for many years I was so happy that my friend Pauline was able to share this latest milestone and give me that extra boost. It just goes to show that anyone can fulfil their dreams at any age if they put their mind to it and always follow their passions.
Also as part of the activity around the Renault Sport Formula One™ Team's 40th anniversary, anyone who test drives a Renault at one of our dealerships will be entered into a draw to be one of ten lucky winners who will follow in Rosemary's tyre tracks and get behind the wheel of a Renault Sport Formula One™ Team car.
To see the video and to find out more information, please visit life.renault.co.uk/follow-your-passion
To enter the ultimate test drive competition, book a test drive via renault.co.uk/ultimatetestdrive. Eligible entrants must be aged 22-65. Retail customers only. Participating dealers only. See full terms and conditions at renault.co.uk/ultimatetestdrive.