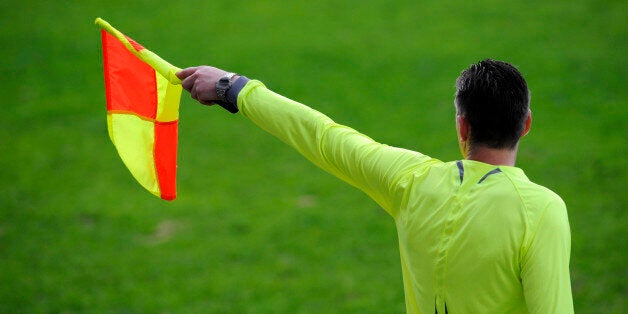 I'm sure many of you saw the absolutely horrendous decision from Lee Mason to award Middlesbrough's opener against Everton at the weekend. Granted, at first, it looked like the Boro frontman Alvaro Negredo simply beat Everton Keeper Martin Stekelenburg to the ball and headed it into the net - just a sloppy bit of goalkeeping right? Wrong. The replays showed what was possibly the clearest foul ever to be committed on a goalkeeper. Instead of heading the ball, like you're supposed to, Negredo actually headed the keeper's arms, causing him to throw the ball into his own net. Now in my book, and everyone's book (apart from Mr Mason's) that's not allowed - the goal shouldn't have stood. That's 12 points robbed from my fantasy team clean sheet; so who's going to reimburse them? That's what I want to know.
This came just a week after another horrific display of refereeing in the Swansea vs Chelsea game. If you haven't seen it yet, please do. For everyone that's not a Chelsea fan, it's a great laugh. Unfortunately, for those of you that are, like myself, it's more one of those "I'm going to break literally everything in this room" type moments. The incident I'm referring to is of course the FOUL(S) by Leroy Ferr on Gary Cahill in which he blatantly kicked the Chelsea defender... twice... from behind... to steal the ball and run through and score. This moment of madness ended up costing Chelsea two points, which is pretty hilarious/annoying, depending on who you support.
An understandably outraged Gary Cahill comically slated referee Andre Marriner and his team of officials in his post match interview by claiming; "you could be sat on the moon and see it is a clear foul". The interview is well worth a watch, the best you'll see in a long time. The "Like... come on... seriously..." really made me chuckle. Admittedly, Diego Costa could have been given a second yellow for a dive which would have seen him see red (not for the first time this season - I really wish he'd stop with the silliness); and it's just further evidence that supports the fact that we need video assistance in the game.
Imagine being Andre Mariner, watching the incident back on Match of The Day later that evening. He must've felt like a grade A moron - and rightly so. It's simply not acceptable for referees to KEEP ON making these dreadful errors. Enough is enough, surely? We have the technology to help these visually impaired idiots, so why not use it? Alright, idiots may be a tad too harsh, and I do have sympathy for referees and the stick they get. It's a hard job, there's no question about that. In the wise words of Michael Owen "Refereeing is the hardest job in the world." Okay Michael, sure... I did hear Mark Clattenburg was considering a career in Astrophysics, and Howard Webb was once in the running for President. They both felt refereeing was more of a challenging job proposition, though. Anyway, back to the topic on hand...technology in football, and why on earth we aren't using it. Video replays, FA. It's that simple. Use video replays.
Let's take a look at the sports that have actually evolved from 1920 by incorporating instant video replays into their game. Rugby, probably the sport that's most similar to football, first brought video referring in almost 15 years ago. 15 years. For god's sake. In Union it's used to review tries and kick goals and in League the video ref can be called upon to make decisions on knock-ons, offsides and obstructions. Sounds pretty fair if you ask me, and I'm sure there's 99.9% less controversy as a result. In cricket, the 'third umpire' is often called upon to assist umpires with decisions relating to well, pretty much everything; LBWs, stumpings, run-outs, catches, and boundaries. Furthermore, a referral system was brought in that allowed teams to challenge a decision of the umpire and have it reviewed via video replay - each team is granted three referrals per innings. It's incredible how many decisions are actually overturned. Again, seems very fair and damn right necessary.
Tennis is another example in which this 'Hawk-Eye' referral system is frequently utilised by players, and also broadcasters, to review if the ball has landed in or out. That's another thing, it adds to the excitement for both the crowd and those of us watching at home. A set winning point that gets the call to be challenged can be more gripping than the actual tennis itself. Over the pond, video replays are used to assist official's decisions in basketball, ice hockey and baseball. So someone please tell me why the suits over at football HQ haven't given it the green light yet?
"It would mean too many stoppages." So what? I'm pretty sure 100% of football players, referees and fans would prefer to wait 15 seconds for a decision to be reviewed than for it to be blindly and incorrectly awarded. I'm sure the broadcast companies will find a way of sneaking in an advert for Bet 365 in there while we wait anyway, so it's a win-win for everyone really. Let's actually think of how much could be resolved by simply having the option to have a closer look at an in game incident.
Firstly, offsides. Imagine how many goals have been scored/shouldn't have been given because of incorrect offside decisions. I appreciate it's not always easy for linesman to make the right call; football is a fast paced game. Some decisions are literally ridiculous though, and can be seen from not only the moon, but Pluto. Probably. All it'd take is one replay to see if the player is offside or not, and the correct decision can be given. It would take no longer than 20 seconds, even for the tight calls.
Secondly, penalties. The exact same thing applies here. Blatant fouls and handballs inside the box that are dismissed by the bottling ref and brilliantly timed challenges that see him point straight to the spot and reach for his red card. There must be on average at least one questionable penalty/should have been a penalty decision per game. Considering a penalty is almost a guaranteed goal, it's such a key moment in a game; so you can understand the frustration of managers, players and fans after essentially being robbed of a win or draw due to an clear cut refereeing mistake. Other incidents such as red cards, dives, and just general points of controversy that may impact the outcome of a match, can be properly seen to and corrected.
I'm not saying review every single decision the referee makes; obviously they'd have to be some sort of system in place like the other sports have. It's not like the FA don't have the ability to make this happen either, we see it every week on MOTD. Yeah, great, let's just watch the pundits analyse the footage after the game so we can sit there and be annoyed about how terrible the ref was. If they can do it after the match, why not let the officials take a look during the actual game - when it matters.
We've got goal-line technology now, great. That only took about 100 years for FIFA to finally realise it was needed, and I fear there will be a similar level of faff with video replays too. They were recently trialled for the first time in an international friendly between France and Italy, which means we'll only have to wait 72 decades for them to appear in the Premier League. The sooner we get them in, the better and fairer the game will be. It's pretty much as simple as that. Andre Mariner and Lee Mason, you might want to give this article a share boys, it might just help your cause.
This article was written by Sports Tours, a specialist sports tour operator that seek to provide and organise the best sports tours, tournaments and festivals for amateur clubs and school teams, both in the UK and overseas.