Combining nature, organic wine and culture, the Bioculture App guides you on a 19 day series of linked walks in Le Marche, Italy, providing information about the attractions along the way with specially created artworks.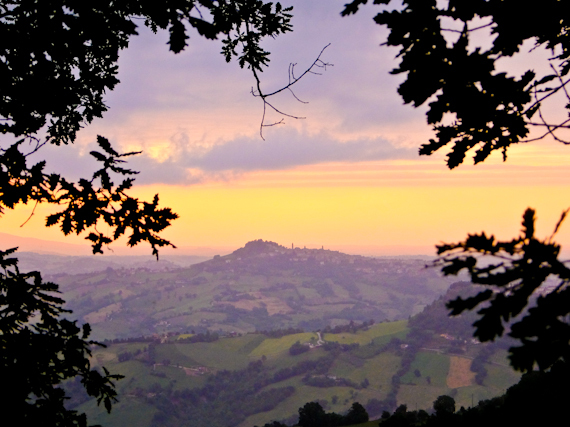 Le Marche is one of those forgotten areas of Italy but it merits more attention. Sandwiched between the Adriatic Sea, in the East, and the Apennines in the West, it's composed of green rolling hills, topped by fortified towns, and small vineyards cascading down the slopes. Most of these are just a handful of hectares and organic production is a big thing here. You probably haven't heard of Verdicchio and Rosso Piceno wines but you certainly should seek them out.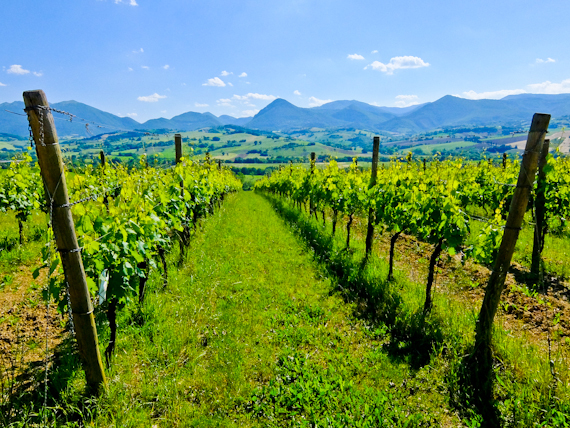 Terroir Marche is a consortium of 11 of these wine makers and they make an original and personal product that has a special and different taste compared to wines produced by industrial methods They aim to promote and enhance regional organic and biodynamic winemaking practices, to safeguard the territory of the people who live there and to disseminate the culture and practice of a sustainable and fair economy. This is artisan production so it's natural that they should partner with contemporary artists.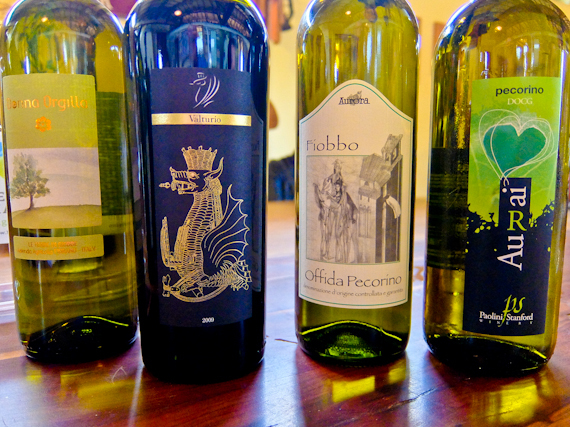 So last September six artists, comprising a film-maker, a photographer, a sound designer, an illustrator, a storyteller and a theatre director, set out on foot for a three week journey through the homeland of Verdicchio and Rosso Piceno wines. This wasn't a holiday, but a mission to create artworks, inspired by the places they passed through, and the result is the Bioculture App. It works as a guide to the walking trail but also as an exhibition for the work of these artists. Designed both for regular hikers who never visit galleries and art lovers who wouldn't be seen dead in the countryside, it really is an innovative idea. It seemed sensible to try it.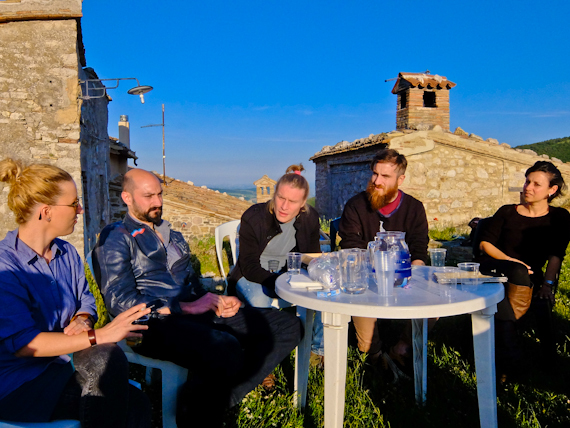 Offida
I fly into Pescara and investigate the walk from South to North. My first stop is in the town of Offida, dating back to the stone age, and built entirely of Le Marche brick. It's famous for its lace and the local women can still be seen, sitting outside their houses with needle and thread. The most impressive monument is the church of St. Maria della Rocca, once a castle but donated to the Franciscan monks in 1039. They incorporated an older church into the crypt and their new church occupies the first floor, with traces of the original frescoes still visible. Lunch is at Osteria Ophis, run by Michelin-starred Chef Daniele Citeroni Maurizi who uses fresh local ingredients to create his modern spin on traditional dishes.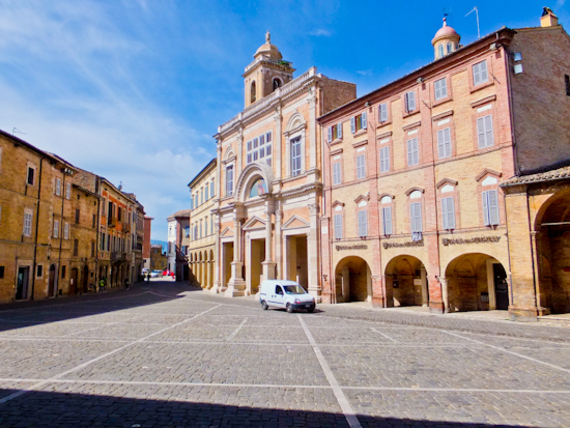 Aurora Vini
Aurora was the first organic vineyard in Le Marche, founded 35 years ago by a group of idealistic students. They're now grown men and have spearheaded the Terroir Marche consortium so it's a fitting place to meet their winemaker colleagues. As I taste their wines, they tell me that average size of their vineyards is around three hectares and they can't really expand as they do all the work by hand. Good wine goes with good husbandry - treat the earth well and you'll get good product. They all help each other and say a good time to visit is during the harvest in late September, early October - that way you may get a chance to help them pick the grapes.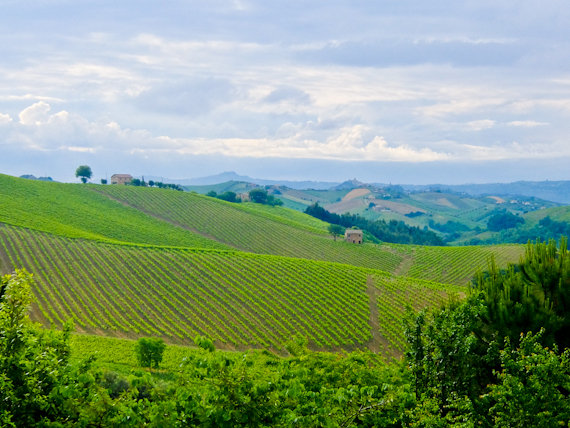 Smerillo
The hilltop town of Smerillo was once important because of its medieval castle, although not much remains of it now. It's worth walking around the ramparts, searching for orchids and picking out the fossils in the sandstone. Nearby is the organic farm of La Conca where Mariella cooks using local herbs and flowers. Ravioli stuffed with ricotta and sage is one of my favourites but she also makes a delicious rose petal jam.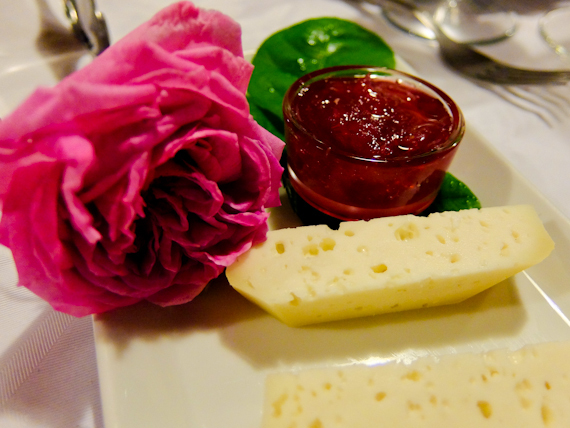 Camerino
The Renaissance hilltop town of Camerino has one of the oldest universities in Italy which is now housed in the former Ducal Palace in the Piazza Cavour. Here you'll also find the Cathedral, the Archbishop's Palace and a fine statue of Pope Sixtus V, dating from 1587. I like the collection of Baroque organs in the Tempio delle Armonie, although you have to arrange a visit as it's not normally open to the public.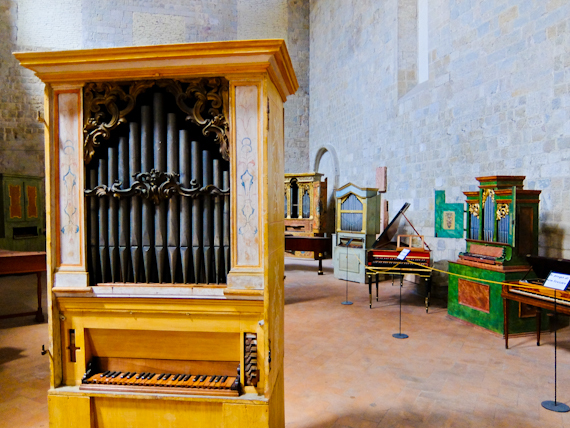 Just nearby is the agritourism, Pietra Maula, which serves sensational food, grown or reared organically. Try their home cured meats, duck gnocchi or their wild boar tagliatelle. They also make their own wine. It's also worth a visit to the Mountain Beekeepers Cooperative in Salomone, Matelica, to taste honey from their 3500 hives, most of it organic.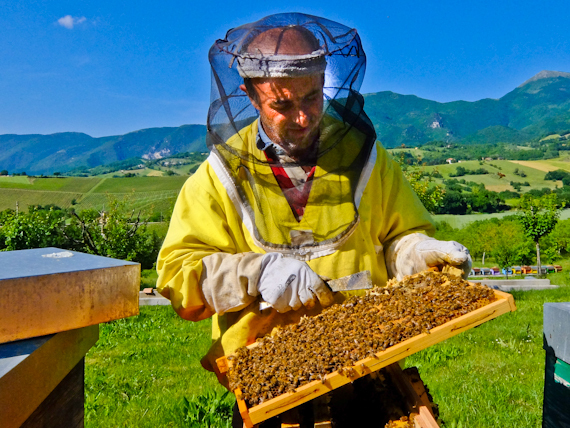 Elcito
My final destination is the village of Elcito, at 800 metres above sea level and almost deserted with a population of just six. I meet the artists who worked on the App over a simple rustic dinner cooked by Guiliana in her home. They tell me that they'd never really hiked in the countryside before and discovered the exotic in their region, inspired by the people and cultures they met. They're interesting people and what they've created adds a new dimension to walking in Le Marche.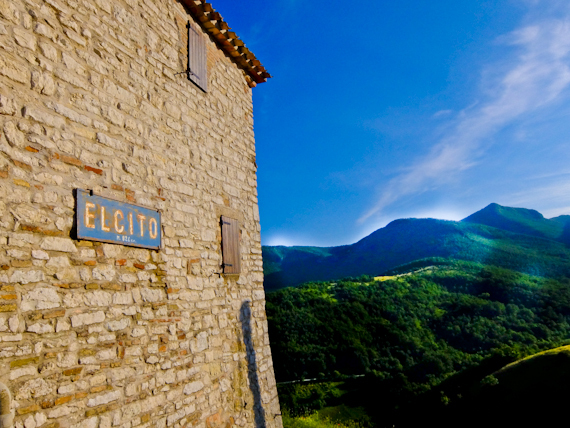 Bioculture has information about the walk and how to download the App.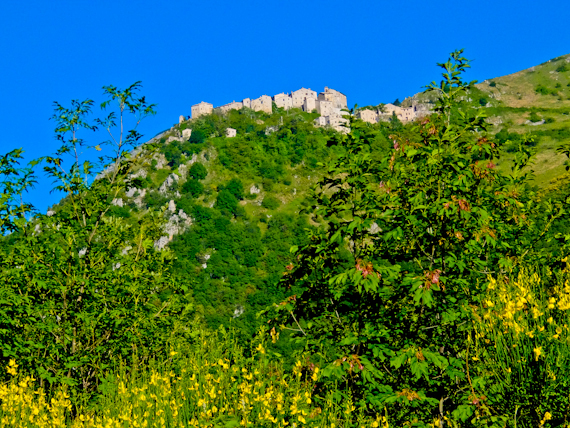 Visit Marche has information about the region.
Italia has information about the country.
Nascondiglio di Bacco, near Offida, is home to PS Winery and is a pleasant place to stay.
Il Vecchio Tasso is in a beautiful location near Smerillo and has comfortable rooms.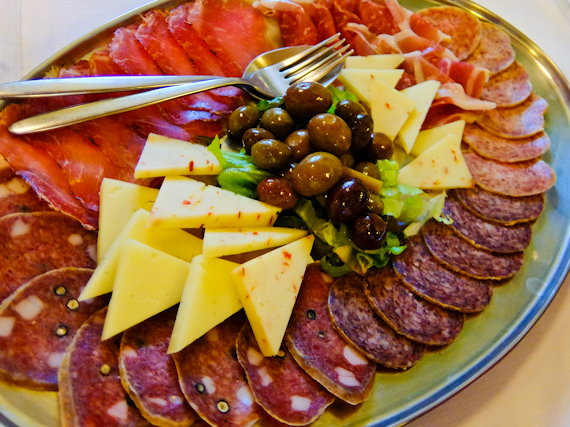 Ryanair flies to Ancona and Pescara from London Stansted.
The Stansted Express is the most convenient way to travel to London Stansted.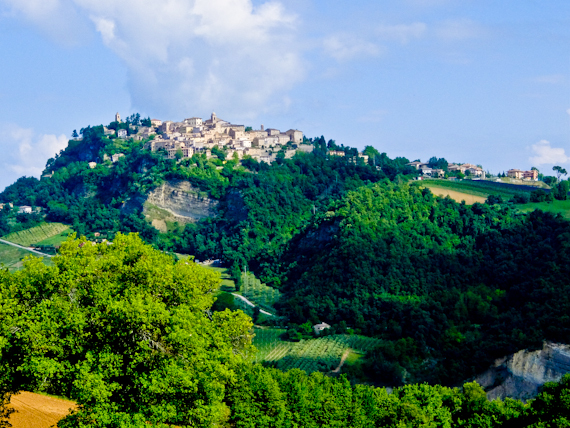 All pictures copyright Rupert Parker.