The province of Istria, in the North West of Croatia, is rich in truffles, olive oil, seafood and wine so it's no surprise that the cuisine is so distinctive, particularly when you realise that Italy is just next door.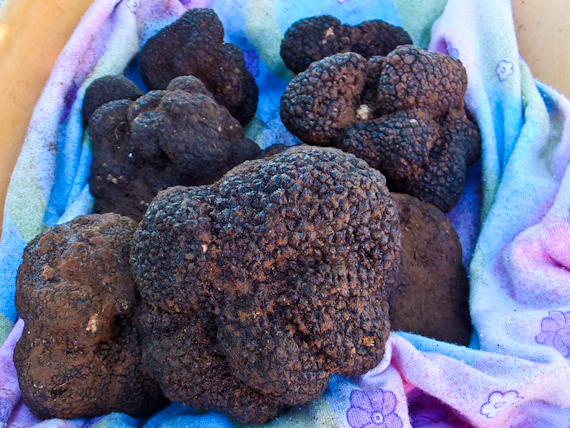 It's baking hot, yet it's only 9 in the morning. The dog in front of me is panting and obviously feeling the heat. Ivan Karlić, his master, says this is not good and he's giving me reason to worry. I'm on a truffle hunt, searching for breakfast, and I don't want to go hungry. Suddenly the hound's animated and starts digging - Ivan pulls him off, gives him a biscuit, and carefully uncovers the soil. Sure enough there's a black truffle sticking out, slightly smaller than a golf ball, but certainly big enough to eat. The heat seems to be in our favour - truffles rise nearer the surface in these conditions and we find two more, before letting the poor dog retire to the shade.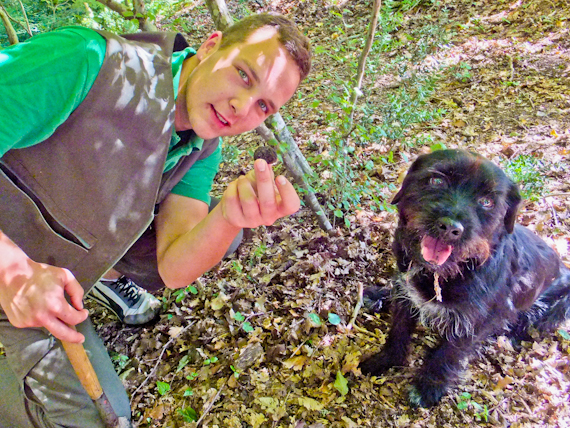 I'm on the Karlić Estate and, back in the kitchen, Ivan cracks some eggs, grates some of the truffle, and beats the mixture gently, before putting into a pan with melted butter. When it's still runny, he adds grated parmesan, then tops it with thinly sliced truffle, and serves up his Fritaja or Croatian scrambled eggs. Sitting outside, with a glorious view, it's breakfast for a king. As I eat, Ivan tells me that he finds black truffles all year round on his hillside, but he hunts for the more highly prized white truffle in the valleys, and only between October to January. The secret of his success, of course is a good dog, and he's been offered over 12,000 Euros for his - he's not selling.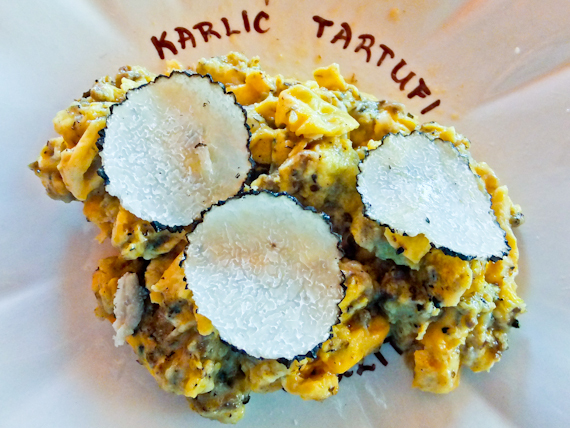 Coastal Istria has long been a holiday destination, with the Roman amphitheatre of Pula a major attraction, and the town of Rovinj offering cool sophistication. The countryside inland is relatively new to tourism but its forested rolling hills, topped with fortified villages, like Motovun, is startlingly attractive.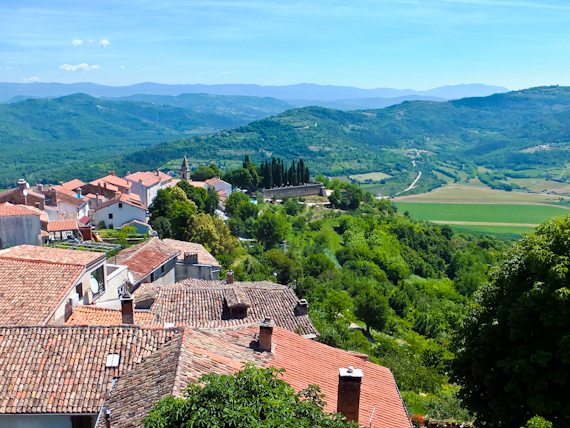 This is a region of vines, olive trees and abandoned water mills. Hotels are small boutique-style, often converted houses and I'm very comfortable in Hotel San Rocco, 5 times voted best small hotel in Croatia. The food's good here also and I particularly enjoy scallops, still with their orange coral attached, and small clams with pasta.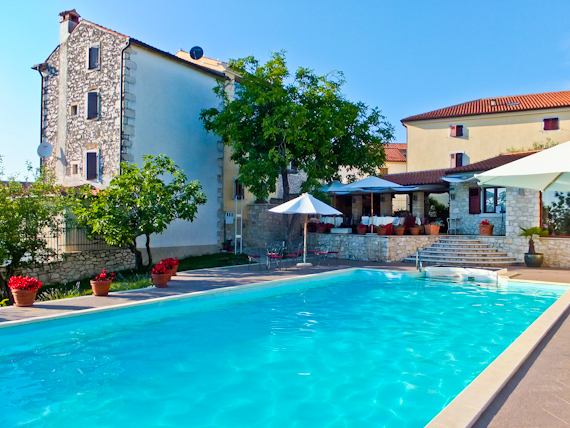 This is also a land of winemakers and I go for a tasting at the Kozlović winery in Momjan. This has been in the family for generations and its history mirrors that of the area. In the past, this was a poor farming region, but day trippers from Italy, only an hour away, came here to buy cheap wine from the barrel.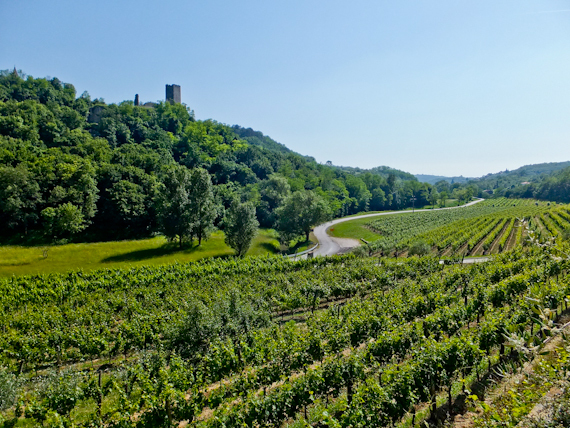 In the 1990's Gianfranco convinced his father they should abandon the old ways and think about producing higher quality wines. They rebuilt the winery, added a bottling plant, and took scientific advice about their vineyards. He's passionate about producing the perfect grape and has invested in the best equipment to turn it into wine. And it's working - his Malvasia, the predominant local wine grape, is excellent and he's won many awards.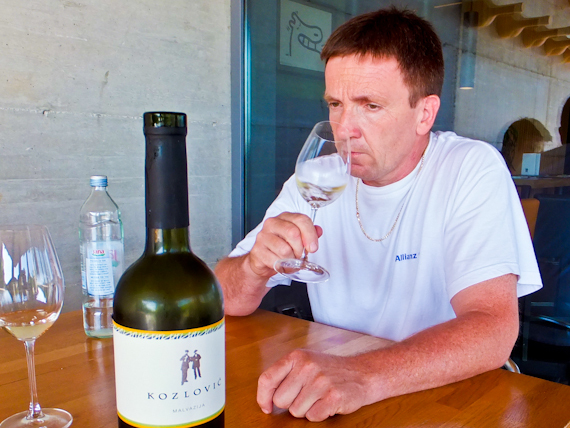 Surprisingly, in such a rural area, restaurants pride themselves on their service and the quality of their crockery and cutlery. A good example is Konoba Toklarija, a slow food restaurant in a converted olive mill, in Sovinjsko Polje. Chef owner, Nevio Sirotić, has scoured the world for his place settings and the stylish knives and forks date back to 1951.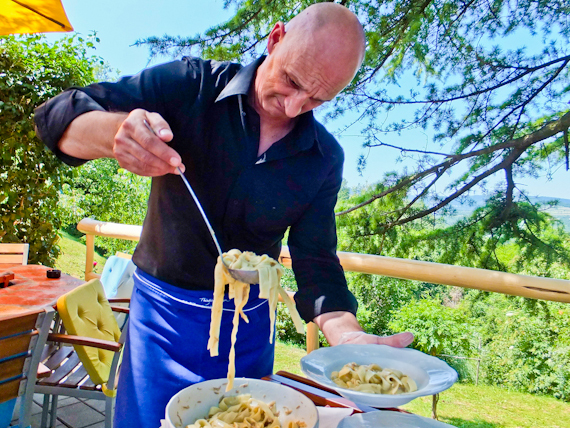 He's a perfectionist, so much so that, even though it's a busy Sunday afternoon, he's turned down other clients just to serve the two of us. He's keen to hear about our truffle hunt and serves us some of his own in his delicious home made tagliatelle. We plough through 6 courses here, each one even more surprising than the previous, and his menu is based on what he finds fresh, most of it picked from his own garden.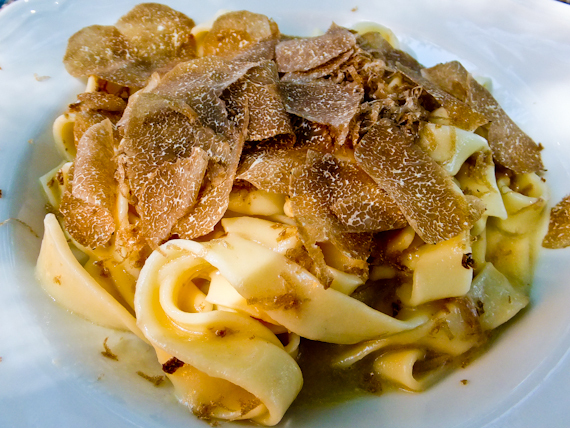 Of course when it comes to fish, then it has to be just out of the sea. I walk past the returned fishing boats in Novigrad, to sample the day's catch in Damir & Ornela Restaurant. They pride themselves on their "Mediterranean sashimi" and I watch as the owner carefully fillets a seabass at my table. He deftly slices it wafer thin and serves it raw with just half a lemon and a square of polenta. This is as fresh as it can be and it doesn't disappoint. Grilled scallops on the shell are also excellent.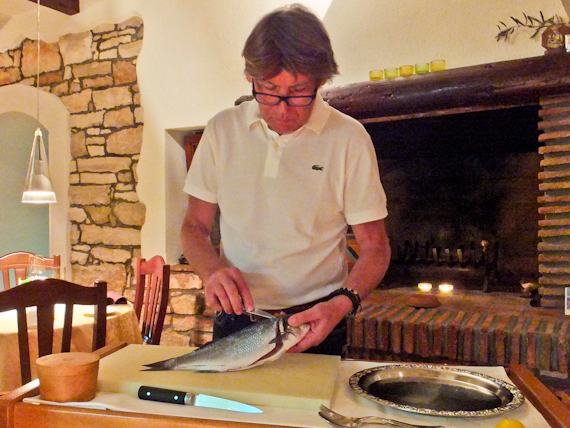 As you'd expect, there are many hiking trails in the area and, after all this food, I spend a day around Buzet on the route of Seven Waterfalls. Being summer there's not too much water but it's a great way to see the deserted interior - whole villages, which were once hives of water powered industrial activity, are now being slowly enveloped by the forest.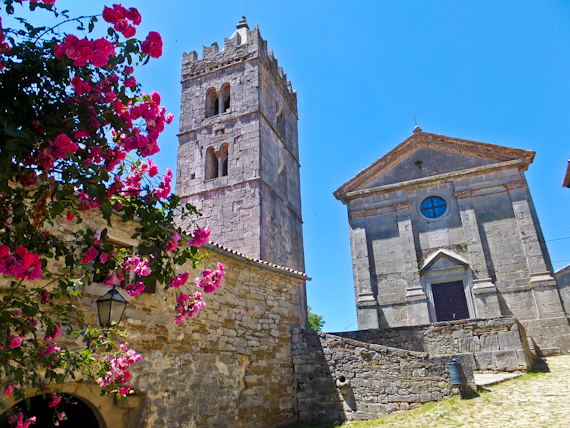 I climb up to the medieval fortified town of Hum, officially the smallest town in the world, with just 18 inhabitants, but fortunately it does have an excellent restaurant. Humska Konoba serves traditional food, probably a bit too filling on a day as hot as this, but I have a plateful of charcuterie and cheese, a couple of beers and I'm satisfied.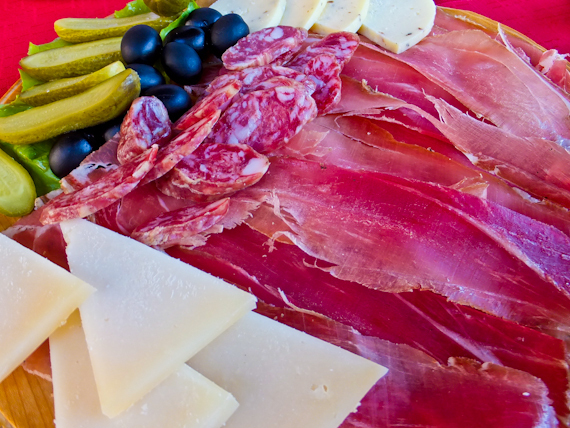 Perhaps the epitome of fine dining is Restaurant Monte, in Rovinj, and the 7 course tasting menu is certainly all it cracks up to be. Dishes such as "Semicrudo of tuna, scampi and scallop with pancetta" or "Gurnard, king prawn, mussels, edamame beans, steamed on hay" impress. As you'd guess, presentation is impeccable but the cooking is the star here.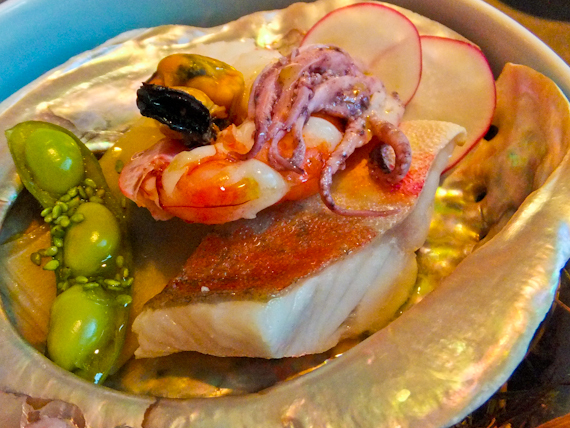 For the ultimate in sophistication, then start your evening with a champagne cocktail at Valentino Champagne and Cocktail Bar and watch the sun go down. White cane armchairs and leather banquettes are scattered amongst the rocks right next to the sea and passers-by crane their necks to spot celebrities. This is a far cry from the rural landscapes of the interior but demonstrates that Istria has plenty to suit every taste.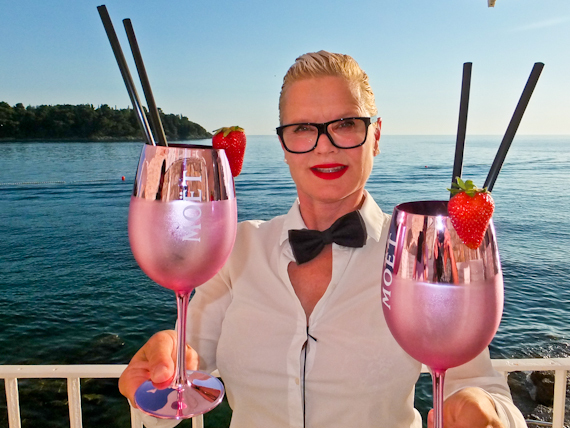 Discover Croatia has information on the country and what to see and do.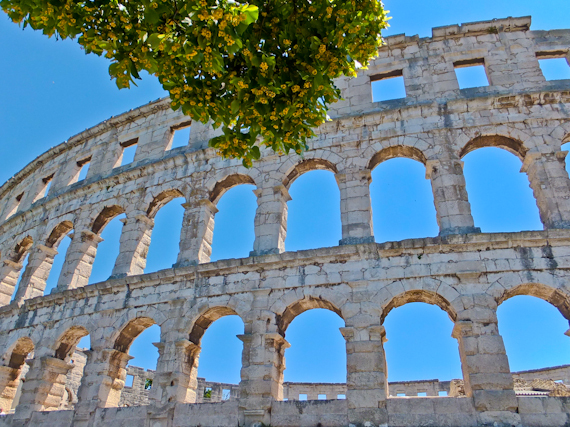 Istria has information about the region.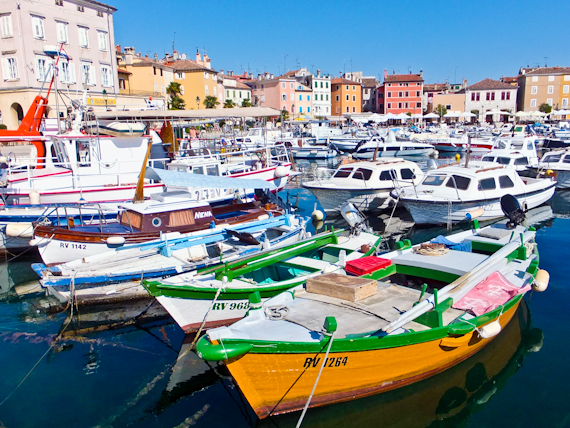 Ryanair flies direct to Pula from London Stansted.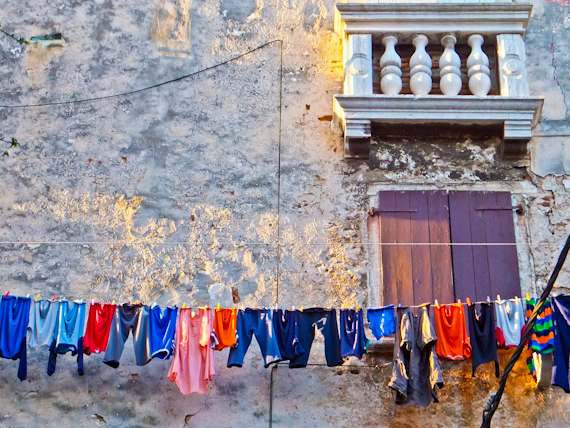 Accommodation at Hotel San Rocco costs from £95 per night based on two people sharing a standard double room with breakfast.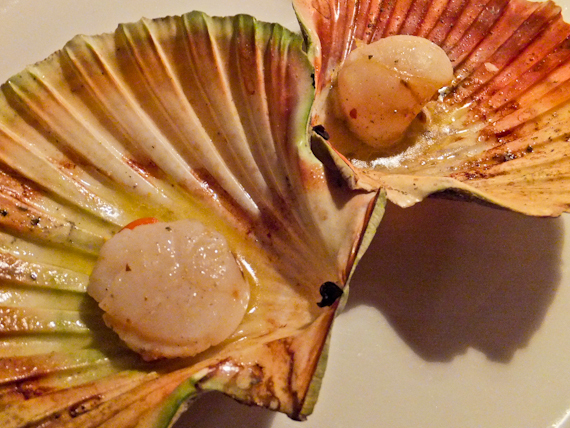 Konoba Toklarija has no website but the address is Sovinjsko Polje 11, 52420, Croatia.
Tel: +385 (0)91 92 66 769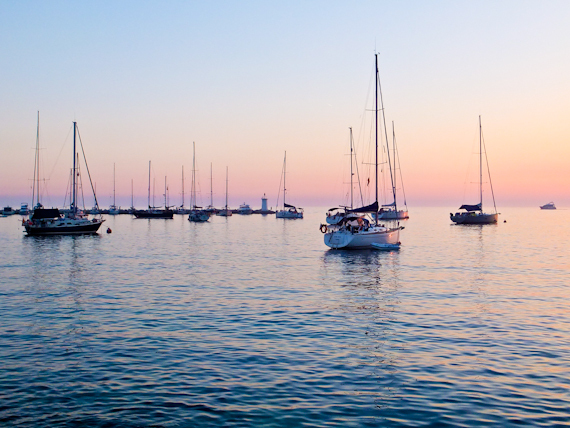 All pictures copyright Rupert Parker.