Now in its eighth year, Peixe em Lisboa, Lisbon's fish festival, takes place over 10 days, with cooking classes, wine pairings, chef demonstrations and tasting dishes provided by top Portuguese restaurants.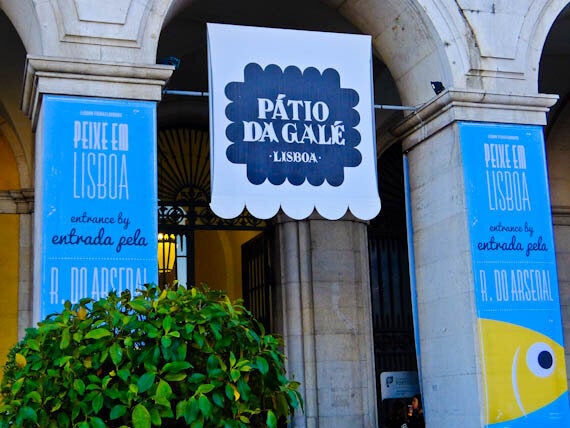 Lisbon is one of the few European capitals situated close to the sea and therefore it's fitting that fish is a big deal here. Apparently in Portugal alone, there are said to be over 1000 recipes for Bacalhau, the dried cod which the locals seem so fond of, but I've come for the fresh variety. It's a joy to explore the city on foot, although since it's built on seven hills, you need a certain amount of stamina. Right next to the sea is Mercado da Ribeira, the city's main market which opened in 1892. It went through a period of neglect but has now been transformed into a foodie hangout. It contains some of Lisbon's favourite food shops and restaurants, but still sells stunningly fresh fish, alongside meat and vegetables.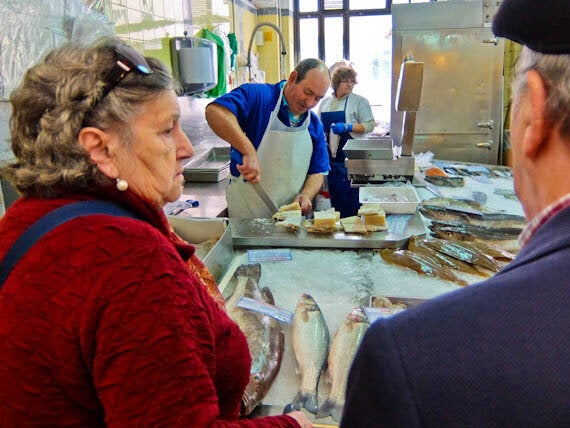 Ten minutes' walk away is the historic Pátio da Galé, on the edge of one of the city's most emblematic squares and this is where Peixe em Lisboa is taking place. There are gourmet stalls selling cheeses, jams, olive oils, sausages, sweets and wine, but I've come to sample the fish dishes. There's a vast dining area and, on one side, are the popup restaurants of distinguished Portuguese chefs including José Avillez, Kiko Martins, Justa Nobre and Vítor Sobral.You buy tokens for the restaurants, at 5€ or 8€, and the princely sum of €1.50 gets you a huge glass of excellent Portuguese wine.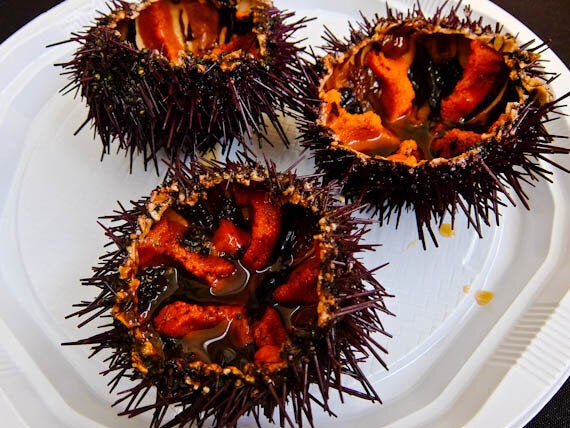 Last time I was here was two years ago and my biggest regret was that I missed out on the sea urchins from the Ribamar restaurant. I'm not going to be denied them this time, so I start with a plate of three, served raw, actually still alive. No sauce is necessary and the orange "corals" are smooth and creamy, a cross between caviar and oyster. Their slight sweetness is perfectly balanced with the saltiness of the liquor inside the shell and I even enjoy the black part which apparently is partially digested seaweed. These have kick-started my appetite so I go back to the stand and order razor clams, lightly grilled with garlic, tender, tangy and delicious.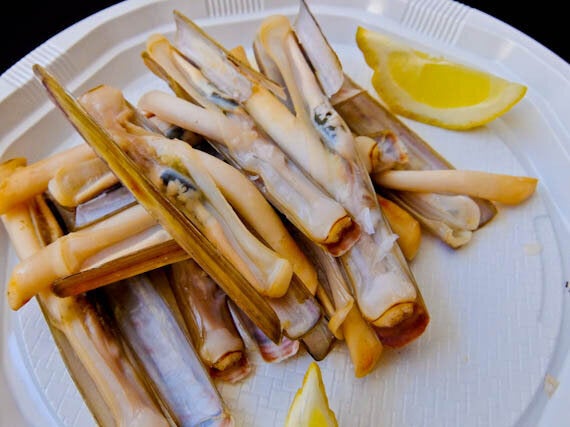 Now of course, it's impossible to try everything but over three days I give it my best shot. The Taberna Rua Das Flores is a restaurant I've eaten in on a previous trip and I particularly enjoy their minced raw mackerel mixed with ginger, onion and pepper, topped with tiny crispy dried shrimp. The fresh variety features in a tiny dish from José Avillez: Algarve prawn ceviche slices, served on half a lime, a marvel of presentation, but not really very much to eat. For something more substantial, I enjoy skewers of octopus, marinated in olive oil with red peppers and courgettes or, when I'm feeling really hungry, a fillet of hake on a bed of lettuce with crunchy almonds and onions.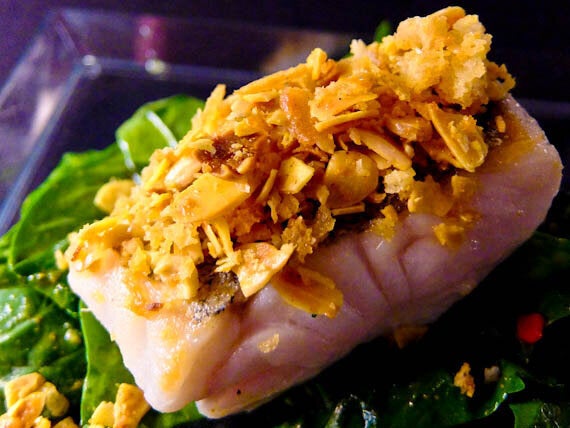 There's also a huge marketplace area where exhibitors bring their best sausage, cheese, olive oil and wine for you to taste. Chefs do demonstrations and you get a chance to try what they've cooked. I can't miss the oyster event where sous chefs, from different Michelin starred restaurants round the world, show you what they can do with this king of molluscs. A tasty way is to serve them raw with grated horseradish, a brilliant idea from Frederico Ribeiro of New York's Thomas Keller restaurant group.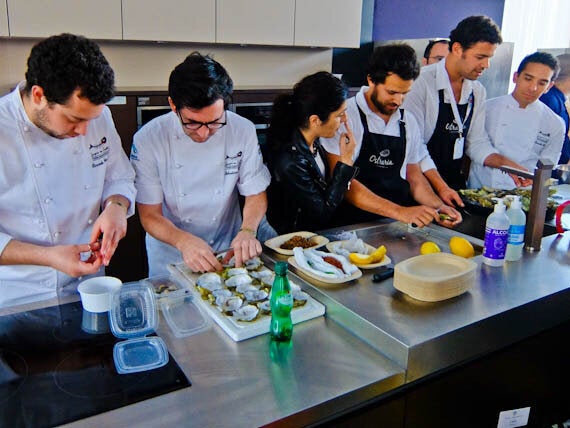 Portugal claims to have the best fish in the world and on the evidence of my tastings, I can't disagree. They really try to get the fish off the boat into the market as soon as possible and, as a result, you get to eat it in its best possible state. Raw fish from Japan, particularly in Sushi, is world famous, but I'm thinking that Portuguese seafood needs to be better known. Shrimps, oysters, clams and scallops are all up there with the best but it's worth a trip just to sample those delicious sea urchins.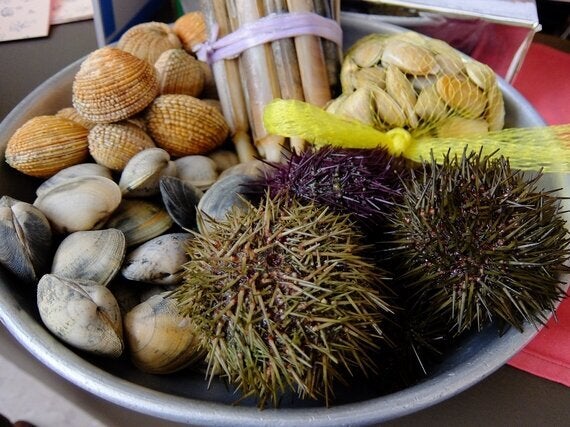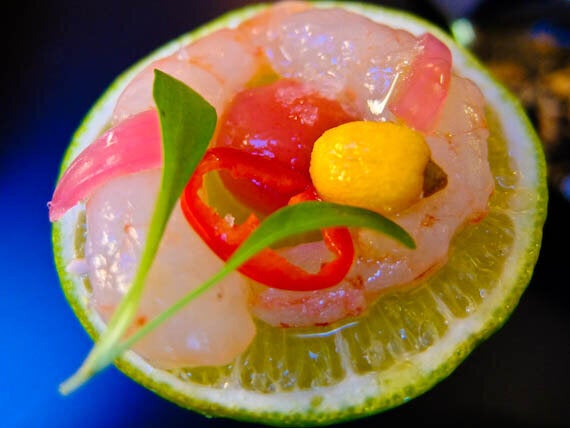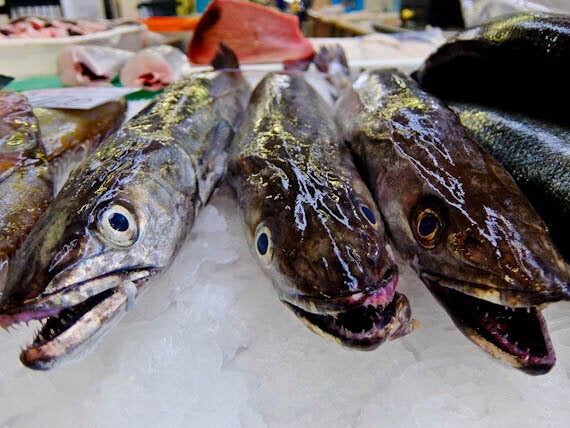 The Four Seasons is a comfortable place to stay and not only features fish in its restaurant but also brings in a Japanese Sushi chef to prepare lunches.
Rodrigo da Fonseca, 88, Lisbon 1099-039
Tel. +351 (21) 381-1400 Fax. +351 (21) 383-1783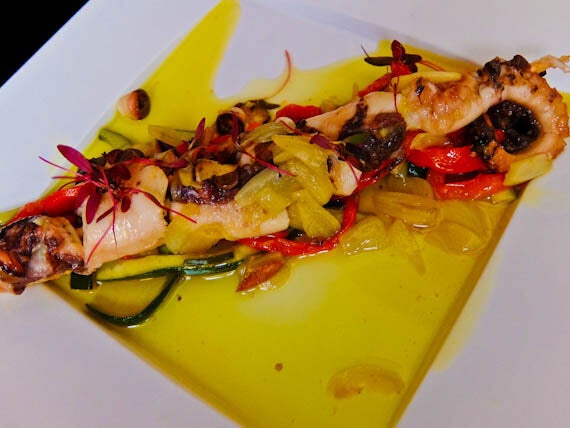 All pictures copyright Rupert Parker.
Related