Turkish cuisine from Southern Anatolia is distinctive with the best Baklava coming from Gaziantep and kebabs of the same name from Adana.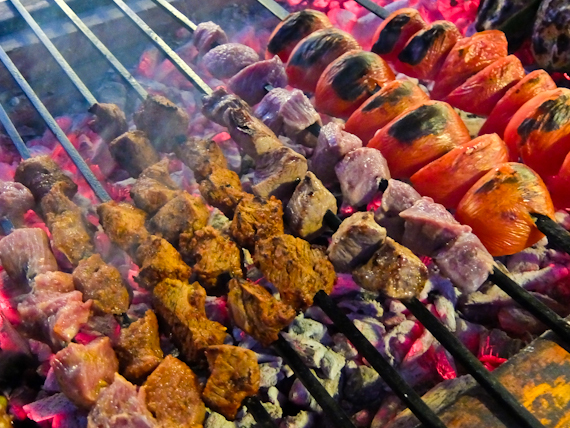 Mention Turkish food and the ubiquitous kebab is what comes to mind, a stalwart of high streets everywhere, fast food for drink sodden late night revellers, utilitarian but certainly not gourmet. But travel back to its homeland and taste it in a myriad of forms and you're in for a big surprise.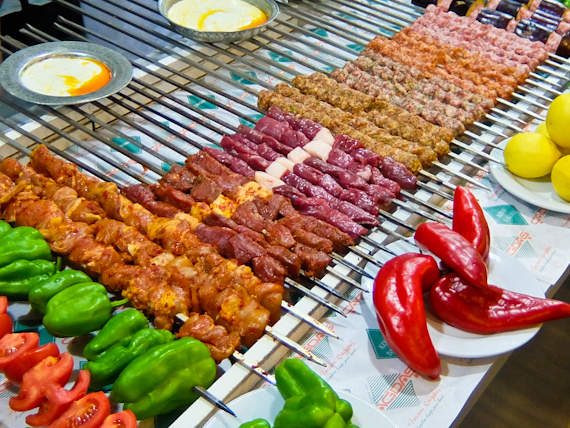 Gaziantep
It's only an hour's flight from Istanbul on Pegasus Airlines but it seems a world away. Gaziantep is almost on the border with Syria, 45 miles from Aleppo, a main centre on the historic Silk Road and occupied by Assyrians, Persians, Romans, Byzantines and Arabs over the centuries. The cuisine is a fusion of Anatolian, Mediterranean and Middle Eastern influences and acknowledged as the richest in Turkey.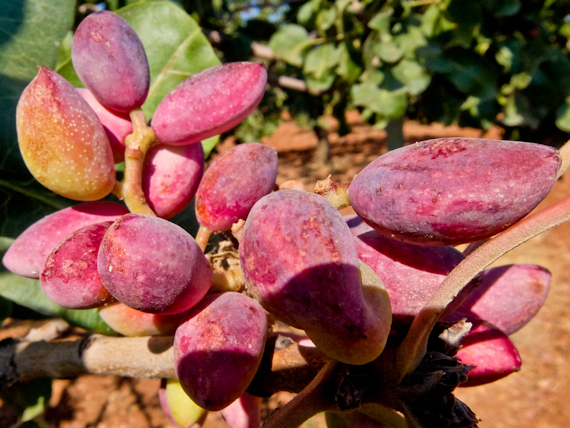 Rich soils and warm summers deliver exceptional produce and it's famous for its spices, grapes and Pistachios. You can find all these in the medieval bazaar, stalls festooned with dried vegetables and all sorts of pepper mix for sale - I love Isot, or Urfa Biber, which has a delicious smoky flavour, from being dried in the sun then wrapped and sweated throughout the night. There are also Shira, sheets of Grape leather, made from mixing the juice with flour, drying it and then used to make an assortment of sweets, including Bastik and Sucuk.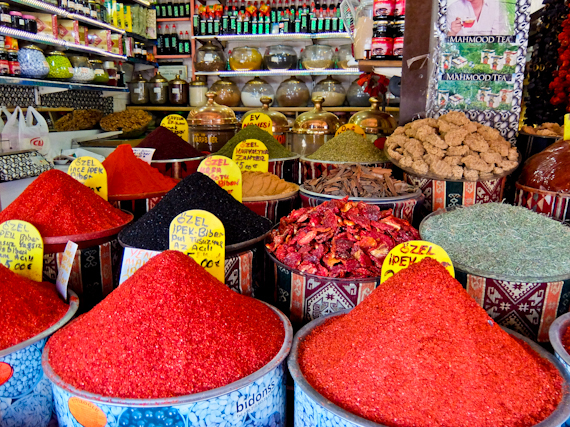 Kitchen Museum Cooking School
I arrive at the Kitchen Museum to be handed an apron and a handful of recipes. There's a cooking school here, mainly for locals, but it's my chance to get a hands on experience and taste the results. Kilis Kebab is meat balls and aubergines, grilled over coals and then simmered with onions, peppers, tomatoes for 45 minutes.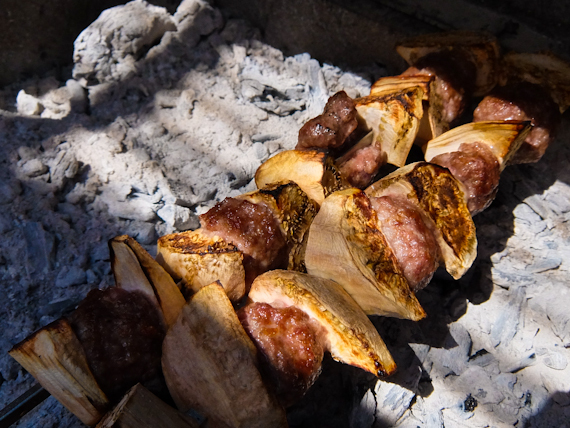 Stuffed Kofte involves mixing cooked minced beef with walnuts, pistachios and almonds then covering with a mixture of bulgur, pepper flakes, minced meat and onion and frying or steaming. I like the salad of halved green olives, spring onions, pomegranate molasses, walnut, lemon, pepper flakes and parsley as accompaniment.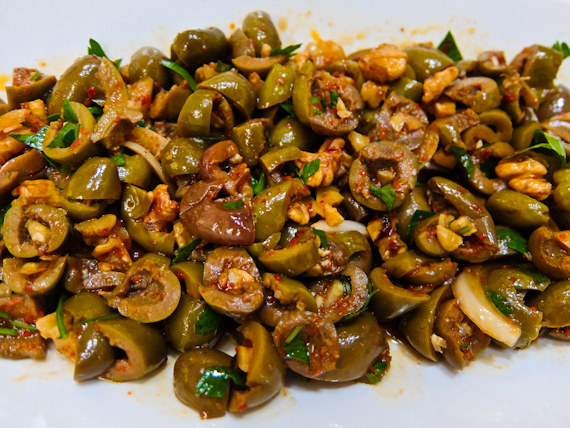 Baklava
Gaziantep is the Baklava centre of the world. At Gulluoglu, who have a number of outlets in the city, it takes 15 years to become a master chef. They take on 10 new apprentices each year and produce around 1000 kg of Baklava a day.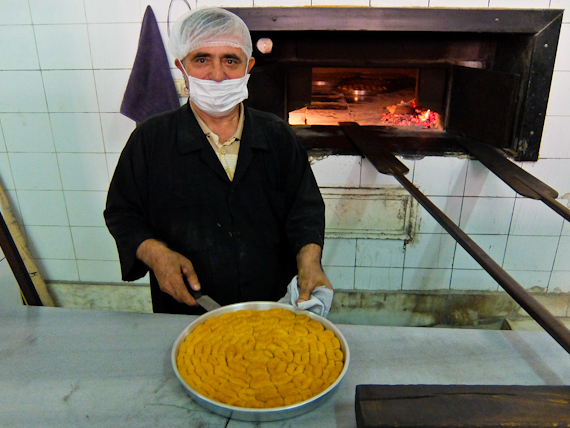 Although the ingredients are simple, they need to be the best - eggs, durum wheat, semolina, clarified butter, pistachios, water, sugar and salt. Speed is important as it affects the quality of the dough and the key is to get the pastry as thin as possible - good baklava should shine like glass and crunch when you bite into them. I can easily say that these are the best I've ever tasted.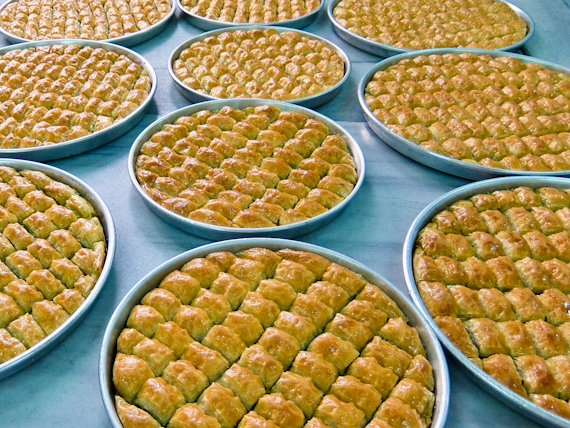 Kebab Workshop
So now to the not so humble Kebab and a workshop dedicated to all types. I learn from Chef Tahir Oztan that a kebab is anything that is cooked over fire. He's sexist in his choice of meat and believes the best comes from the male, just shoulder and leg, ideally 9 months old.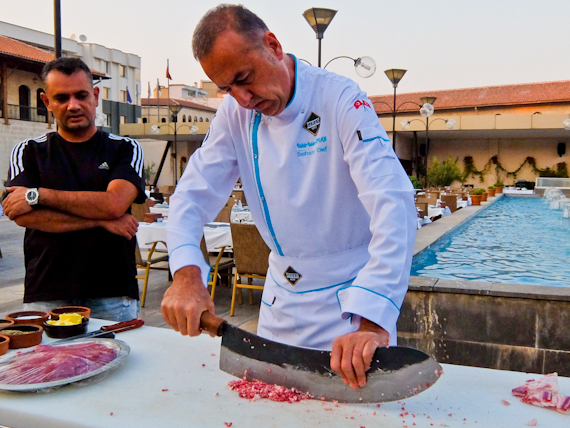 Rather than mincing it, he chops it using a fiercesome semi-circular blade, as this way it retains its moisture. He adds salt to make it stick, onion and red pepper, and leaves it overnight to tenderise. Adana kebab, named after the city down the road, is the speciality of the region and uses spices and Urfa Biber, sweet chilli powder.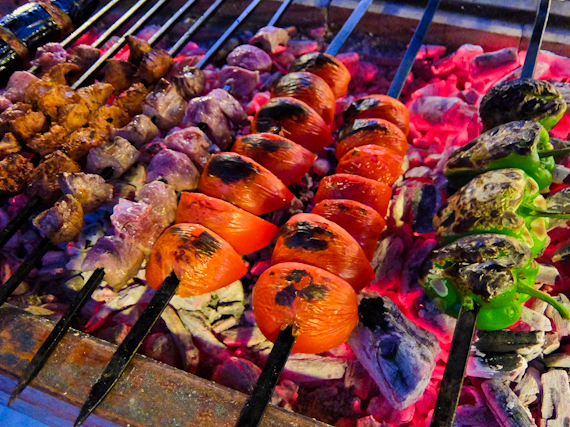 Adana
Now I have a taste for their kebabs, I set out west for Adana, a few hours away. It's the 5th largest city in Turkey and is situated on the beautiful Seyhan River spanned by an ancient Roman bridge. Of course I'm interested in the food and I'm invited to lunch at Fatima's house. She's prepared a fantastic spread including stuffed Okra, spinach with onions, walnuts, and pomegranate molasses, and of course her version of the Adana kebab. She tells me that in this city there's an Arabic influence on the food which explains the addition of cumin and black pepper to the meat.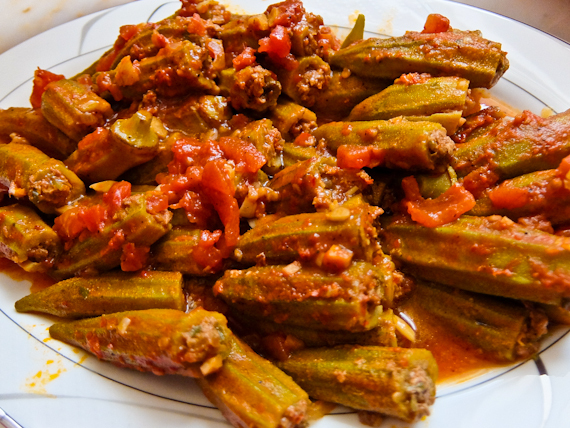 Fish
For me, no trip to Turkey is complete without a dip in the sea and a taste of the local fish. On the way to the Mediterranean, I stop off in Tarsus where St Paul was born and visit the sacred well and church, but I'm aiming for Narlikuyu. Here there are 2 enormous chasms, aptly named Heaven and Hell, but I'm rewarded for my spirituality by taking a table at Lagos Restaurant and cooling off in the sea. Lunch, as you'd expect is extremely fresh squid, bubbling garlic prawns and then a huge fish. It really does feel as if I've died and gone to heaven.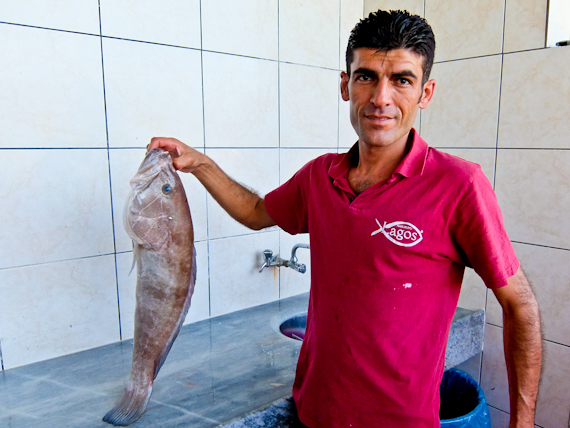 Go To Turkey has more information about the country.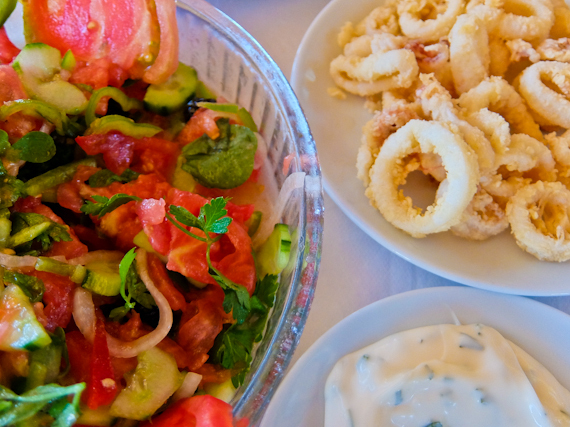 Pegasus Airlines flies to Gaziantep via Istanbul from London Stansted. Prices start from £106.79 one way including taxes and charges. They also fly to Adana, via Istanbul or Izmir, from Stansted for the same price.
The Stansted Express is the most convenient way to get to the airport from central London.
The Sirehan Hotel makes a good base in Gaziantep.
Culinary Backstreets can arrange culinary tours of the city.
Restaurant Imam Cagdas serves tasty traditional food in Gaziantep.
The Riva Hotel makes a good base in Adana.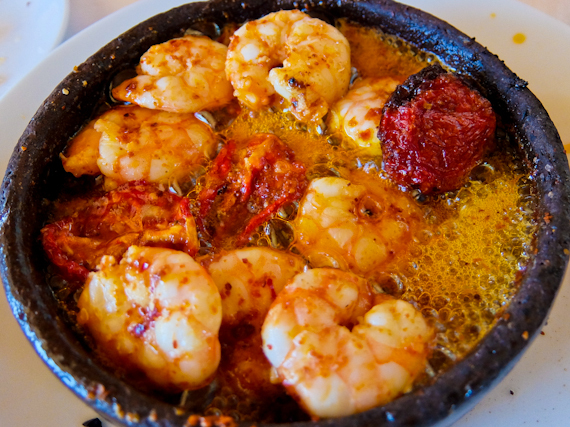 Atosev Restaurant in Adana is a good place for kebabs.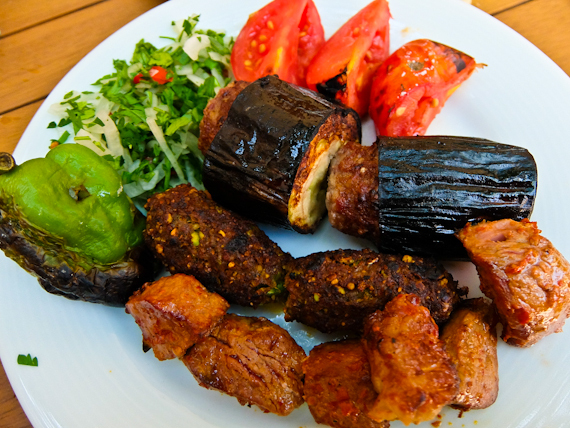 Mavi Beyav Beach Club is a comfortable spot for swimming and sunbathing.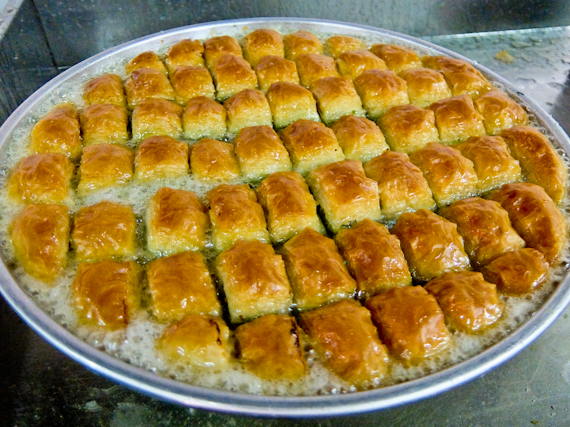 All pictures copyright Rupert Parker.