It takes the Royal Clipper, the biggest 5 masted sailing ship in the world, 11 days to cruise down the Mediterranean and up the Adriatic, from Rome to Venice, and it's luxury all the way.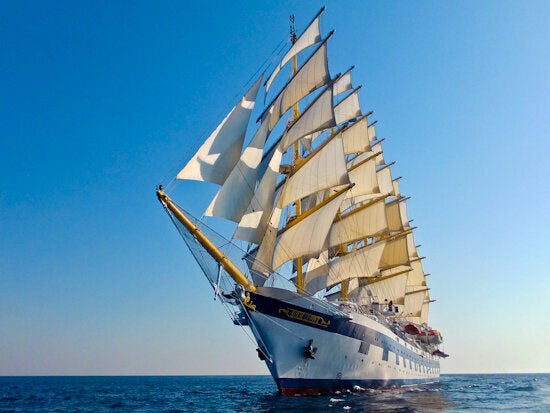 I have a confession to make - I'm a cruise virgin so when the chance comes up to spend 11 days on the Royal Clipper, sailing from Rome to Venice, I'm slightly unsure. After all, I've horrible memories of being stuck on those Disco boats that ply the Thames, crammed in with people you don't really like and impossible to get off. I've also been in ports in the Caribbean when floating monster cruise ships arrive, disgorging passengers to waiting touts who are only too happy to rip them off. I ask my friends for advice and they point out that the Royal Clipper is a sailing boat with a maximum of 227 passengers, so it would be a completely unique experience - as different from a normal cruise as a Butlins is to a boutique hotel.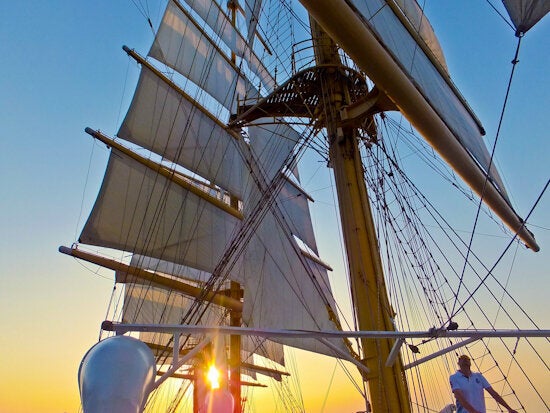 I arrive at the Italian port of Civitavecchia, worrying that I might have missed the boat, but no, there it is, the 5 masts of the Royal Clipper standing proud, the largest fully rigged sailing ship in the world. I climb on board and make my way down to the Commodore deck, the portholes in my cabin just above the waterline. Most of the space is taken up by a decent sized bed but there's ample storage and I'm soon unpacked, showered and ready for sail away.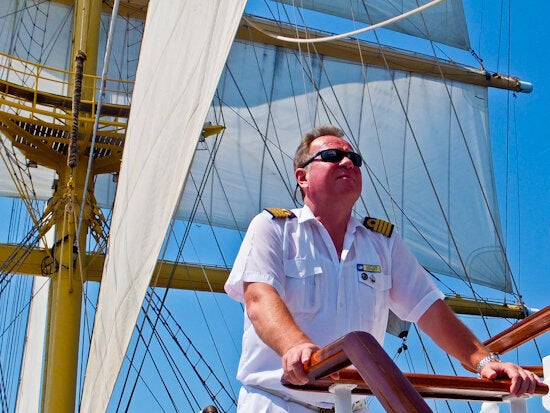 Up on deck the crew are rigging all 42 sails under the eye of Captain Sergey Utitsyn. It's fascinating to watch, a well-oiled drill involving a mixture of the mechanical and the manual and I never tire of the sight. Music comes up, Conquest of Paradise by Vangelis, from the movie 1492, and we set sail into the sunset.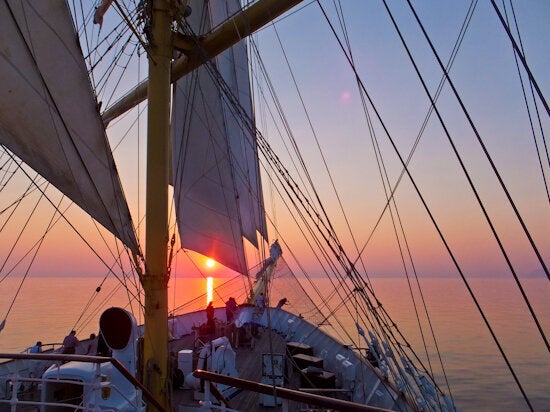 It makes you hungry, watching over people do the work, and I make my way to the dining room, a multi-level symphony of blue and red with brass fittings. As a single person on a cruise full of couples, this is slightly daunting but I'm asked which language I speak and seated at a table with some English and Americans. The good thing is that you don't have to wear collar and tie and dinner is waiter service, rather than a buffet. The menu changes every day and I have to say that I never knowingly undereat.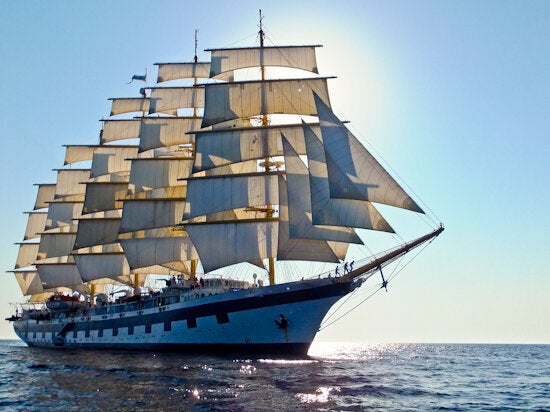 The first port of call is the Italian island of Ponza, its pastel houses tumbling down to the harbour. We anchor in the bay, lower the tender and we're ferried to shore. This is not the mass cruise tourism I've witnessed before, rather we disembark in groups of around twenty and there are no vendors trying to catch us when we arrive. I explore the sleepy little town for a couple of hours then I take the tender back to the boat- they leave every half an hour so there's no real rush.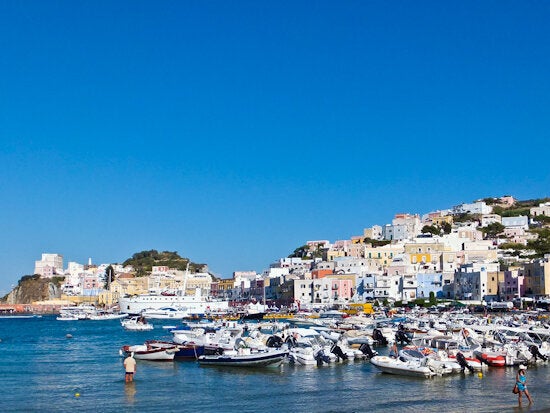 We make our way down the West Coast of Italy, stopping at the island of Capri, before negotiating the Straits of Messina and arriving in Taormina, Sicily. I've booked an excursion up Mount Etna and am pleased to see that the top is free of cloud although there doesn't appear to be any snow. We climb through solidified lava flows then take a cable car and finally a 4WD brings us to the summit. It's quite chilly up here at 3000m and I solve the mystery - there is snow but it's carpeted by black ash from an eruption earlier this year. It's too dangerous to get near the main vent but auxiliary craters oblige with puffs of sulphurous gases.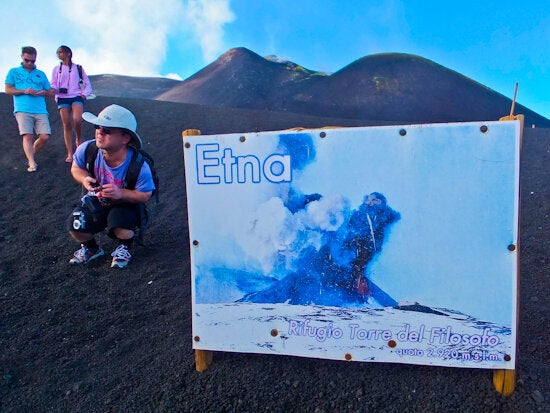 The next day is all at sea, crossing the Adriatic to the Greek island of Corfu. I worry I might be bored but the captain has arranged for us to take part in tacking manoeuvres - it's all hands to the ropes and I even manage a spell at the wheel.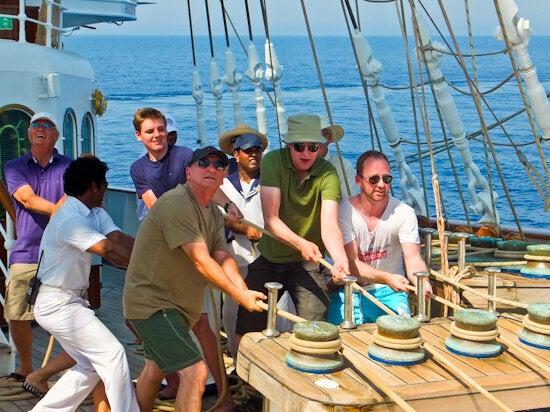 Braver souls climb the rigging to the crow's nest, with harness of course, but I prefer to sit and watch. Access to the bridge is unrestricted and the ship's officers are only too pleased to answer questions. I ask why we seem to be using our engines most of the time, rather than the sails and they tell me that winds in the Mediterranean are too fickle - there's either none of it or it's in the wrong direction.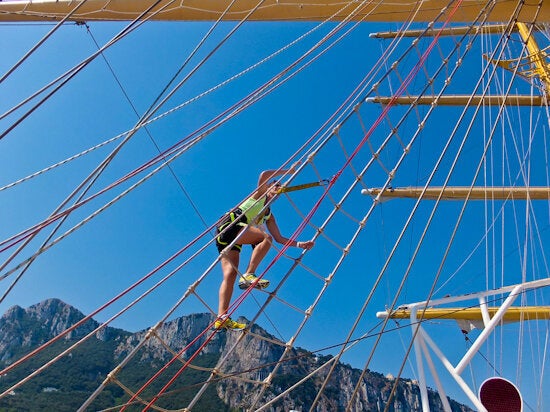 From Corfu we aim North first with Albania to starboard and then the countries of the former Yugoslavia. The Bay of Kotor in Montenegro is particularly attractive - it's Europe's southernmost fjord and sheer mountains rise up from the sea, with villages sprawling at water's edge.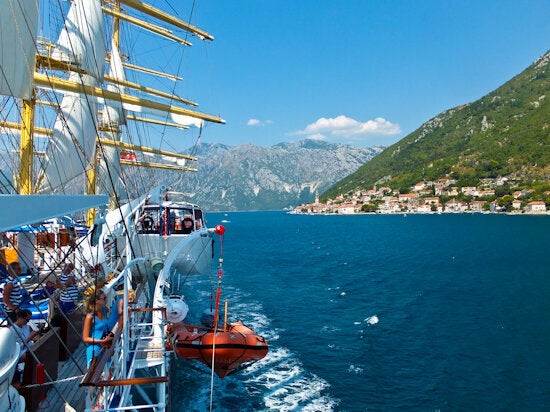 Kotor itself is a delightful fortified medieval town and its walls climb high to the fortress above, offering protection from all directions. Dubrovnik is pretty good too and 4 days later, all too soon, we arrive in Venice.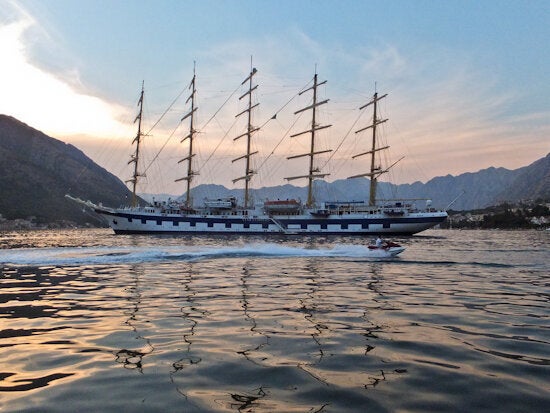 On board, the living is easy, as they say, and I begin to warm to the attraction of cruising, especially on a sailing ship like this one. It's one of the easiest forms of travel, as once you've unpacked your case, everything else is taken care of. The itinerary is organised, food appears as if by magic, and stress is almost none existent.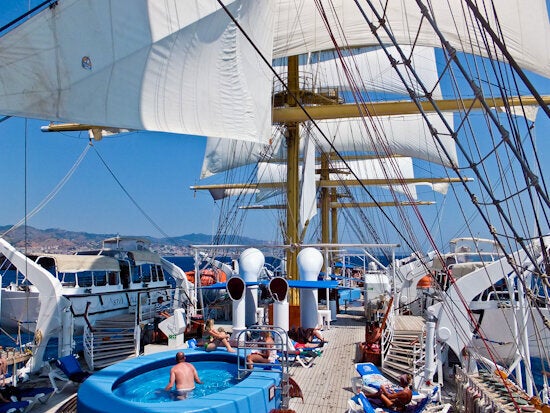 What makes Royal Clipper extra special is the high standard of service and attention to detail, as well as the fact that you soon get to know your fellow passengers. For a good percentage, it's their second or third time on Star Clippers and they wouldn't cruise any other way. I can quite understand their point of view.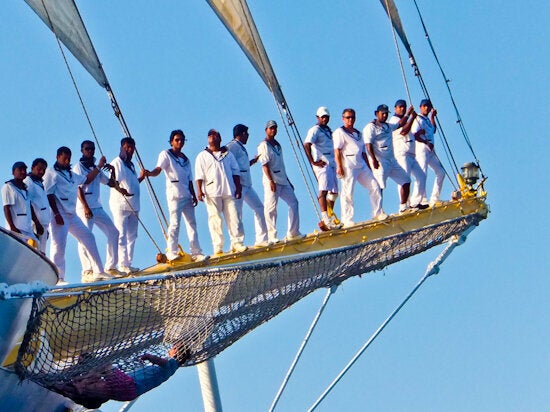 Star Clippers offer fully crewed tall ship sailing voyages in the Mediterranean, the Caribbean, Central America and Cuba. A 3 night sailing on board the flag-ship Royal Clipper costs from £680 pp, a 7 night Greek Islands sailing on Star Clipper costs from £1470 pp and an 11 night Mediterranean sailing on Royal Clipper costs from £2550 pp. Prices include all meals on board and port taxes. To book, call Star Clippers on +44 (0)845 200 6145 or visit their website.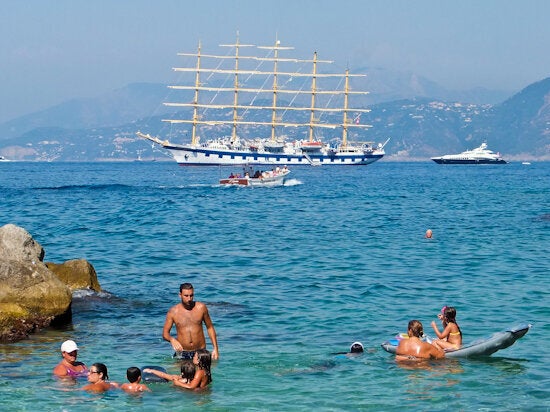 All pictures copyright Rupert Parker.
Related