Greek Orthodox Easter is not just a religious festival, but also a time for special food. Bread is particularly important and, in the kitchens of Thanos Hotels, I learn to bake these Easter delicacies.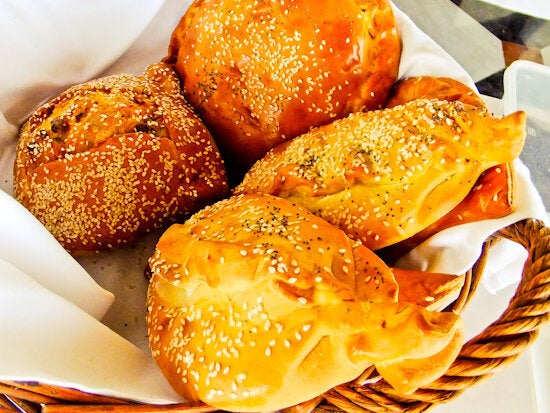 As I leave my car at APH Parking Gatwick and hop on board the early morning Easyjet flight to Paphos I'm wondering what I'm letting myself in for. Cyprus has been making headlines recently with news of its economic crisis, and it will be interesting to see how they're coping. I'm thinking it's now a country of austerity, not really a place to visit unless you want to gloat. Actually I find that nothing could be further from the truth - one result of their troubles is that they're now going back to basics and rediscovering their roots.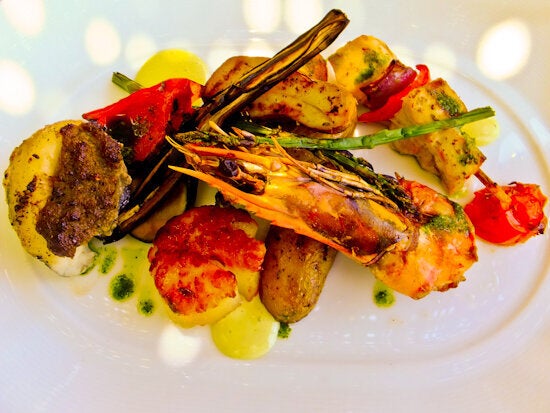 There's a strong culinary heritage here and, increasingly, chefs are looking to feature local produce and devising menus of traditional Cypriot food. Ashley Goddard, the Executive chef at the Annabelle and Almyra hotels in Paphos, is even holding cooking courses in his kitchen, teaching how to bake speciality breads. Paul Hollywood, the British TV baker, spent 3 years here, so it's certainly a good place to start. When the sun's shining outside, with the blue Mediterranean beckoning, it takes commitment to devote a morning to cooking, but at least I can still see the sea.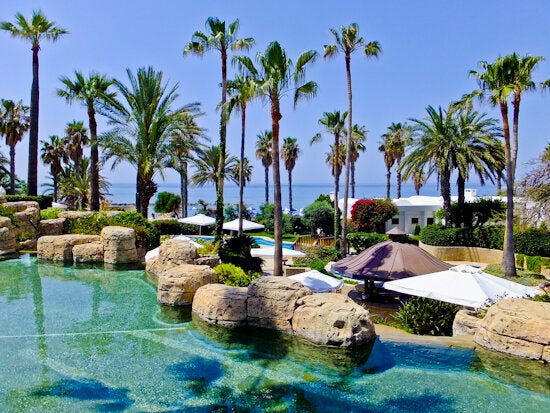 First up are Baskies, Easter pies unique to Cyprus, stuffed with cheese and meat. At this time of year lambs are slaughtered to celebrate Christ's resurrection, and chunks of the meat are slow cooked until they're tender. Feta and Halloumi cheeses are added along with raisins, eggs, fresh mint. The extra ingredients, mahlepi, made from ground cherry stones and gum mastic, a resin from Chios, make all the difference. You can leave out the lamb and then the cheese pies are called Flaounes, equally delicious.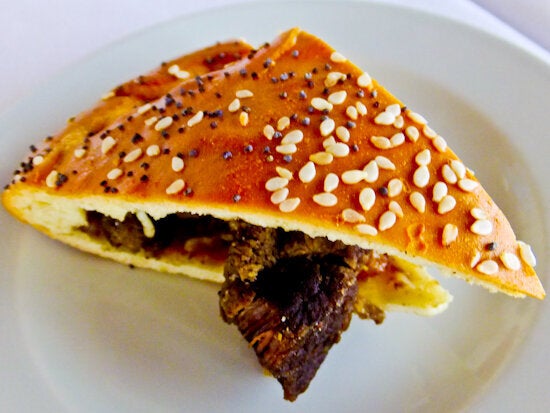 If you're vegetarian then these cheese pies are for you. In the villages in Cyprus they still make their own Halloumi and it's a world away from the salty rubbery version we find in the UK. You mix it with Feta, eggs and fresh mint and wrap the mixture in parcels of dough, like giant samosas. Sesame seeds pepper the outside and they're baked for 45 minutes at 180 C.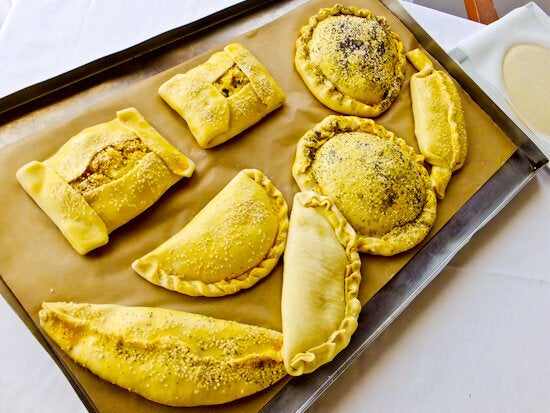 First you make a dough with flour, butter, yeast, sugar, milk and ground mastic. After forming it into loaves, you make transverse cuts along the body, about a couple of centimetres apart, before reassembling and baking in the oven. This is a sweet bread for festive occasions, although it is eaten throughout the year.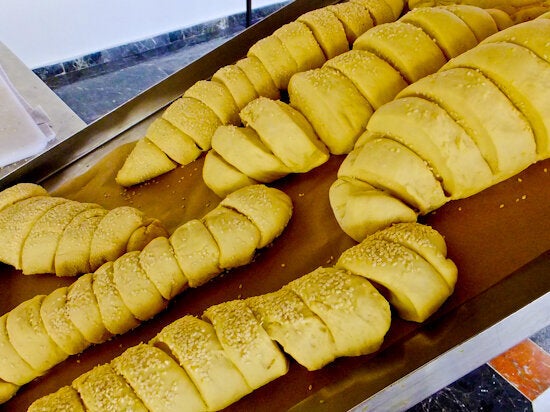 These Easter loaves have a special twist - you braid 3 strands of dough into plaits before dotting with sesame and baking it in the oven. Extra ingredients include cinnamon, mahlepi, mastic and raisins. The result is something like a French brioche with extra spice and certainly delicious.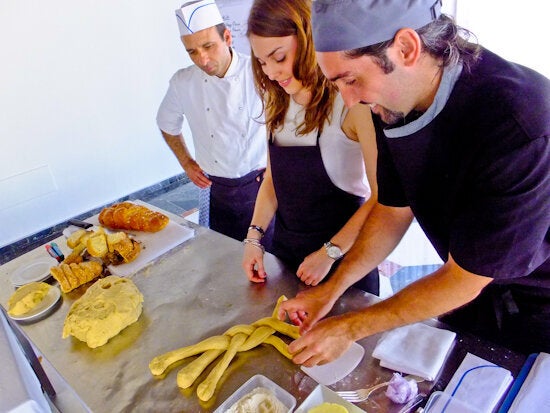 I'm interested to see baking in a traditional setting so next day I travel north to the Kouyiouka watermill near the village of Yiolou. I've realised another secret ingredient of Cyprus bread is what they call "village flour" and I see here that they're still using water power to grind their grain.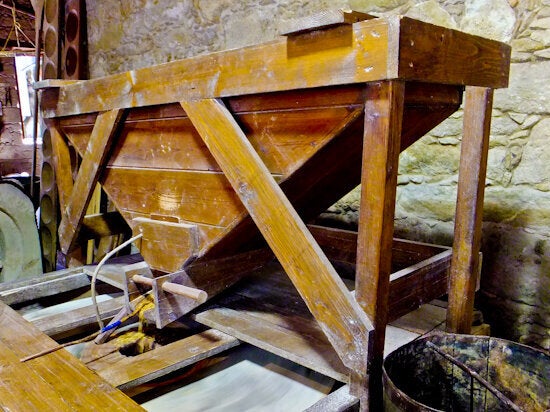 They've also got excellent local olives and I watch as they're combined whole with fresh mint and then baked in a traditional oven. This is bread for the gods and I could gladly eat it all day.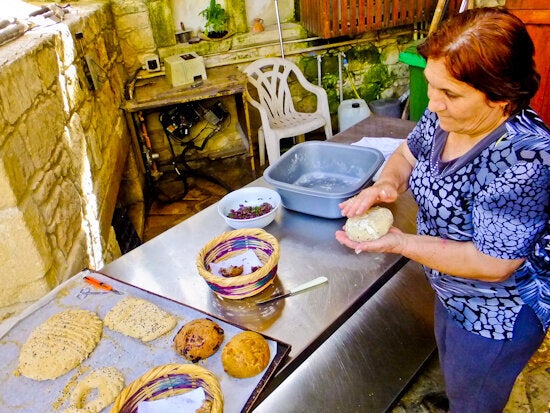 They don't give lessons here so I head for the kitchens of the Anassa, another Thanos hotel, in Poli Crysochous. Here Christakis Christou (Chef Patissiere) teaches me not only how to make the olive bread, although his extra touch is to add sliced onions, but also a sun-dried tomato variation. My favourite though is Laganes, a flat loaf containing Halloumi cheese, sliced olives and cubed Lounza, cured Cypriot Ham.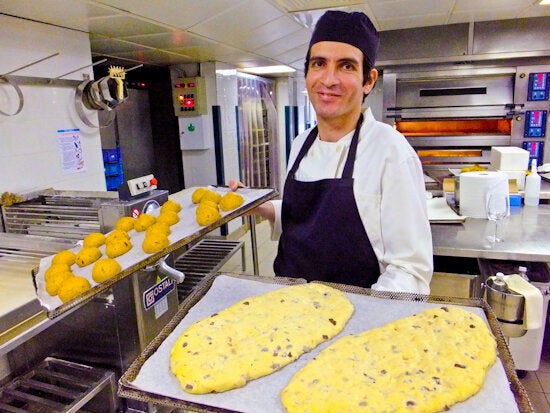 Now man can't live on bread alone and over the next few days I get a better idea of what this Cyprus food revival amounts to. The country has always been a melting pot with influences from Africa, Asia and Europe and, since it's an island, boasts fantastic fresh seafood. As well as loaves and fishes, another miracle is the wine, although they can't yet make it out of water.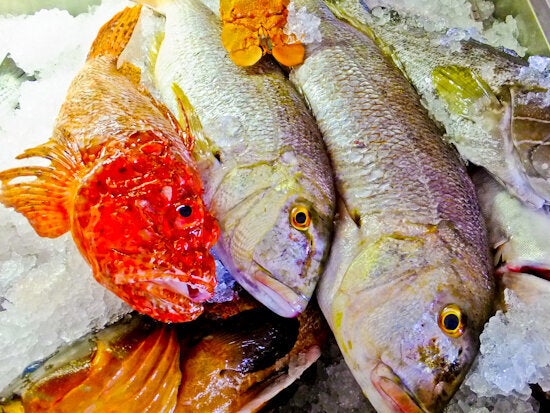 Until 15 years ago government policy was to uproot the traditional vines, bearing unique Cypriot grapes, and replace them with more well-known varieties like Cabernet Sauvignon. That's now changing and people like Andreas Kyriakides are now producing excellent wines. As I taste the latest vintages in his Vouni Panayia Winery and chew on local Halloumi, I begin to understand that there's method in the madness. As a result of the crisis, people are going back to their roots, sourcing food locally and dusting off traditional recipes. On the evidence of my visit, long may it continue.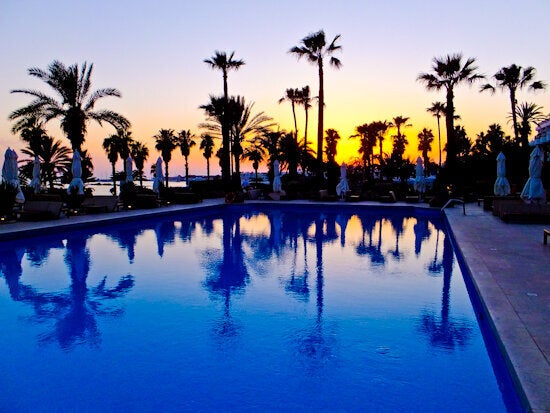 Rates at the Annabelle start at £132 per person per night based on two people sharing (includes all taxes, service charges and buffet breakfast).
The 2 day bread making course at Annabelle will start in September 2013 and cost 90€ per person. It includes a welcome drinks reception at Flavours, Almyra, a chef's hat, an apron, a recipe folder, and 2 practical bread making lessons. For more information email here or call +3572688500.
EasyJet flies to Paphos from London Gatwick, Luton, Bristol, Manchester and Edinburgh. Flight prices start from £41.49 per person (one-way, including taxes based on two people on the same booking).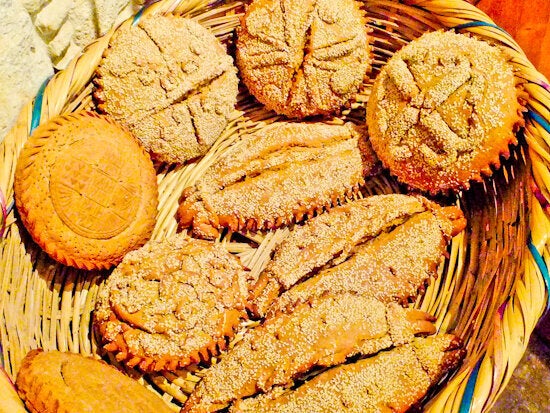 All picture copyright Rupert Parker.