For once fusion means exactly what it says - bring some of Spain's most renowned Michelin-starred chefs to Manila, the Philippines capital, mix with local chefs and ingredients, and the splendid result is Madrid Fusion Manila's three day event of master classes, presentations, tastings and pop-up dinners.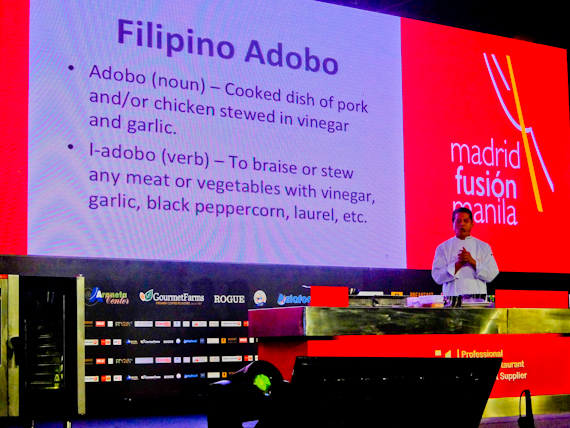 This is Madrid Fusion's first venture into Asia and it makes sense to come to the Philippines, the only Spanish colony in Asia. Ferdinand Magellan arrived in 1521 and claimed it for Spain although it was surrendered to the Americans in 1898. Fusion is not new to the Philippines - Chinese, Filipino and Spanish influences have all been part of the mix and the galleon trade, linking Acapulco in Mexico with Manila, was responsible for the crossover of ingredients between new and old worlds. Chef Myrna Dizon Segismundo puts it succinctly: "500 years ago the Spanish discovered us, but now we are about to conquer the Spanish chefs."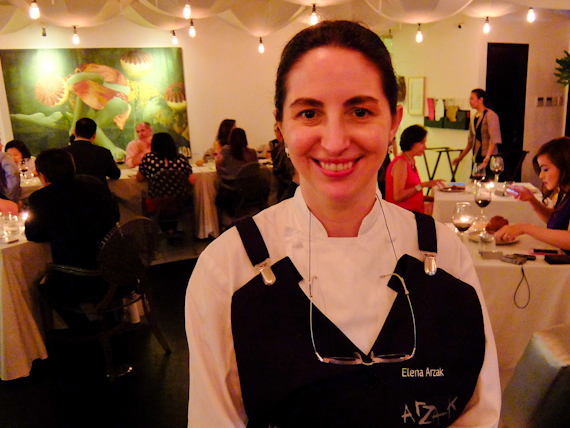 These visiting chefs are the royalty of gourmet Spain - Elena Arzak (3*), Quique Dacosta (3*)Francis Paniego (2*), Andoni Luis Aduriz (2*), Paco Roncero (2*), Ramon Freixa (2*), Mario Sandoval (1*) and Paco Torreblanca . In such distinguished company, even the president, Benigno Aquino III, gets involved and invites everyone for a slap-up dinner at the Presidential Palace. It's a relaxed evening and he tells me that his mother, Cory Aquino, cooked up a mean spaghetti with meatballs. Later he treats his honoured guests to a burst of karaoke with his performance top of the bill.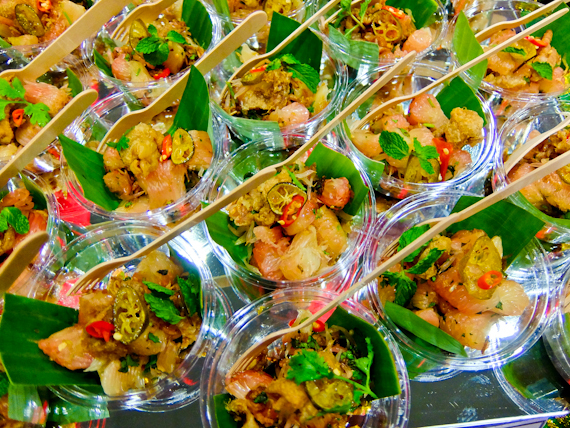 I first visited the Philippines over a year ago and wrote about my first taste of Filipino food. Sour is the dominant flavour, from vinegar or citrus, and it's always paired with sweet and salty, usually soy sauce. Adobo is the signature cooking style and this way of cooking meat in vinegar, salt, garlic, pepper, soy sauce and other spices, was used to preserve food when there were no fridges. Ironically chilli is rarely used in cooking, only added on the side, and this makes the food of the Philippines stand out from its South East Asian neighbours.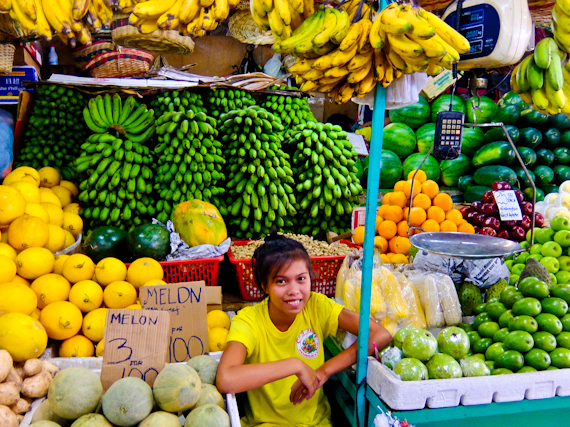 On my previous trip I didn't get the chance to try fine dining, but on the first night I'm entranced by the food whipped up by Fernando Aracama in his restaurant Aracama. I realize later that I've already sampled some of his dishes in business class on Philippines Airlines, but the big surprise are the tiny green mangos, known as Pajo - sour, yet almost sweet, matching the food perfectly. Another night I'm at a real fusion dinner with Chef Elena Arzac cooking at Gallery Vask with Chele Gonzalez. He's also Spanish but been here for four years and spends his time travelling the islands researching new ingredients and cooking techniques. I particularly enjoy his Buro - fish on fermented rice. Chef Andoni Luis Aduriz tells me that he's particularly interested in the ways that the Philippines uses fermentation - after all if he can use micro-organisms to do the work, then there's less work for him.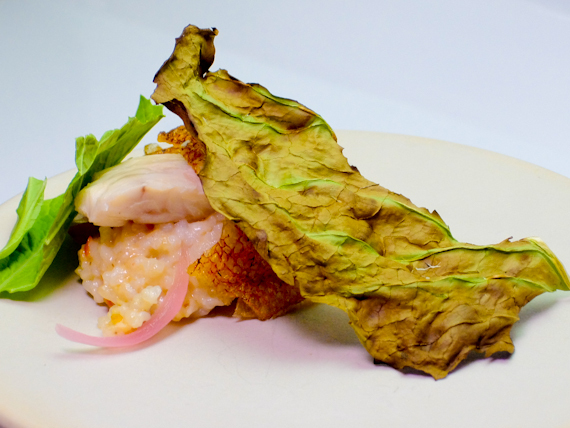 The presentations, over the three days, are informative and really do highlight the difference in approach between the two countries. Often the Spanish chefs are at pains to play tricks with food, using sleight of hand to confuse expectations. For example, Francis Paniego aims to disguise offal in its different forms, to make it more palatable to his customers, and Paco Roncero treats olive oil to look like pasta or rice. Filipinos, though love all the bits that make us Westerners squirm. I've already sampled Balut, fertilised duck egg with beak and feather, Dinuguan, pork blood stew, and Sisig, a mixture of pig brain and liver, so I'm used to the unmentionable. Chef Margarita Forés uses tuna sperm in one of her dishes, and cow udder in another. Bruce Ricketts also likes sperm, this time from Spanish mackerel, and he serves it with a mung bean pureé.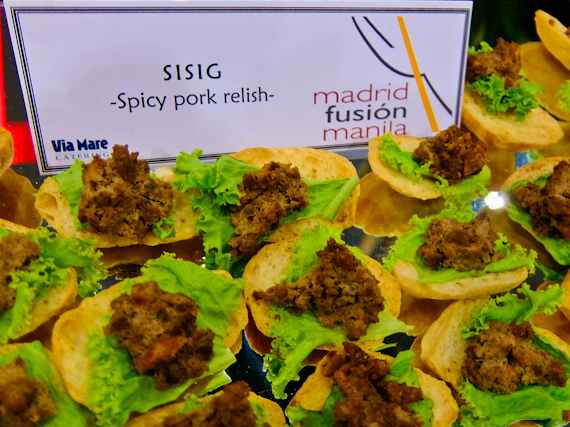 If there's one signature Philippine dish, then it's Pork Adodo and Claude Tayab has spent a lifetime researching it. He reckons there are thousands of different recipes and believes it pre-dates the Spanish conquest. Vinegar is the key ingredient and the secret is not to serve it immediately but leave it a few days for the flavours to mellow. In his restaurant, Bale Datung, in Angeles City, I get to sample his version with his sauce's secret ingredient of chicken liver mixed with sliced pig trotters. He serves it with grilled aubergine and mango relish and tops it with fried garlic and fresh coriander.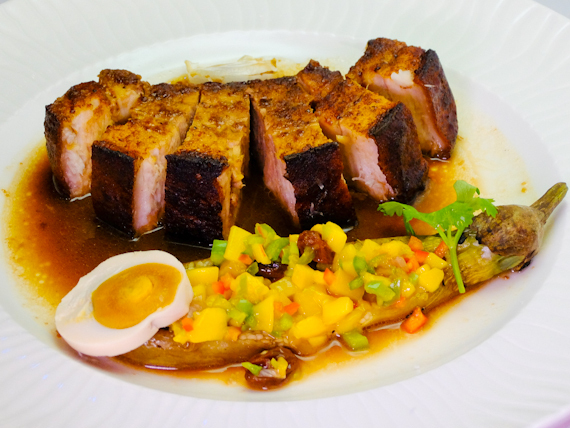 Madrid Fusion Manila seems to have hit the Philippines at exactly the right time. The auditorium is packed with the next generation of young chefs training at institutions like the Global Academy, an educational institution founded by Chef Rob Pengson, and the Manila Center for Culinary Arts. It's obvious that this experience of listening to presentations from top Spanish chefs will inform the way they cook in the future. And with the richness of the unique ingredients they have to play with, like Calamansi, Pili nuts, flavoured vinegars, and heirloom rice, it's only a matter of time before they impact the global gourmet scene. You won't yet find this sort of cooking in London so, if you want to taste what's really going on, follow the steps of the Spanish chefs and make a visit to Manila a priority.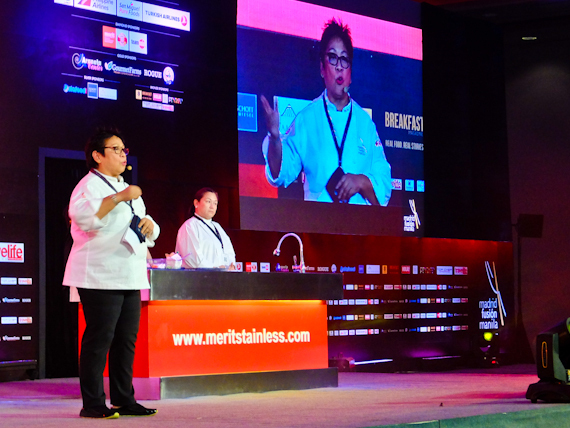 Philippine Airlines flies direct from London.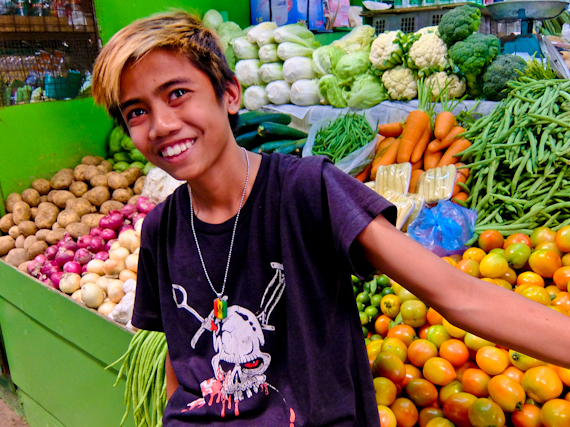 It's More Fun in the Philippines has tourist information.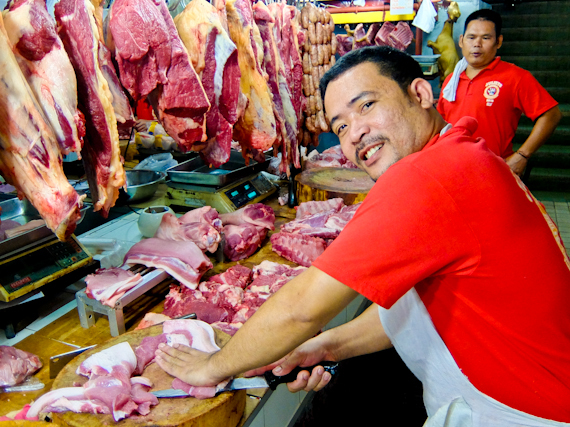 The Fairmont Makati is a comfortable base in Manila.
There will probably be a second version of Madrid Fusion Manila,in 2016.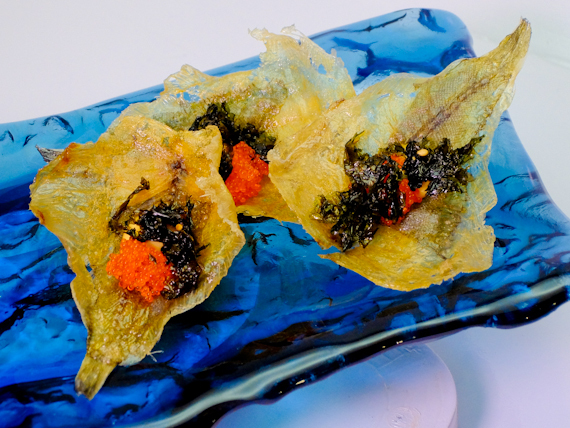 All pictures copyright Rupert Parker.