The twin Norman towns of Deauville and Trouville make an attractive weekend destination, ideal for exploring this part of Normandy and a new flight makes them easily accessible from London.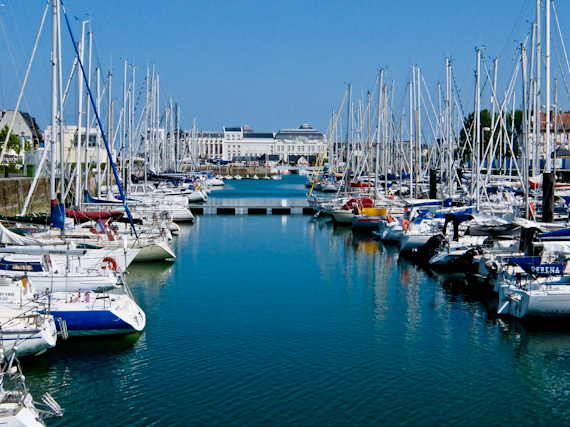 I've always liked Normandy for its food, but it's a long way to go from London for the weekend. It's relatively easy to visit Calais and Boulogne, taking the ferry or the chunnel, but driving onwards to Deauville has always been that bit too far. Now, with a twice weekly Ryanair flight, it's an attractive option and you don't really need to hire a car, as most things are within walking distance.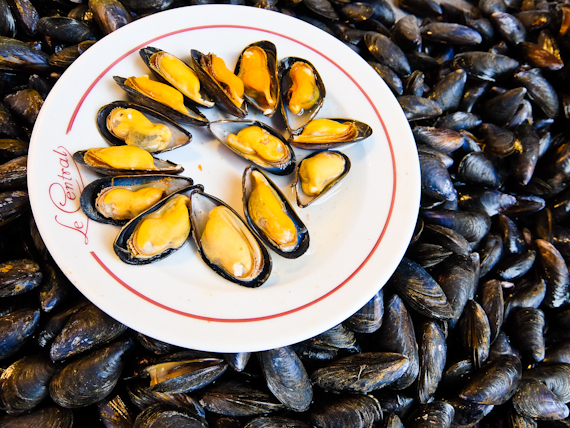 Deauville
Originally a patch of marshland, the resort of Deauville was thrown up quickly in the middle of the 19th century, to capitalise on the railway link from Paris. It soon became a fashionable seaside resort, attracting not just Parisians but the international upper classes. The casino, sumptuous hotels and racetrack were the main attraction, but its wide beach, the closest seaside to Paris, made it an ideal place for family holidays. These days not much has changed although the rise of online gambling has taken away much of the business from the casino. Unlike similar English resorts, which all seem to have seen better days, the place is like an impeccable time warp and you expect to bump into the Aga Khan or Errol Flynn at every turn.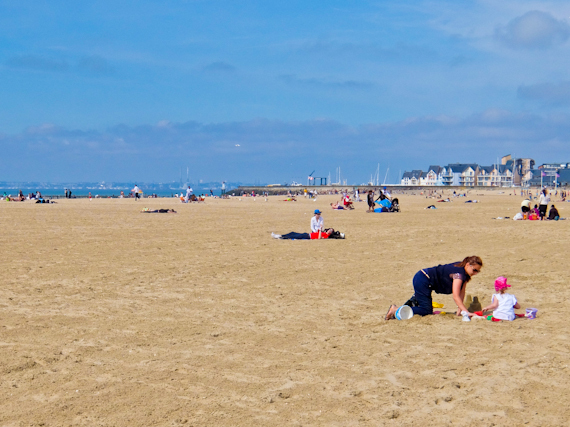 They're very present in the old B&W photographs which line the walls of the Royal Barrière Hotel but I'm here for a cooking class, held every Saturday morning by their chef, Eric Provost. The theme this week is Provence and around ten of us are in the kitchens to learn how to cook Caviar d'Aubergine, Crépinettes d'Agneau and Soufflé au Citron. This is a very much hands on experience and we're taught how to shave thin slices of courgette and aubergine using a mandolin, before grilling them and stuffing them with minced lamb. That's the easy stuff - removing the pulp from lemons before filling them with the soufflé mix is more complicated. Best of all, at the end, we get to eat what we've cooked in a private dining room with the chef, and get to learn from our mistakes.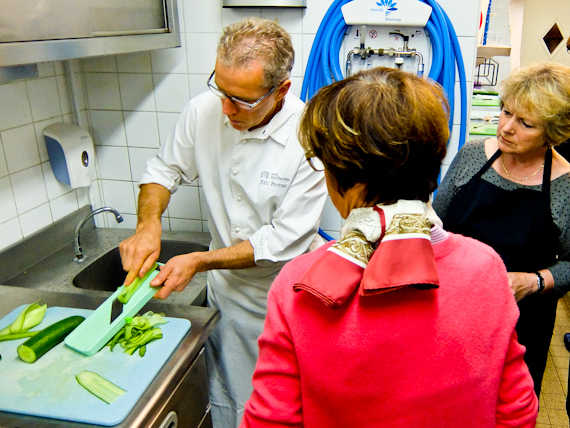 Trouville-sur-Mer
Just five minutes' walk across the River Touques from Deauville is the ancient Viking port of Trouville. The fishing boats still go out every day and it's worth visiting the large covered fish market to sample plates of seafood with a glass of wine. The town is chock full of restaurants, all offering similar fare at reasonable prices, and the large Sunday market is a good place to buy Normandy sausage and cheeses.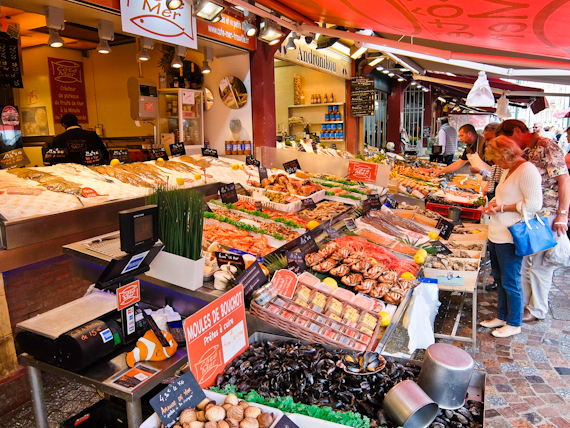 This was a fashionable resort before Deauville was even thought of and, in many ways, it's like a living museum of the seaside. Belle Époque villas, in all architectural styles, climb up the hill in front of the sea and the boardwalk, built in 1867 and the first in Normandy is still going strong. Many of the famous hotels have become apartments but the jewel of Trouville, the 5* Hotel des Cures Marines, next to the Casino, has been recently restored and is immaculate.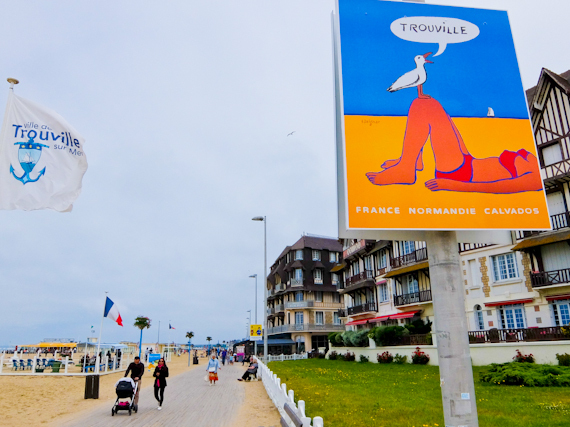 Honfleur
Half an hour's drive away is the charming medieval port of Honfleur, its characteristic tall thin houses with slate-covered frontages, painted many times by artists, including Gustave Courbet, Eugène Boudin and Claude Monet. You can see some of these in the Eugène Boudin Museum but if you want more than you'll have to wait for the Normandy Impressionist Festival next year. Sainte Catherine's church, started in 1468, is the largest wooden church with a separate bell-tower in France. Inside, the roof resembles an upturned boat, hardly surprising since it was constructed by Honfleur's ship builders. The area surrounding the church is a warren of cobbled streets stuffed with art galleries and craft shops.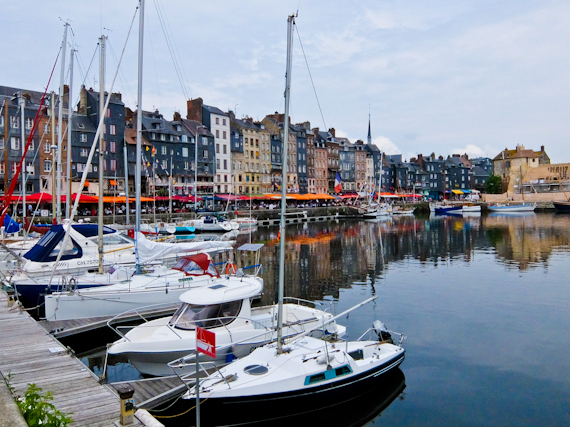 .
Père Magloire Calvados Distillery, Pont l'Evêque
Calvados of course is synonymous with Normandy and if you fancy getting acquainted with the stuff, then Père Magloire offers guided tastings. They don't distill the calvados here but the cellars are where they age it in French oak barrels. Their Fine V.S. is only two years old so it's the freshest and fruitiest in their range. V.S.O.P is four years in the barrel and is already much smoother. My favourite is the X.O. as its nine years give it the perfect balance between the fruitiness of the apple and the flavours absorbed from the barrel. There are hints of vanilla and it has an impressive aftertaste.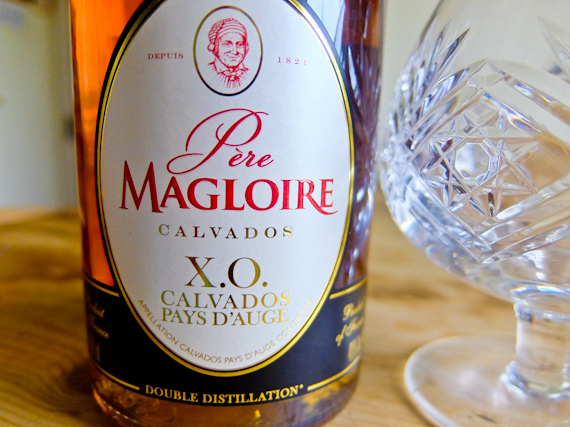 This part of Normandy has a charm all of its own. Flights are twice a week, on Monday and Friday, so ideal for the weekend or a longer stay. As well as traditional seaside activities, Deauville has a covered Olympic sized swimming pool right by the beach. There's the race course, with polo in August, excellent golf courses, boat trips with Deauville Yacht Club and of course two Casinos, if you fancy a flutter. Cultural events like the American Film Festival take place during the summer and, best of all, there are restaurants to suite every taste and wallet. Go there for a taste of real France.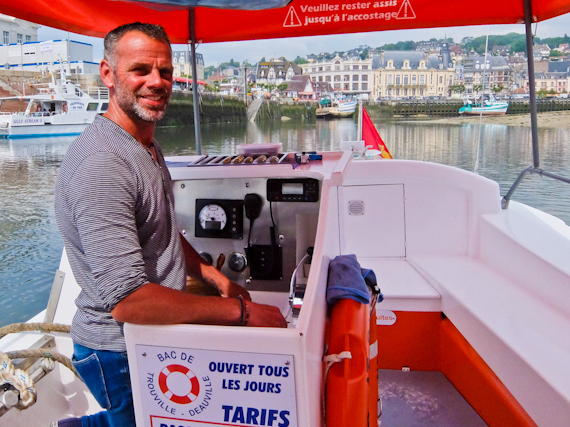 New for 2015, Ryanair flies direct from London Stansted to Deauville on Mondays and Fridays.Fares start at £ 24.99 for travel in July & August.
Deauville Tourisme has information about the town.
Trouville-sur-Mer has information about the town.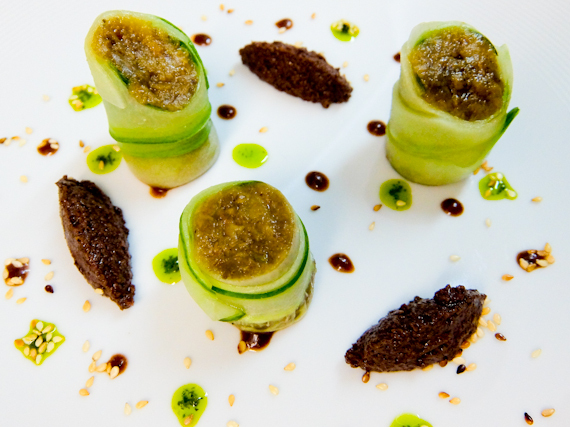 The Calvados Tourist Board has information about the area.
Normandy has information about the region.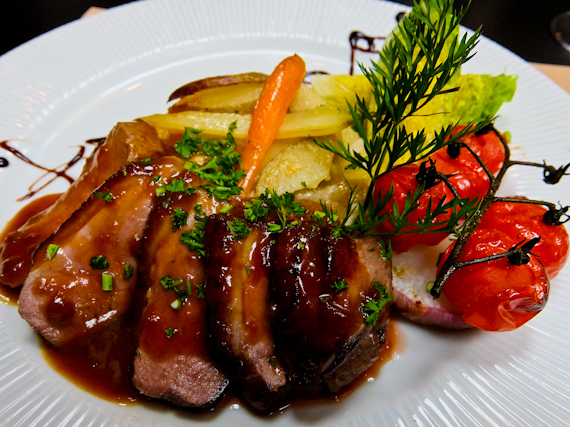 L'Endroit has slightly different fare from other restaurants in Honfleur.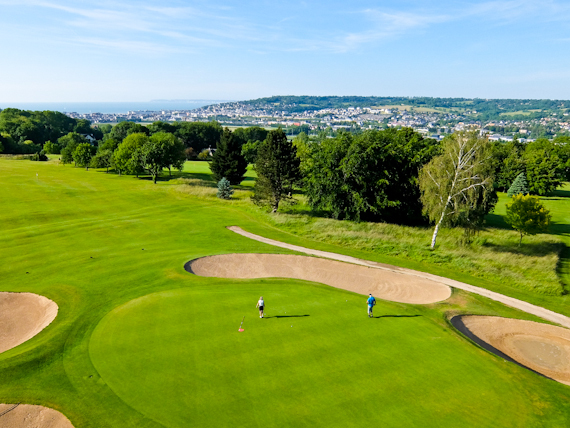 The Hôtel du Golf Barrière is just outside Deaville but has its own dedicated golf course and its Le Lassay restaurant is impressive.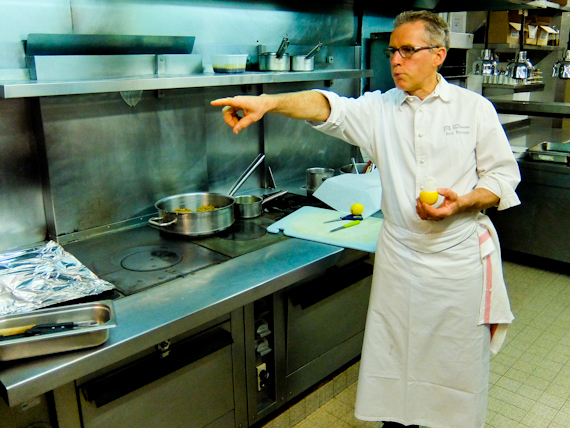 The Royal Barrière cooking class costs 70€ per person, including lunch with wine.
All pictures copyright Rupert Parker.