For the ultimate cruise experience, charter Carpe Diem 1, a luxury gulet, and explore the Turkish Turquoise coast, going wherever you fancy.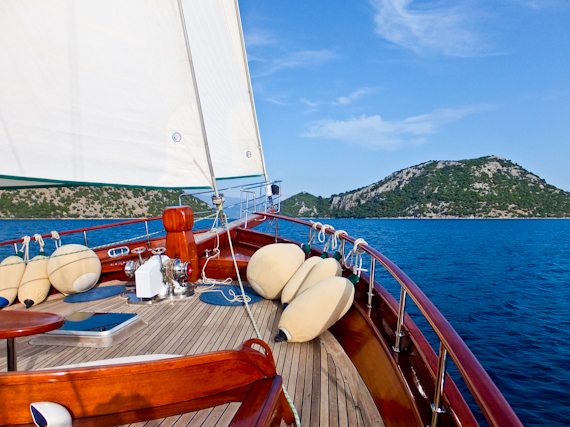 My idea of hell is a holiday on one of those mega cruise ships, holding thousands of tourists, but last year I did take a Star Clippers journey along the Italian Coast with only 100 people and that was fun. So, imagine my joy when I'm invited to take a chartered 30m gulet, a traditional Turkish sail boat, to explore the Turquoise coast - even better it has only 4 cabins, so just enough room for my friends.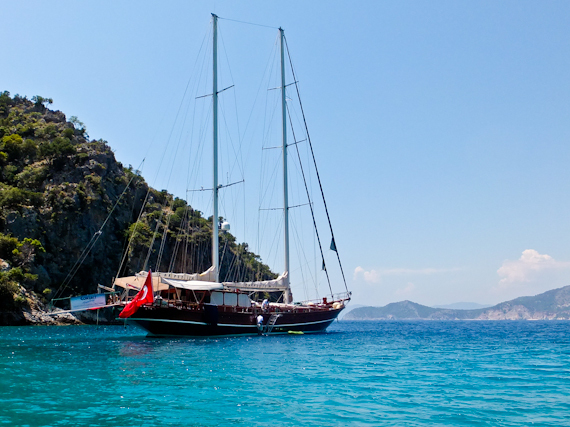 We fly into Dalaman, just under 3 hours flying time from the UK and within half an hour are boarding our vessel. Carpe Diem 1 is a two masted gulet moored in the bay, and we board the tender with our baggage. The crew are immaculately dressed in white, with Carpe Diem logos, and we're soon climbing on deck and welcomed by with drinks by Captain Hakan. There are only four cabins, two twins, a full beam master with a single and a double, and mine which just has one luxurious double. Forget about being cramped in your quarters, this is as big and tall as a normal hotel room with a high pressure shower in the spacious bathroom crammed with expensive toiletries.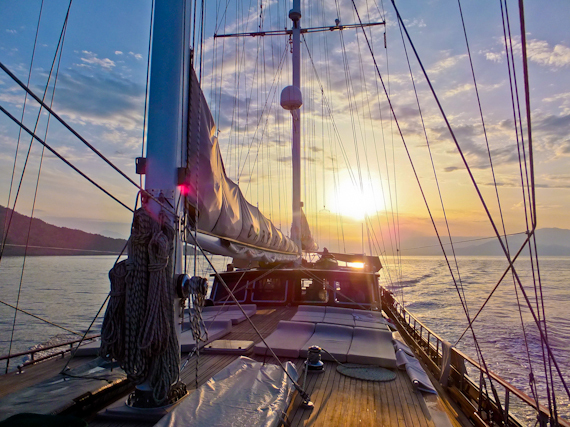 We're soon on our way, gliding past the steep wooded cliffs which line this part of the Aegean. There's not enough wind to get under sail but I'm promised that's to come. We anchor in a quiet bay and lunch is served. Serdar is the cook and he consistently delivers high quality food including home-made bread and cakes. Every meal starts with a selection of Turkish salads and dips, made using the freshest ingredients, enough for a meal in itself. It's a healthy way of eating and there's always meat or fish to follow and I particularly enjoy local, octopus, squid, prawns and crab. Unfortunately the desserts are to die for so the pounds start to pile on.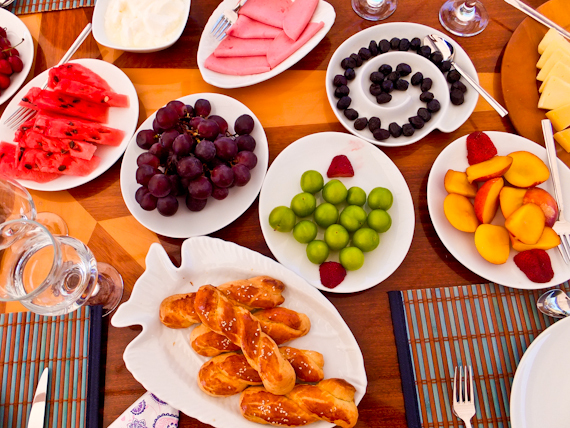 Next day we anchor in Haman Bay, close to Fetiye, where the ruins emerging from the sea are meant to be the site of Cleopatra's Turkish bath. In fact the Egyptian queen is associated with many places on this coast, but it still makes a delightful spot for snorkelling. The turquoise sea is crystal clear and fish dart between the ancient stones, and there's even the promise of turtle sighting, but we are unlucky. The afternoon brings some wind so we make the most of it and sail west towards Dalyan. Around 5 knots is the most the boat can manage, but it's enormously peaceful without the sound of the engines, just the gentle flapping of the sails.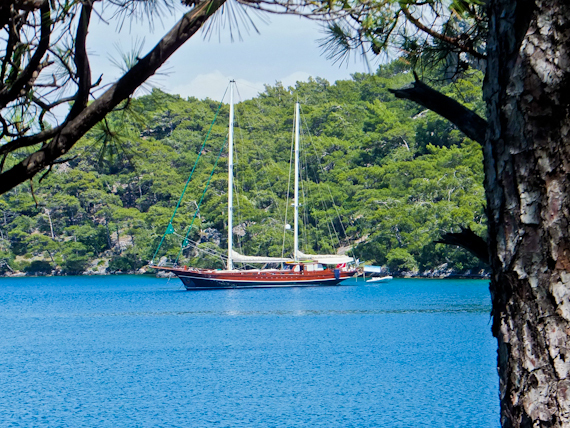 Morning brings us to the ancient sea port of Kaunos, dating back to the 10th century BC. Over the centuries it's been occupied by the Persians, Greeks and Romans and was finally abandoned in the 15th century because of malaria. Over the years, the harbour silted up and was colonised by reeds, an ideal breeding ground for mosquitoes. We board a local boat to visit the 5000 seater Roman amphitheatre and the remains of a massive bath complex. High above the Dalyan River are rock tombs with facades carved into the mountain to resemble Hellenistic temples, complete with Ionian pillars.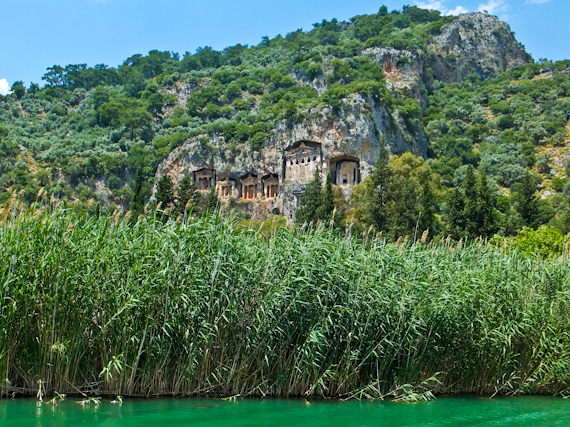 This is a fertile valley, with large groves of oranges, lemons, walnuts, pomegranates and hazelnuts while Grey Mullet and Sea Bream are plentiful in the river. Dalyan itself is a pleasant enough fishing village but the big tourist attraction is the mud baths, fed by sulphurous volcanic springs. The minerals are meant to be good for your skin so you cover yourself all over in the stinky black substance and stand in the sun until it dries. Only then are you permitted to be hosed down and soak in the warm waters.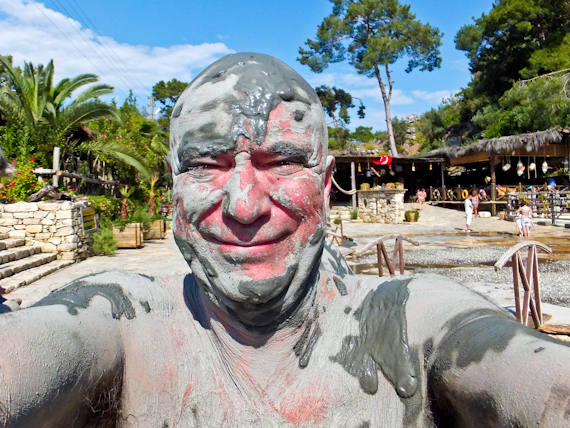 We wind our way back to the sea through a labyrinth of reeds to emerge at the rear of Iztuzu Beach, better known as Turtle Beach. Loggerheads use its 5km spit of sand to lay their eggs and is the area is closed off after 8 pm so they can get on with their business. Whilst we're buying fresh crabs, I spot a couple in the water and they circle around our boat before swimming off into the sunset. We aim in the same direction to reboard Carpe Diem and it's a relief to be back on home territory, away from people.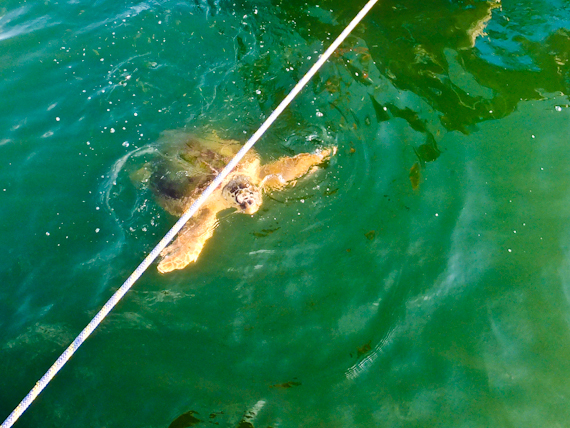 That night, as we feast on crab, squid and fish, by moonlight, I realise that the great attraction of chartering your own yacht is that fact that you can do as please as you're completely self-contained. It's easy to while away the days swimming and snorkelling and there's no great need to cover huge distances or even to go ashore and see the sights. Water sports are catered for and there are canoes to paddle round the bays, or the speed boat will tow you if you fancy water skiing. That's all too ambitious - I end up bouncing around in a rubber doughnut, crashing over the waves, just enough exercise to work up an appetite.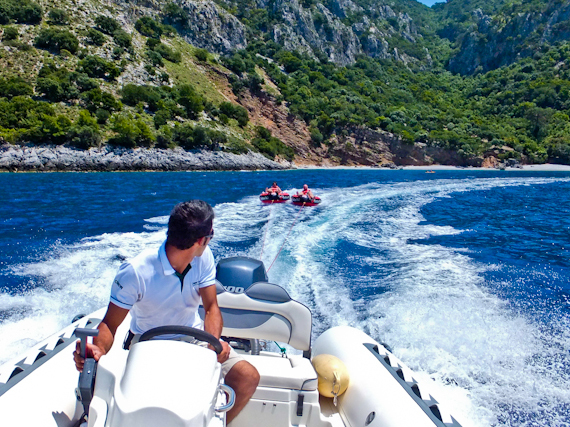 Carpe Diem 1 offers private charters, sailing out of Bodrum, Marmaris and Gocek along the Turkish coast or Rhodes and Kos. It operates April - November with lead in prices from £8,000 inclusive for 7 nights, but shorter breaks are possible. Similar 5 star smaller and larger boats are available. Inclusive rates for up to 9 guests cover meals and soft drinks, airport transfers, speedboat and water sports equipment, chef and crew services (flights, speedboat fuel and alcohol are not included. A wine list is offered, or stocked to guests' own preference.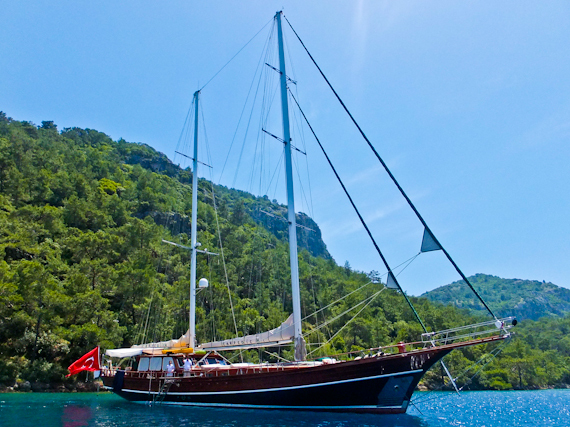 Monarch operates flights to Dalaman from Birmingham, London Gatwick, Leeds Bradford, Manchester and London Luton airports, with fares, including taxes, starting from £95.99 one way (£171.76 return).
For a handy place to overnight, Travelodge Gatwick Central offers 400 rooms from £29 or less with free WIFI and Bar Café offering 24 hour service.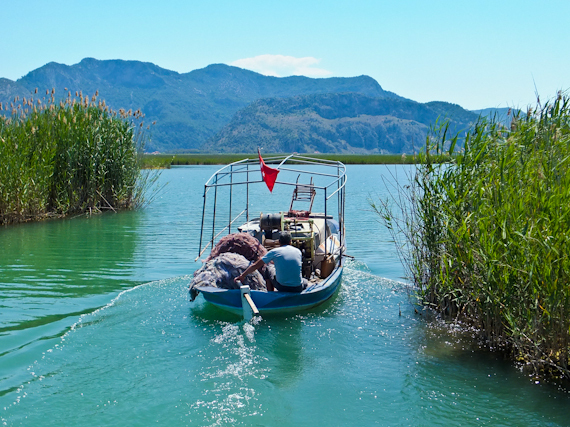 Go to Turkey has tourist information.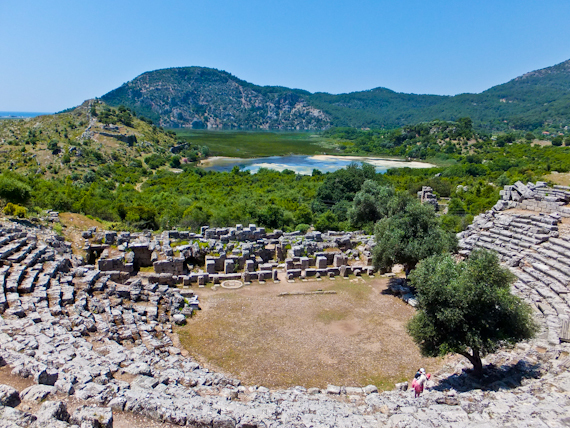 All pictures copyright Rupert Parker.