Most people are familiar with Burgundy wines, but neighbouring Jura produces Vin Jaune, the best wine in the world according to Napoleon.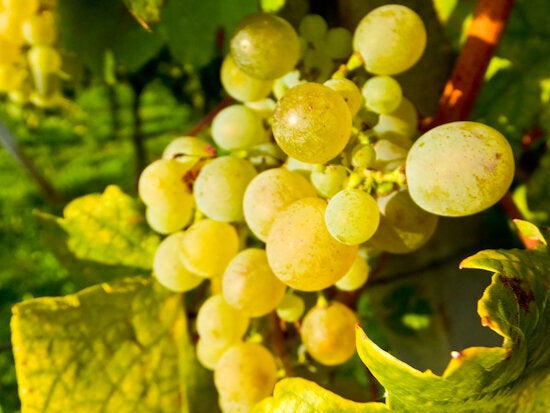 Jura is one of those places that's just been a one night stop on the journey to the south of France for most British visitors, but it merits more. It certainly deserves to be a destination in its own right with its medieval towns and villages, set amongst rolling hills, and there's a distinctive local cuisine.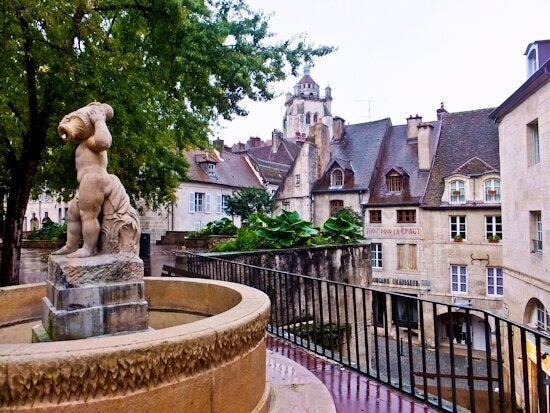 Vines have been here since Roman times and the grey shale soils are particularly suited to the Savagnin grape, a close relation of Alsace's Traminer. It's these grapes which are used to make the famous Vin Jaune and today they comprise 22% of vines grown, although Chardonnay is more common.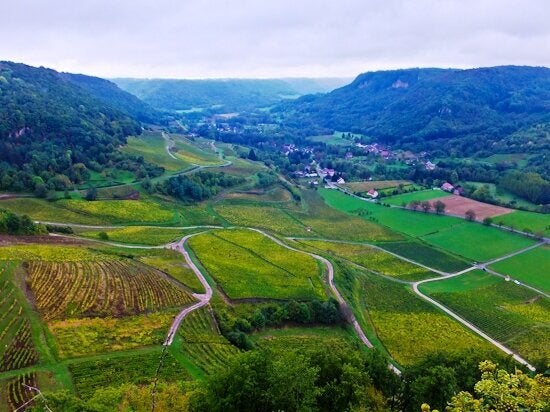 I recently came across Vin Jaune in the wonderful Hedonism wine shop in Mayfair, where they currently have a bottle for sale from 1774 priced at a very reasonable £72,553.80. It's obviously one of the world's great wines so I find myself in the cellars at the organic vineyard, Domaine de la Pinte, where they're explaining the process. It's entirely made from late harvest Savagnin grapes which, after they're crushed, are allowed to rest until fermentation has completely finished.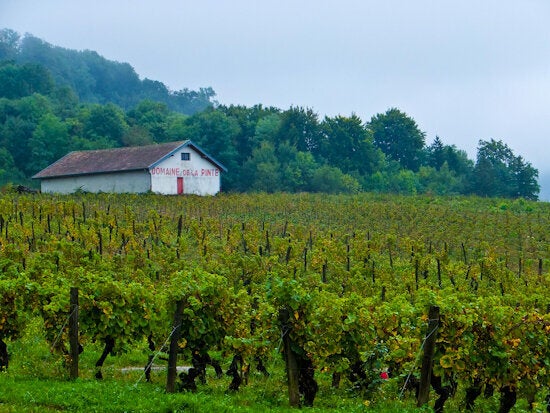 The juice is then transferred to French oak casks where it is stored for a minimum of 6 years and 3 months in cellars where the temperature is the same as the outside - a rollercoaster of heat and cold. Unlike normal wine barrels, they're not topped up as evaporation occurs, and the air inside interacts with the wine and oxidises it - the yeast forming special aroma notes. A veil of yeast forms on the surface which varies in thickness over the years, with the dead bits falling to the bottom as sediment.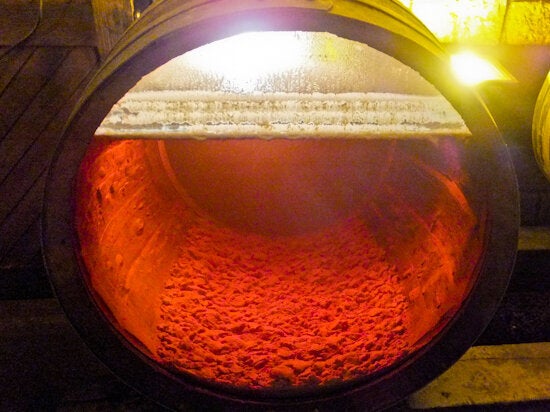 It's a slightly risky business and, although the wine is sampled periodically, sometimes the veil doesn't form and the whole barrel has to be turned into normal wine. As it ages, oxidation creates the distinctive gold colour, hence its name, and when time's up, it's put into special 62 cl bottles known as Clavelins. The capacity is based on the idea that a litre of grape juice loses approximately a third during the 6 year process.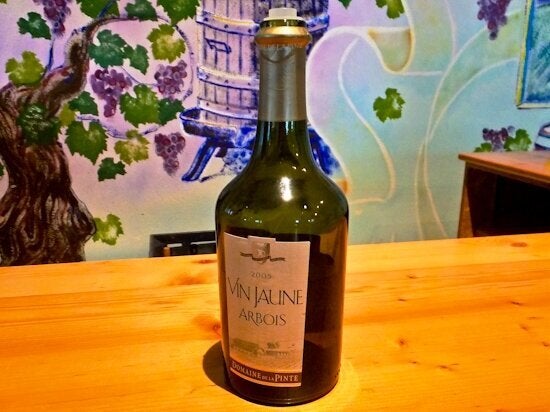 So how does it taste? Well, given that the same method is used in making Spanish Jerez wines, then at first tasting it could be mistaken for a sherry, but actually it's far more complex. On the nose are hints of mushroom, walnut, even curry, and it can be slightly acid on the tongue. As you sip it, the strong earthy flavour notes develop, and it's particularly good with Comté cheese, foie gras, snails and morels. The key is to let it breathe for a few hours, before drinking, and some people even leave it overnight, before serving between 14°-16°centigrade . Once opened, it can keep for a few months but whatever you do, don't put it in the fridge.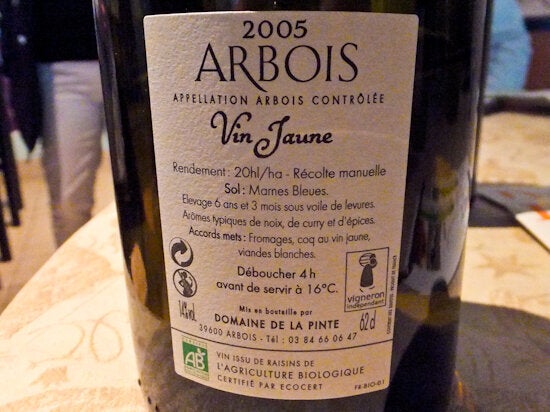 The spiritual home of Vin Jaune is the tiny village of Château-Chalon, perched precarious on a cliff, overlooking their vineyards where they grow the Savagnin grape. There was once a Benedictine Nunnery here, all destroyed during the French Revolution, but the village is picture postcard beautiful. There's a small museum, La Maison de la Haute Seille, illustrating the history of the wine and you can also do tastings here. I'm not convinced their wine is better than that of Domaine de la Pinte but they do serve a nice selection of Compté cheeses of various ages to compliment the tasting.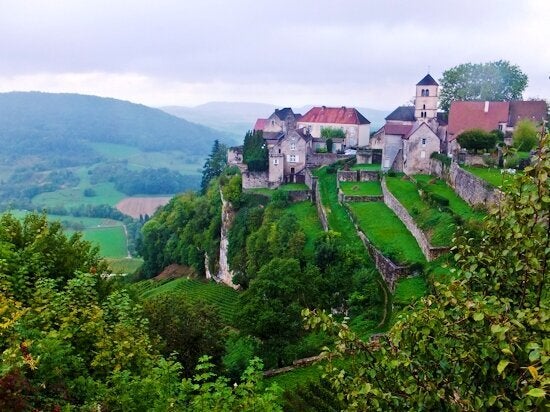 Each year, at the beginning of February, there's a special event known as Percée du Vin Jaune which runs for week when the new vintage is tasted by thousands of appreciative customers. The best gain the exclusive Clavelinage label and the maker become Commanderie des Nobles Vins de Jura. In 2013 it will be held in the town of Arbois and, even better, the humble tourist can join in and €12 includes a souvenir tasting glass and 10 tasting tickets. Opinions differ on the origin of Vin Jaune - some say that a barrel of wine was forgotten for years but when it was opened people liked the taste. Others say that it was created by nuns who were so bored they decided to experiment. Whichever is true it's certainly distinctive and classified in France as the world's 5th best white wine.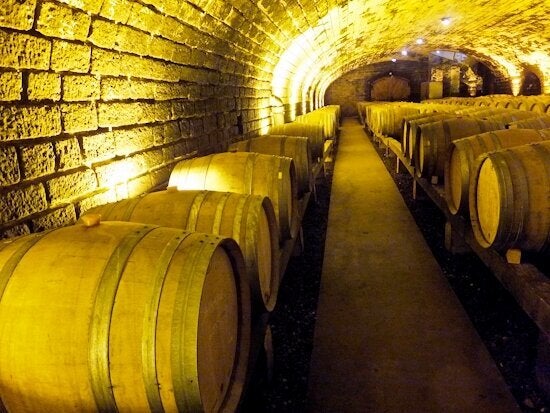 RyanAir flies direct to Dole from London Stansted, twice a week, from April to October.
The Hotel La Chaumiere, just outside Dol, makes a comfortable base and the restaurant has a well-deserved Michelin star.
All pictures copyright Rupert Parker