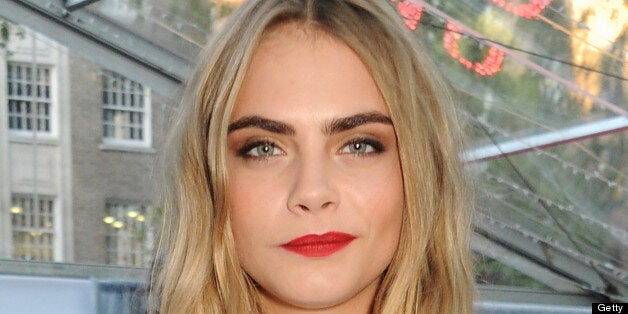 The fashion world seems to have become obsessed with celebrity models lately, with the next top model cropping up as often and as widespread as a dose of flu. Pictures of models hanging out with Celebs fill most pages of glossy magazines and tabloids. How many of you haven't seen a picture of Cara Delevingne this week? It's equivalent to a town centre without a Yankee Candle store - you know you're going to see one soon.
But what makes these pictures and stories so bland, is the fact that the models don't do anything that hasn't been done before. They walk a few big name shows and go to some parties... what you don't get are the unedited images, the diversity on the catwalks. What if you saw people whom you could relate to? Images you could believe in and realistically aspire to? This is where it gets interesting.
Models of Diversity have created the perfect event to launch into London Fashion Week; Catwalk4Change is looking to change the Fashion Worlds' model standards. Diversity is the theme with a bloggers show headed by Edita Lozovska (www.pret-a-reporter.co.uk) and a mature fashion show, proving age is no barrier. The event has already grabbed the attention of Caroline Rush, the CEO of the British Fashion Council, will be presented by Charlotte Avery and has the support of many of the big name and supporters of catwalk diversity.
The models for the show are bloggers, and this may seem an odd choice for a catwalk show; surely these are the girls who just turn up to fashion shows? As Edita states her reason for this is 'bloggers are the new it girls,' although the term 'It girls' may leave some of you rolling your eyes as the thought of Paris Hilton springs to mind, but these girls are It girls with a difference - they are the forefront of today's media; whose opinions are read globally. They are the tweeters, facebookers and instagrammers who have clout. They are papped at parties and press events alongside the big names of the fashion world but here lies the difference - they are also available - you can communicate, converse with them, and get to know them. They are in a key position for shifting the rhetoric of thinking.
This show will not only prove that beautiful models don't need to be living on cotton balls dipped in orange juice and thinspiration sites are nothing more than beating yourself up over the unachievable. Beauty is in all of us regardless of size, age, or colour. The event will showcase couture from some of the most coveted and diverse designers from all over the globe. And with some big names and well known faces attending the event, Angel Sinclair (the powerhouse behind Models of Diversity) will ensure London Fashion Week has never started with such a bang.
I know, for me it's too late. My body image issues will always be sitting at the back of my mind and on bad days, at the very front. As a mother, I am determined that these images will never be pressed into the minds of my children. Fashion has a future, and I really feel that Models of Diversity can pave the way for change, and they are certainly going the right way about this. Having myself been asked to participate in the show, this is a huge step for me on a personal level, and I feel very honoured and proud to be walking the runway for such a good cause. They say pride comes before a fall, let's hope the fall won't be my 'Naomi Campbell moment' but the fall of some of those body image barriers.
All proceeds from this show will go to Mind and Macmillan, very worthy and apt choices for the show and tickets are available from 1 July 2013. www.modelsofdiversity.org