It's an interesting time to be thinking about investing in property, we are in a triple dip recession the banks are on their knees and the outlook is gloomy. But on the upside there is plenty of opportunity out there and there is plenty of good resources on the internet to help beginners like me make some headway into the market.
I have always been fascinated by property and the Government has always shunned building houses which has created a very unique position in the UK today. I'm 37 so own a property, I know teenagers who will probably never own a property and my parents' generation have properties with huge equity in them and are not sure what to do with them.
The banking crisis in 2008 has made getting cheap cash to deposit on houses harder to come by and I'm going to use ultra-conservative figures to see if we can still get into the game. Based on having to find a 25% deposit, which is what a lot of lenders are asking for lets see if we can invest in some property.
Firstly have a look at average house prices. This will give you some idea of what houses sell for in a specified area. The best website I have found for this is the BBC; it uses data from the land registry of houses sold by type over time to calculate what the average house price should be, brilliant. It also shows the number of sales that have occurred in recent months/years for different types of properties.
Let's look at an example...
If you are looking for areas that will give you a good return in the next 5 to 10 years there is an argument to look at properties that lie on the Cross rail line. This new line through the central London that will join Maidenhead far out West of London to the far East, Abbey Wood, which is a pretty underdeveloped area of the east end. But Abbey Wood could be a commuter hub in the next few years meaning people will be looking at rental properties with good connections.
On a property search website, there is a 3 bed house in SE2 (London) on the market for £205,000. If you click on the area stats, there is a convenient table of information about the area and what you can expect to rent property for in SE2.
From here you can see what houses are selling for in the area and what you can expect to get in rental value each month.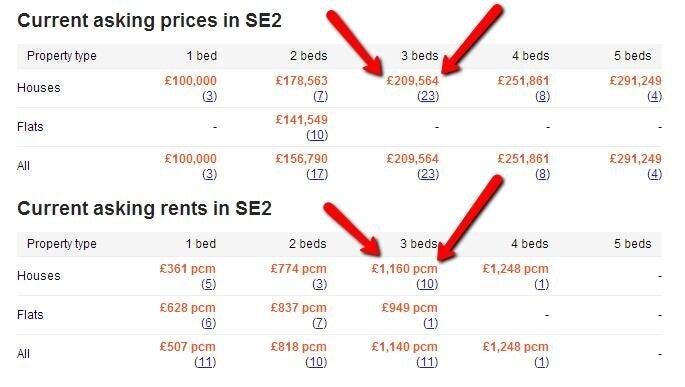 From the above table, you want to extract the asking rents and times this by 12. In this example will give us £13,920 this is assuming that you rent the property for 12 months without any break in tenancy.
Armed with the above figures you can then zip over to a Yield calculator, there are a few on-line: Yield Calculator, for instance, will give you the property yield each year. Below is a screen shot of the calculations.

As you can see you'll make 6.61%, which is better than keeping your money under the bed but isn't going to make you a millionaire either. However, you need to remember that house prices rise; according to Zoopla the market has risen 4% in the last quarter. I would expect quite a big jump of 7-15% when the station opens. So you can see there is potential to either sell the property in a few years' time (remember capital gains tax) or hang on to it and try and release some equity from it to buy the next house in your property empire.
One piece of sage advice I was always given was 'never sell any property', so that you'll never be liable for capital gains tax and because of the awful under-investment in building new houses in this country for the past 25 years you 'll always be able to rent the property.
Hopefully this article has given you some inspiration and resources to see what's out there and make an educated and informed choice.