"I demand a second chance. We're worth a second chance"
Listen up UK, President Fitzgerald Thomas Grant III has spoken.
Are we at peak-Scandal? Quite possibly, yes. Shonda Rhimes's hit drama will return to US TV screens for its fourth season in September and it seems everyone wants a little bit of Olivia Pope in their lives. Well, except the UK... Up until now that is.
Tucked away on Channel 4's digital channel More4, Scandal remained an undiscoverable mystery to the masses, broadcast on a delay that no doubt left the most eager British fans turning to other sources in an effort to avoid having the show's intricate and twisting plots spoiled online.
Then the inevitable happened; Scandal was 'dropped' due to its low ratings. I had no doubt the show would find a new, more suitable home; one which actually appreciated the opportunity to allow it to reach a UK audience. Just 24 hours after More4's announcement, Sky Living confirmed that Olivia Pope and her Gladiators had relocated. This, in case you didn't realise, is REALLY brilliant news for both the show and fans. We can only now hope that Sky's pick-up and summer broadcast allows for a quicker turn-around on the upcoming fourth run for UK viewers.
It's already clear to see how excited Team Sky are about finding their new baby it's deserved audience. This may have caught Evening Standard readers eye earlier this month. The show's inimitable star Kerry Washington has shown equal enthusiasm, just today retweeting a fan who sent a snap of a poster spotted in a tube station.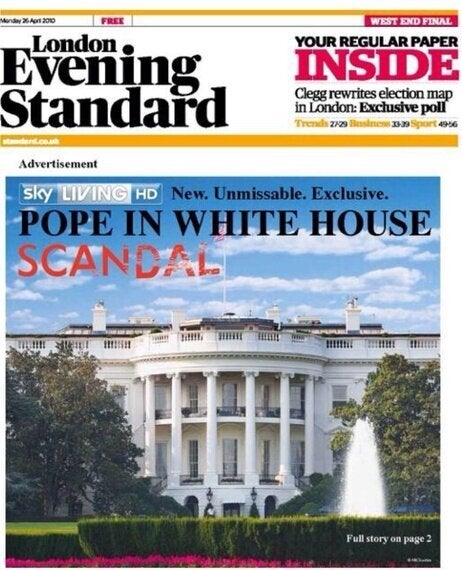 Now don't panic, Scandal virgins. Yes, Sky Living is kicking off with the premiere of series three tonight, but there's still plenty of time to catch up and get on board. The first series is comprised of a very manageable seven episodes, leading onto the full 22 of the show's phenomenal second run. So you lose a few hours sleep for a night or two... your partner and colleagues will totally understand. Treat yourself to the DVDs (you'll want to watch again) or make use of Sky's On Demand service which currently houses both series.
So what's the big deal, why do I and why should you care so much? Well to be honest, I can't go into much detail because I don't want to spoil even the smallest thing. Scandal was recommended to myself when just two episodes had aired. I was initially dismissive (my sister will never let me live that down) based on how it was sold it to me, so I want take any chances here.
Just know this; once you discover OPA, there is no going back. The stunning Washington is flanked by an array of talent (special shout out for the superb Bellamy Young) who bring a range of characters to life - characters you will one minute love and root for, the next await their downfall and then find yourself right back at the beginning. Such is the power of this unmissable Rhimes drama. Don't think you know anything about what is going on, because the second you get comfortable... Oh boy! Let me just fix that rug!
This is the UK's second chance. A chance to redeem itself, to learn from a shocking error of judgement. Pour the red wine and put on your white hat, things are going to get handled...
Scandal premieres night at 9pm on Sky Living.
Popular in the Community