Many hostels vary from downright abysmal to great.
And although it is rare to find a really poor inhabitable one nowadays, visitors can often feel they lack character or sociability.
But just because you are booking into a budget room, you don't necessarily have to settle for dull, grey and dreary.
I went along to check out a new 'Poshtel' in London's up and coming Elephant & Castle.
First impressions of Safestay - I was pleasantly surprised.
I guess I was expecting a narrow tall building with a dark grey door in some side street in London.
Instead, I was facing a beautiful 18th century Georgian building that stretched much more in width than height.
The building, I discovered later, was once the Labour Party headquarters - and the backdrop to many election time news reports.
Planning permission was granted in October 2010 to turn the building into Safestay - offering a new benchmark for budget accommodation in London and a great base for the Olympic Games.
And situated just minutes walk from Elephant & Castle underground station, just south of the river Thames, what better place is there?
Once inside, just beyond the main reception, a small passageway gives way to a very stylish, bright, predominantly pink and green, contemporary lobby area.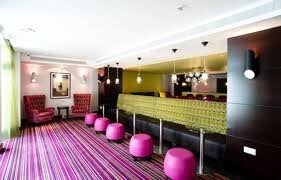 The room has ample seating with various fabric and leather sofas and armchairs dotted around.
A large plasma screen on the wall gives some focus to the room, but does not overshadow the relaxed chilled-out zone atmosphere the room is trying to offer.
Free wi-fi access is available in the lobby area but unfortunately not in individual rooms.
My room was an en-suite complete with a wall mounted TV and complimentary tea and coffee making facilities.
The bunk bed mattress was firm but comfortable and the duvet large enough to keep me all nice and cosy.
I found the small reading wall light by my bed a nice touch which was simple and most convenient for that bit of night time reading.
There was two under bed storage lockers for personal items and a large chair in the corner to sit on for watching TV or having that all important tea.
Rooms vary in size and can sleep from four to eight people. Communal showers are plentiful and on each floor.
After a good night's sleep, it was nice to know that I didn't have to venture too far out for breakfast.
The price of the room includes free continental breakfast in a large room in the basement which leads to a large illuminated and heated garden.
The breakfast is basic - tea, coffee, bread, croissants, cereal and juice - but it's enough to bridge the gap when you wake up ravenous.
But with plenty of cafe's just a stones throw away, you won't be stuck finding a place to tuck into for a full English.
In fact I found the location to be great for those wanting to explore London for more than a day.
With Borough Market, Tate Modern, Tower Bridge and the Tower of London all just within a short distance from the hotel, there is plenty to keep you occupied.
With prices starting from as little as £18, it's safe to say that Safestay is an ideal choice if you're looking for a hostel in London that won't break the bank while still enjoying some basic comforts.
To book, visit www.safestay.co.uk or call 020 7703 8000.
Picture courtesy of Safestay