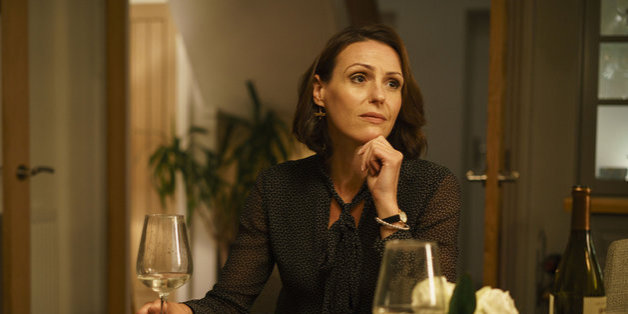 BBC
"Are you watching Doctor Foster?" is the TV question on everyone's lips right now. Millions of us have been tuning into the second series of BBC1's tale of adultery and revenge, riveted by Dr Gemma Foster's pursuit of justice following her husband Simon's betrayal with a much younger woman. The second series has cranked up the melodrama a notch or two and the sex scenes are even more stylishly choreographed. It's easy, trashy, enjoyable Tuesday night viewing. So why am I watching through half closed eyes and with gritted teeth? Why, at the end of each episode, do I feel so irritated?
Suranne Jones's portrayal of the GP hellbent on settling the score is undoubtedly polished and entertaining, but I can't help feeling that the storylines are reinforcing a negative and tired stereotype of 'a woman scorned'. Ever since Glenn Close turned from sexy, no-strings, weekend affair material into Michael Douglas's worst nightmare in the 1987 thriller, Fatal Attraction, the term 'bunny boiler' has become synonymous with an obsessive, unhinged woman, fuelled by hatred, jealousy and the relentless ticking of her biological clock. The phrase is now so embedded in popular culture and its use so widespread, that it has become increasingly common to refer to it in relation to all kinds of behaviour - but only where women are concerned. Ever heard a man described as a bunny boiler? Nope, me neither.
With an estimated 42% of marriages ending in divorce in the UK and unreasonable behaviour and adultery cited as the most common grounds for opposite sex couples separating, it's no wonder that stories of betrayal and revenge are such reliable small screen and box office hits. Studies suggest that men do cheat more than women - some figures state that 70 to 80 per cent will cheat on a partner at some point in their life, compared to 30 to 40% of women. For anyone who has experienced betrayal in a marriage, watching Gemma's weekly plotting is likely to be therapeutic viewing. But this is where the lines between fiction and reality become blurred. Because in reality, how many women would follow Gemma's path? How many women would risk their job, their relationship with their child and their sanity - for what? In the penultimate episode of series two, I found myself cheering on the unlikely heroine, 'other woman' Kate, calm and dignified as she hit Simon where it really hurt, by ending his business dreams and walking away from their marriage.
But this is just entertainment, right? Why am I getting my knickers in a twist about a light-hearted pop at how men and women deal with affairs and marriage breakdown? Maybe because at its core, the issues are not so light hearted. Last week's episode of Doctor Foster ended on a predictable cliff-hanger, with Gemma about to mow down rabbit in the headlights Simon, and finish him off for good. But it would have been more realistic to place Simon behind the wheel. The darker side of relationship breakdown is that women are disproportionately affected by coercive control and physical abuse. According the Office of National Statistics, seven women die at the hands of a violent partner or former lover every month. Women have to deal with misrepresentation and inequality, in all walks of life, in all corners of the globe. Being female is the single biggest predictor of economic status and divorce makes men - and particularly fathers - significantly richer. When a father separates from the mother of his children, his available income increases by around one third. Women, in contrast, suffer severe financial penalties. Regardless of whether she has children, the average woman's income falls by more than a fifth and remains low for many years.
Having our second, female Prime Minister in the UK rings particularly hollow when her government's austerity programme has so adversely affected women and single parents. Lone parents - 90% of whom are single mothers - are badly affected by benefit cuts. By 2020, women will have shouldered 85% of the burden of the government's changes to the tax and benefits system. The charity Gingerbread, which campaigns on behalf of single parent families, says that some working single parents will lose up to one month's income as a result of cuts arising from universal credit. As well as the financial impact that divorce and separation has on women, the psychological impact of adultery and the loss of social status and confidence can be debilitating. For women caring for very young children, this can be exacerbated by the difficulties separation creates for socialising and finding work.
It is, however, true that women are more likely to initiate divorce than men. The Office of National Statistics states that the majority of divorces of opposite sex couples in 2015 where a decree absolute was granted, were petitioned by the wife (62%). So what does this tell us? That women are more likely to take the initiative and move on with their lives? Divorce is a personal journey and each case is different but according to a survey commissioned by the Yorkshire Building Society in 2013, divorce makes men feel devastated, betrayed, confused and even suicidal, while, it claims, women are more likely to feel relieved, liberated and happy following a split. The research also claimed that more than two years after a divorce, 41% of men were still sad about the failure of their marriage; for women the figure was 33%. So I'm rooting for a happy ending for Gemma. Because living well really is the best revenge.