Last month, the UK Prime Minister David Cameron addressed the nation following a remarkable general election that saw his party claim an overall majority for the first time in 23 years. Whilst no one can predict the effects this unexpected endorsement of the Conservative party and its policies will have on British politics, one thing that can be guaranteed is that by the end of 2017, the United Kingdom will hold an in/out referendum to decide whether or not it should remain in the European Union (EU).
Previous years have seen a dramatic rise in the popularity of a number of euro-sceptic parties throughout the EU and the outcome of such a referendum is far from guaranteed. The uncertainty surrounding the UK's future has spawned the campaign group Scientists for EU, a collaboration between researchers whose mission it is to emphasise the importance of EU membership for British science. In this post, I will detail some of the campaigns main arguments and add a few of my own personal experiences to explain why a vote against Europe could be disastrous for science in Britain.
In order for scientists to complete their research, they must first obtain money to finance their experiments. This money almost always comes in the form of grants awarded by external funding bodies and some of the most convincing arguments in favour of continued EU membership are financial in nature. The European Research Council (ERC) is a pan-European funding body founded by the European Commission in 2007, which awards some of the most prestigious research grants currently available. The high quality of British research means that a large proportion of ERC grants are awarded to UK based researchers.
In the short period of time that I have worked in academic science, I have been fortunate enough to experience the benefits of ERC funding first hand. The lab in which I currently conduct my research is partially funded by an ERC grant, meaning that many pieces of essential equipment and the jobs of many of my friends and colleagues only exist as a consequence of the UK's access to this financial resource. The ERC is not the only European funding body in existence and if Britain were to leave the EU, researchers at all levels would become distanced from an essential source of money.
Science is an international endeavour, and directly benefits from immigration and the free movement of individuals between countries. The lab I currently work in for example, is a melting pot of nationalities and in the last year I have been fortunate enough to work with people from Belgium, France, Ireland, Italy, Japan, Mexico, Spain, Germany, South Korea and the USA. Our group is not unique in it's diversity, and a recent trend on Twitter saw academics from around the world use the hashtag #scidiverse to outline the range of nationalities that can be found in their labs. The various responses reveal a dramatic and at times surprising medley of researchers from diverse backgrounds, with two examples included in the image below.

My current employer, the Francis Crick Institute, is a good example of how sensible immigration policies can foster excellent scientific research. The institute has received over £200 million in funding from the British government to date, and upon completion will employ over 1,250 scientists, making it the largest biomedical research centre of its kind in Europe. I currently work in the lab of Dr J.P. Vincent, a Belgian national who has made a number of important contributions to British science since moving to the country in 1993. J.P. is one of many laboratory heads who grew up outside the UK and of the 85 group leaders that will start working at the new institute when it opens its doors in Spring 2016, less than half of them will be British nationals (see pie chart below). Leaving the EU will make it harder for international scientists to live and work in the UK and ostracising talented individuals based on their place of birth alone will undoubtedly have a detrimental effect on UK science as a whole.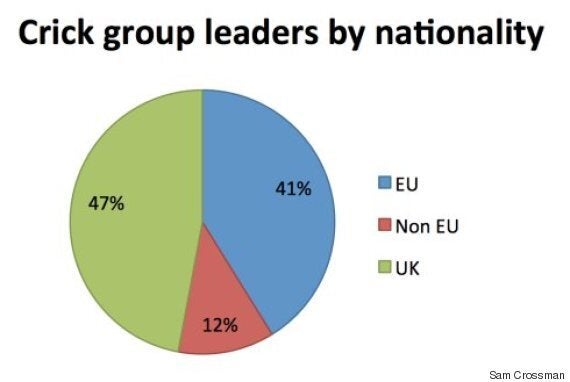 The referendum on the EU is imminent and there are a number of factors that should be considered when making a decision. Science is unlikely to garner much mainstream media coverage in the lead up to the vote, making initiatives such as Scientists for EU all the more important. EU membership greatly benefits science in the UK and it is vital that the wider public is made aware of this, before it is too late.