Celebrate this St. Patrick's Day with my delicious matcha tea and vanilla green-themed doughnuts! These awesome treats are a healthier baked alternative to deep fried doughnuts and they don't compromise on taste or texture. Finished with an easy icing glaze, you will have a blast decorating these with your favourite designs. You are going to need a doughnut tray which you can find fairly easily online or in your local cook shop.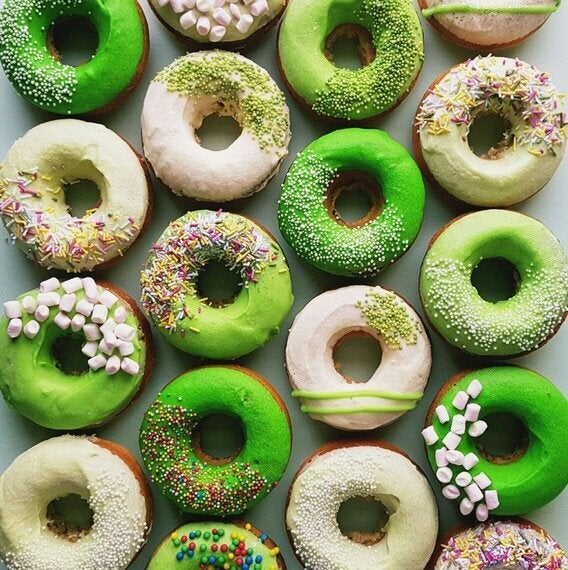 Cook time: 13-16 minutes per batch
Creates approximately 24 doughnuts
145g/5 oz. unsalted butter
4.5 teaspoons of baking powder
2 tablespoons of matcha tea powder (omit for vanilla flavoured doughnuts)
240ml/1 cup of whole milk
360g/12 oz. icing sugar, sieved
3 tablespoons of unsalted butter, melted and cooled
120ml double cream or whipping cream
1 teaspoon of vanilla extract
20-60ml/1-3 fl. Oz. of whole milk, to reach a thick pouring consistency
Few drops of green gel food colour
Palette or cutlery knife and pot of warm water
1. Heat the oven to 180 C (160 C fan) and place the oven shelf onto the middle shelf.
2. Cream the butter and sugar together with an electric whisk, for the doughnut mixture, until pale and well combined.
3. Add both eggs to the butter mixture and mix together.
4. Grease doughnut tins with the oil spray.
5. Sieve plain flour, baking powder, salt, nutmeg and matcha tea powder (if using) into a bowl.
6. Meanwhile, melt the butter for the icing glaze gently and allow to cool a little.
7. Sieve the icing sugar into a bowl and add the cream, salt and cooled butter. Mix together with an electric whisk. Add a little milk at a time until you reach a thick, pourable consistency, similar to greek yoghurt.
8. Divide the icing into separate bowls to colour them with different shades of green. I chose to leave one uncoloured (white), pale mint green, leaf green and a bright green. Add your gel food colour a little at a time and stir well to reach the desired colour.
9. When you are ready to bake, add your sieved flours to the butter mixture with the milk and vanilla extract. Fold together until well combined.
10. Place the mixture into a piping bag and cut a hole 1-1.5cm large in diameter.
11. Pipe the mixture in a circle motion into each doughnut mould. Don't worry if it looks uneven, the mixture will settle in the oven. You only want to fill the moulds 2/3 full so do not be tempted to overfill them.
12. Bake for 13-16 minutes per batch until well risen and slightly golden on the edges.
13. Turn the doughnuts out onto a wire rack to cool.
14. When the doughnuts are cool, you are ready to glaze them.
15. Dip each doughnut into the glaze and place onto a wire rack with a tray underneath it. Sprinkle each doughnut with your favourite sprinkles. Let the icing on the doughnuts dry for 45-60 minutes.
16. Once dry, you are ready to serve, they go beautifully with a strong cup of coffee.