In May, I travelled to Madagascar with WaterAid where I was lucky enough to meet two amazing girls, Solo and Ze. In their village, access to clean water on tap was just a dream. Every day, they had to walk down a difficult path to a dirty pond to collect water for their families. They then had to carry this water - weighing as much as 20kg - on their heads back up the same steep hill.
Taking this walk with them in the baking sun and talking to them about their lives was absolutely heartbreaking. The daily chore of collecting water meant they had no time to go to school, to play, to just be a girl.
Since coming back to the UK I've been encouraging everyone I can to support WaterAid's To be a girl appeal over the summer. The goal was to raise £1 million to bring clean, safe water to Solo and Ze and thousands of girls like them. With a few days to go, this target has been smashed - the total is currently standing at £1.6 million!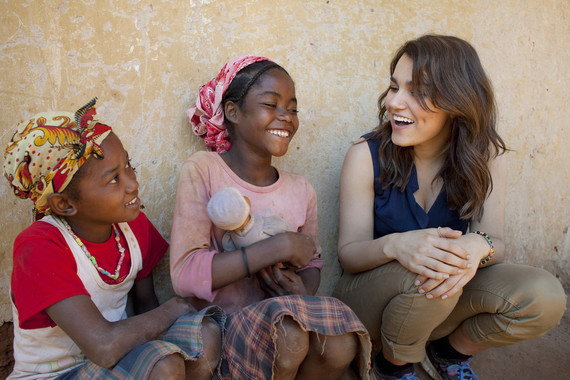 Samantha Barks with best friends Solo and Ze in their village in Madagascar earlier this year
WaterAid / Panos / Abbie Trayler-Smith
And what a difference just a few months and the amazing generosity of WaterAid supporters have already made. I've just watched a film of Solo and Ze's village getting clean water for the very first time. The absolute joy on the girls' faces brought a tear to my eye. Solo and Ze's beaming smiles are such a contrast to the pained look I saw on their faces as they heaved the heavy jerrycans of dirty water onto their heads. I can't tell you how happy it makes me to know that they'll never have to make that walk to the dirty pond again. Their lives really have been transformed forever.
Next, WaterAid will be helping the community to build their own toilets, showers and handwashing facilities. I saw the incredible difference these basics that we take for granted can have on a village when I visited a lovely girl called Lisa in her community nearby. The people there were clean, health and happy and Lisa was free to go to school and get an education. I'm so happy that Solo and Ze's village will now be changed in the same way.
But while Solo and Ze are celebrating the start of their new lives, thousands of girls just like them still need your help. You have until 9 September to donate to WaterAid and have your donation doubled by the UK Government to reach twice as many girls. This short film shows just what an amazing difference small donations can make, so please, please give what you can and help rewrite the story for even more girls around the world.
Please visit http://www.tobeagirl.org to find out more.