When my father died I had an acute sense of loss. The time passed and in the last year, my father has 'visited' me three of four times. He was still present in the atmosphere, still very concerned for me.
I needed to make a trip to say goodbye to my dying mother and when I was there in a place that was no longer familiar to me, my father was still aware that I needed help. He remained present and guided me to a valuable encounter that was specific to the trauma of my family that had fallen apart due to squabbling over a will and the treatment of my mother.
When I returned home from seeing my mother, I had a dream and in it my father no longer recognised me. It was only a few days later that I realised it had been exactly seven years since his death. By appearing as a stranger to me in a dream, my father was telling me that that he was never to return to me ever again. From now on I would never feel a presence near me. My father had gone for good and to a place from which there would be no earthly connection.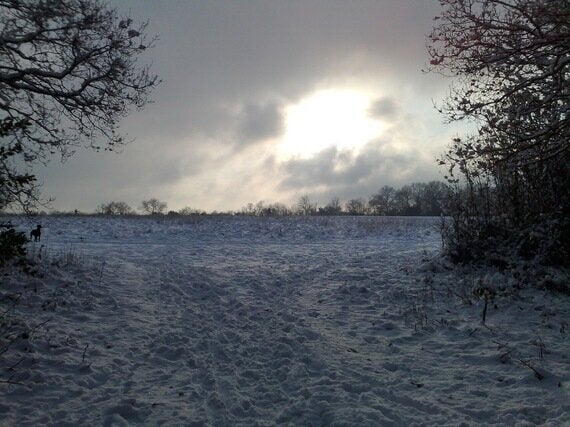 Photo copyright S. van Dalen
When we speak of "Heaven" in Christianity, we imagine a place of peace and joy where sadness is banished. In my life I have known tremendous suffering and I now realise that the human condition is one where we must suffer in order to understand. I am a better writer for knowing what sadness is, what humans are capable of doing to each other. Had I not delved into the pit of despair, I would not have been able to marvel at what good there is in this world.
The irony in life is that the Heaven we seek to find begins before we reach this earth. My father was a good and loving man. He was honest and loyal to his job and his family. He was kind. Where he has gone is a type of infinite peace. Not all of us are destined to end up there.
My father and I. Photo copyright S. van Dalen
The Sounds of Summer (now ended)
This is a video I made of birdsong at dusk in the woods near my home as I was walking the hound. I was captivated by the songs the birds were singing to each other at the end of another day. I can recognise the blackbirds but not the others. Be sure to turn up the sound on your computer. Enjoy!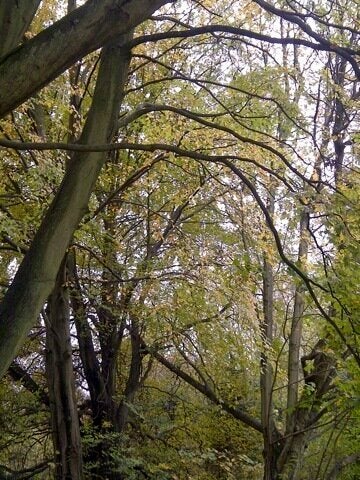 Photo copyright S. van Dalen
Impossible to photograph a single raindrop as it dangled from the end of a stalk in the woods today. I wanted to hold the stalk still as the wind rustled past and as I did, the drop fell off and nothing was left. No photo. No raindrop.
This evening as I waited for my casserole to cook and to dispel the rumbling in my tummy, I took to the computer to surf along to pass the time. I googled old friends and acquaintances and found them all on Facebook. I had kept away from Facebook forever until I joined a radio station and it became the easiest way of communicating with my fellow presenters. And so I relented. Reluctantly.
This evening I 'caught up' with all those faces that I used to see so frequently. People who had seemingly been part of my life by virtue of familiarity. At every diplomatic cocktail party the guest list was the same. And the conversation too.
The timeline of the past twenty years was easy to calculate- when the first baby was born, the marriage (usually after the baby then and these days too), the spreading girth, the shorter hair. And yet these lives all look so perfect in the Facebook 'story' but as I recall, they were anything but. There was a whiff of scandal at the choice of boyfriend, now settled into middle age and respectability. There was a bigger whiff at the birth of the child out of 'wedlock'. Now the child is quite lovely and grown into a woman. The affairs, the pot-smoking kids, the horrid in-laws, the whirly twirly of life, the career aimlessness, the waiting for the in-laws to die to inherit loads of money, the waiting for the grandmother to die and hiding from her the choice of spouse as it would have meant instant removal from the will, all those things that we used to speak about for hours on end over endless rum and sodas, well, it seems everyone has settled into a mundane state where the former rebels are now teaching yoga and have achieved some sort of enlightenment, peace, call it what you want.
I felt a pang of sadness at my orphaned state, my family-less state and could have drowned in tears had I wanted to. But I remembered that nothing is ever what it seems and we see what we want to see in this life. We feel what we want. We think what we want. We are what we choose. And so I hurried back to my casserole, poured a glass of wine and gave thanks for not wanting what I don't have. Fraud that I am.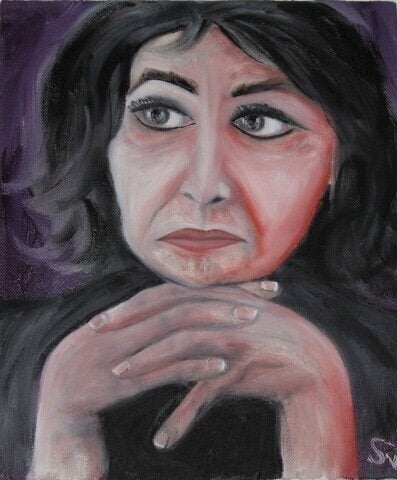 Photo and painting copyright S. van Dalen