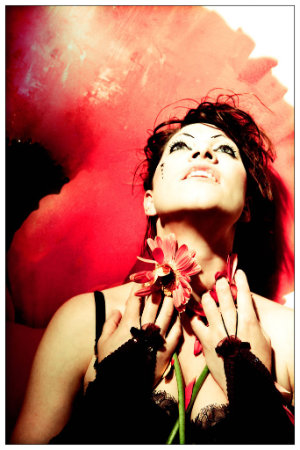 This week's Catching the Comet's Tail features musician, artist, and all-round creative maverick Amanda Palmer who is currently touring Europe with her band Grand Theft Orchestra. You may know Amanda from her inspiring TED talk on The Art of Asking and if you want to hear a song about relationships that will bring you to your knees, check out The Bed Song.
Amanda on creativity... do you have a muse?
"I find it incredibly hard to be disciplined when there's not an immediate reward in the form of a connection. Blogging and tweeting have contributed to the death of my songwriting, because I can present the same images and ideas that I used to squeeze into songwriting into immediately presentable images for an immediate crowd. My desire for spontaneous intimacy and instant gratification is the muse itself. I'm in the process of trying to figure out how to turn that driving desire back into art now that I've become a full-time comminucation-holic. If I had to name the part of my body which contains the art-making fire, it's in the touch of the hand of another person. I feel most inspired when I feel the most connected."
Was creativity encouraged in you as a child and who or what were your early creative influences?
"I can't remember a time I didn't want to grow up to be an art-maker of some sort. My creative adventures were absolutely encouraged even if they weren't understood.
My sister and I created worlds of sound behind our bedroom doors. She cranked Rush and U2 and Guns N' Roses and tried to learn drums and I listened to The Beatles, The Legendary Pink Dots and Nick Cave and fiddled with my four-track. Learning about metaphor was what I craved; I felt very isolated at home and at school and tended to gravitate towards anything that looked artistic, different, outside. I still feel like the people who influenced me most weren't the ones who taught me the craft of making art, but those who taught me the art of being human."
How long did it take to write Theatre is Evil? Can you recall the first spark of inspiration and is the finished work what you originally envisioned?
"Every time I make a record, I look at the collection of songs in my drawers that I haven't recorded yet. Most had been written within the past few years, but some were ten years old (like Berlin, I wrote when I was in my mid-twenties). I've never attacked the making of a record as a single project in itself (with the exception of Evelyn Evelyn, which was a start-to-finish concept record). I usually look at the making of a record as a bucket landmark into which I dump everything I'm currently doing. And when I look at the pile of songs that are going to land in the bucket, it dictates a series of choices."
Who, what or where always inspires your creativity and what is guaranteed to kill it?
"Being in front of people inspires me to want to make things for them. If I'm in isolation for too long, I forget the purpose of making art, which is (for me) to share it.
I make fast, and I share fast, and that's the way I've always liked it. Long projects with delayed gratification are harder for me."
Do you ever feel that creating new things is a chore?
"Creating things is ALWAYS a chore. I've always been terribly undisciplined at finishing things, ever since I was fourteen and started writing songs. And the songwriters and book-writers that I know will usually agree with this: work is work. Work is not fun. That's why it's work.
I love the feeling of having created something great. And I'll often even love the high of penning a good lyric and tapping into the kind of creative mood where the chords and words flow easily and it doesn't feel difficult. But getting my ass in the chair has NEVER been easy. That's why having deadlines, constructs, albums, and demands from the outside is good for me."
Is there a collaborative element to your work?
"Collaboration depends on the project. When I'm writing the structure and lyrics of a personal song, I have no desire to collaborate. But once the skeleton is locked, I'm very happy to collaborate and give the skeleton a new wrap of flesh or a new gender.
When I was making Theatre is Evil, I brought the songs as solo piano tunes to the band first, and we worked out the arrangements for all their instruments over a long series of rehearsals and shows. The nature of my songs is so personal that I used to feel the need to control every single detail of the presentation. Now I don't feel as attached to a song once I've written it, and I can hold it at arms length and view it as a malleable piece of art. But it took me years to get to that place."
Please provide a photograph of and talk a bit about the environment you most like be in to create... do you prefer the city or the countryside?
"The Dresden Dolls went to the Catskill mountains to track our second record, and I have never been quite so freaked out as I was that week. The isolation of being on a mountain in the woods brought up something very dark and lonely for me. I woke up early every morning just so I could drive 45 minutes to Woodstock in order to sit in a cafe listening to sounds of humanity. Everyone else was happy ... I just wanted to escape. I think I thrive on the energy of humanity and when I detached from the sounds of life, I wither.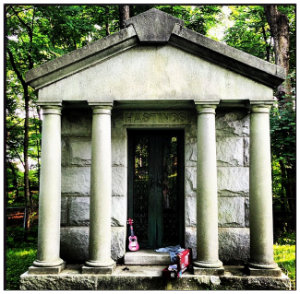 Here's a photo of a tomb in a graveyard near the house I grew up in. I went there before visiting my parents for their birthdays, took my ukulele, and tried to write."
Do you have a daily routine around your creative process?
"I'm much more of a mid-afternoon and evening person when it comes to creating. My best ideas often slide in upon waking and I make sure I have a paper and pen by the bed at all times to catch stray thoughts and lyrics. I try to carve out time when as song hits, knowing that my ability to be disciplined is going to mean the difference between the song either being born or vanishing."
Please share a photo of an object that connects with your creative process... do you have a talisman that connects to your work?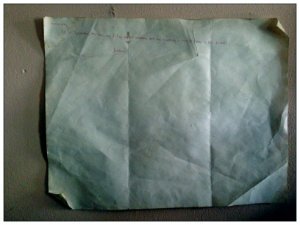 "I lose things so easily that I can't have a talisman. Objects of sentimentality tend to only cause me pain in their loss. But I do like this piece of paper I keep taped above the piano in my apartment. It was mailed to me from one of my best friends after he went off to college and I was still in high school. We'd had long rambling talks about discipline and writing and frustration earlier that summer. And he mailed me a letter that was just a white piece of paper with a single line written on it that said:
"Amanda, it is saturday morning, and I find myself wondering: are you composing a song or having a bite to eat? Joshua"
He's now a tenured professor of philosophy at Yale. He didn't bother with eating. I did."
Which other creative art form outside the ones you are known for do you wish you could master or do more of?
"I'm not a bad visual artist and I sometimes wish I'd spent more time synthesizing my own artwork into my album art. I may start doing that more.
I'd also love to learn how to play the piano for real. I've been meaning to do that for YEARS."
Please tell us a bit about the upcoming live shows and say which environment inspires you more, the studio or the stage?
"They're both inspiring in different ways. The studio is all about blocking out the outside world and focusing on the songs and the sounds with a microscope.
This tour we're about to embark on is a postponed tour - it was supposed to happen in the spring but I wound up cancelling it because a friend of mine stateside got sick with cancer and I wanted to be with him during treatment. The last tour we were on, right after the album came out, evolved over the course of a few months and we started with a lot of bells and whistles that we gradually dropped because they were either too expensive, too cumbersome, or just plain unnecessary. By the time we got to the last leg of our last tour, we were extremely tight as a band and pretty much taking the stage with no frills, screaming and wailing with a minimum of distractions. The stage is a good place for me, I feel totally comfortable up there. But I also tend to overdo it and exhaust my reserves pretty quickly. After thirteen years of touring, you'd think I'd figure out how to pace myself, but I'm an idiot that way."
What are you working on next?
"I can honestly say, and it's sort of overwhelmingly wonderful, that I don't know what I'm doing next. I have missed working on theater, and I may turn back to my roots and work on some theatrical projects. I miss that world. Maybe sitting and waiting for something to appear is the best path when you've spent too many years running with two suitcases in each hand..."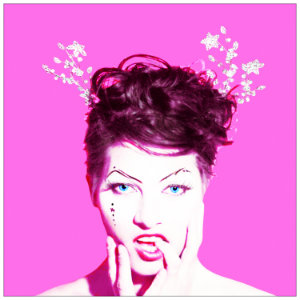 Theatre is Evil is available now on Amanda's website. You can follow Amanda on Twitter or check our her Facebook Page. European tour tickets including July 12th at London's Roundhouse are on sale here.