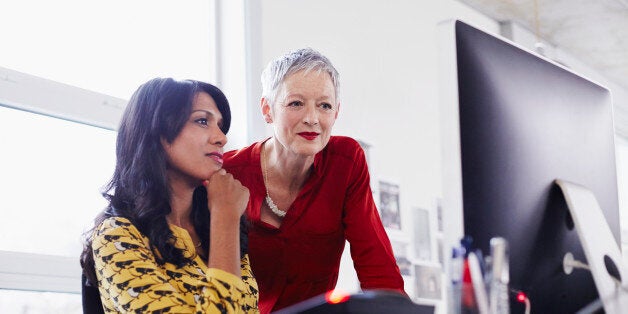 When I think back to key moments in my life, I was fortunate enough to have supportive mentors who helped provide me with guidance, ideas and confidence, to achieve my goals at different points in time. I think back to a teacher at my school who recognised my interest in international relations and helped me consider a study abroad programme. I also think of the encouragement from my boss during my first job after college to pursue a part-time graduate degree. As recent as five years ago, it was dinner with a mentor who suggested I start my own business - an idea that hadn't even crossed my mind prior to her suggesting it.
I am very grateful for the mentorship I've received. The guidance and support of these important people helped (and to this day continue to help) shape my path. Mentors are invaluable to provide a sounding board during times of important decisions. They provided tough love when I need an extra push, an encouraging voice during times of failure and a way to stay grounded during times of success. I believe having trusted and supportive mentors are pivotal for everyone through all stages of their life. Mentoring fills a gap that you may not be receiving from friends, family, teachers or colleagues. I have also found being a mentor myself has been extremely fulfilling and fun. I am constantly learning from the people who I mentor, whether it was through the experience of mentoring a young teacher who was working in one of the highest poverty districts in the country as she was in the process of figuring out her own career transition, to a college student who decided to launch her own social enterprise. These relationships have helped to enrich my life and I love being able to help them work through challenges. I'm motivated by their passion and extremely committed to their success.
It was eye opening to learn that two-thirds of girls in the UK in a recent study said that they had never met a professional in the creative industry before. This, I think highlights that the majority of young people don't have the opportunity to observe people with successful careers, let-alone receive advice from them. I strongly believe that companies have a role to play in investing in future leaders. This can take on many forms, from opening their doors to young people who might not otherwise have the opportunity to step foot in an office, to providing young people from disadvantaged communities with more intensive one-on-one mentoring programmes. By providing students the exposure to an industry, as well as the interaction with experienced adults who can be role models, it helps break down barriers and shows them that their goals may be in reach. It also highlights that there are people who want to see them succeed and are here to help.
I am thrilled that the AOL Charitable Foundation is continuing it's global expansion by funding a new programme designed to improve the lives of women and girls across the UK through mentoring with The Girls' Network. We believe that providing girls with mentorship programmes can be instrumental in shaping their future. Not only have I have seen what a big impact this has had on my own life, but I have seen the transformative impact that mentoring programmes can have on young girls first hand through our work in the United States. There is no question that these programmes have provided girls with increased levels of self-confidence, helping open their eyes to the myriad of career opportunities that are available. From a survey conducted by one of our partners Step Up, in 2015 of girls who took part in our group mentoring model, 90% reported an increase in their self confidence.
There is a lot of impact that can be made and the results can be life-changing for both the mentees as well as the mentors.
AOL Charitable Foundation is supporting The Girls' Network and helping girls in the UK through funding and mentoring. For further information,
Related